12 Companies With the Most Luxurious Employee Perks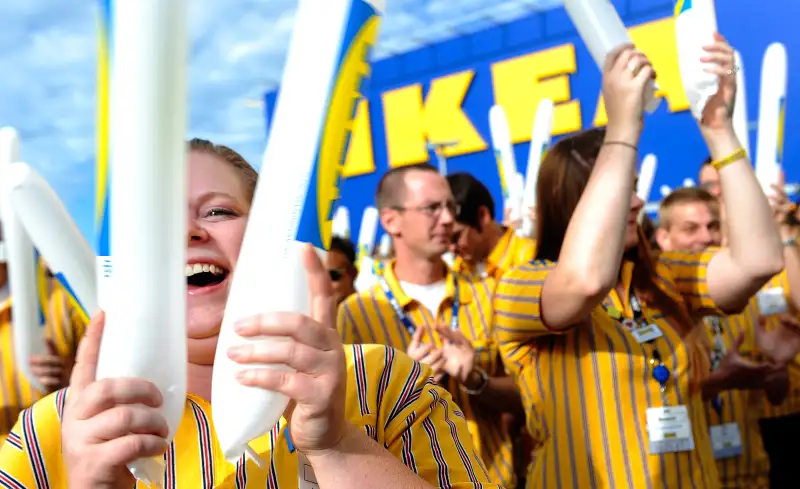 Cyrus McCrimmon—Denver Post via Getty Images
Perks matter. Companies in today's work culture compete for the best talent in the world by trying to one-up each other with abundant benefits and extras for their employees. And with good reason: jobs site Glassdoor reports that in 2017, 57% of job seekers in its surveys listed perks among their top considerations before taking a new job.
Gone are the days of simply offering summer Fridays, free snacks, and unlimited vacation to lure in recruits. Now companies are ponying up for free restaurant-level meals and spa treatments to get employees excited about the daily grind. From Silicon Valley giants to American Express, here are the most indulgent perks at companies right now.
Airbnb's free vacations
John van Hasselt—Corbis via Getty Images
Airbnb wants employees to enjoy getting around the world as much as its customers. The vacation rental listing site offers staffers an annual $2,000 stipend to travel and stay in an Airbnb spot anywhere.
Reebok's Crossfit classes
The sportswear company's commitment to athletics extends to its staff: Reebok provides an onsite gym, which includes free Crossfit classes. One employee told Glassdoor, "It's ok to take an hour for fitness throughout the day and fitness events are encouraged to participate in."
Genentech's onsite spa and car wash
Kris Tripplaar—Sipa USA/AP
Running errands gets a lot easier if you work at Genentech. The biotechnology company includes lavish onsite services for employees, including car washes, haircuts, spa treatments, and even a dentist.
Spotify's free egg freezing
Krisztian Bocsi—Bloomberg via Getty Images.
The streaming company is well-known for its dedication to music culture, offering employees free concerts from top performers like Weezer and Miguel with its Spotify Sessions. But it also has an abundant benefits package for new parents or those working toward becoming parents. Spotify offers six months of paid parental leave, in addition to one month of flexible work options for parents coming back to the office. The company also covers egg freezing and fertility assistance, which can cost more than $10,000.
Netflix's unlimited parental leave
Glenn Chapman—AFP/Getty Images
No one else does parental benefits quite like Netflix. The streaming company recently started offering unlimited parental leave, according to Huffington Post. Netflix CEO Reed Hastings takes six weeks of vacation every year and encourages his employees to do the same. When you are in the office, though, you can enjoy a 200-person onsite theater that showcases upcoming Netflix series and movies.
Ikea's paid parental leave, even for part-timers
Cyrus McCrimmon—Denver Post via Getty Images
Ikea has a generous policy for new parents: The company offers up to four months of paid parental leave for employees who have worked there at least a year, and it isn't just for full-time staffers—part-timers get the perk, too. And it doesn't matter if you work at one of Ikea's retail stores or at its headquarters. One employee told Glassdoor, "Great pay, amazing benefits, and company culture is strong."
Goldman Sachs' All-Night Scavenger Hunt
Peter Foley—Bloomberg via Getty Images
The financial giant treats its employees to a wide-range of sweet perks, from five-day-a-week pilates and tai-chi, to bubble tea in the cafeteria. But they also give workers a fun way to raise money for charity by way of an all-night scavenger hunt in New York City. Described by The Atlantic in 2013 as "part performance art, part nerd Olympics, and part urban scavenger hunt," it has raised more than a million dollars in a single outing.
Goldman has also shown its commitment to the LGBTQ community, Goldman Sachs has been offering coverage for gender reassignment surgery since 2008.
American Express's commitment to new moms
American Express gives up to five months of paid leave for new mothers and fathers. Birthing mothers can get an additional six to eight weeks for paid medical leave. Plus employees get all-day access to a lactation consultant, and moms who are traveling for work can ship their breast milk home on the company's dime.
Starbucks's full tuition reimbursement
Victor J. Blue—Bloomberg via Getty Images
The coffee chain is known for treating its employees well. Starbucks offers full tuition reimbursement for those taking on more education. "They treat you like a human being," one former barista told Glassdoor of working there.
In-N-Out's free burgers
It might not be the most costly benefit, but if you're going to be flipping burgers, you can't do better than In-N-Out's free Double-Double burger and fries offered to employees on every shift.
Facebook's free housing for interns
You can ditch an unpaid internship that feels like indentured servitude if you can get your way into Facebook. Many interns for the technology company report earning more than $7,000 per month. That's on top of the fact that Facebook offers its interns free housing and healthcare coverage.
Google's free gourmet breakfast, lunch, and dinner
Brooks Kraft—Corbis via Getty Images
Google is one of the biggest tech companies in the world, and that shows in its well-reported perks. The famous Googleplex headquarters in Mountain View, California, offers seemingly endless free food options. Employees can eat every meal free at the campus restaurants and cafes—and save a ton of money. One staffer told Business Insider , "One of my favorites is the chocolate mousse in the La Place cafe. It's served every day at lunch, and it's absolutely heavenly. Sometimes I'll stash away some mousse for a mid-afternoon 'mousse break' with co-workers." Google also has a gym with free workout classes, plus free cooking classes. And it happens to have incredibly generous death benefits, paying the spouse or partner of a deceased employee 50% of their salary for 10 years.