The Fascinating Story of How Yolanda Hadid Went From $55 in Her Pocket to Multimillion Dollar 'Real Housewife'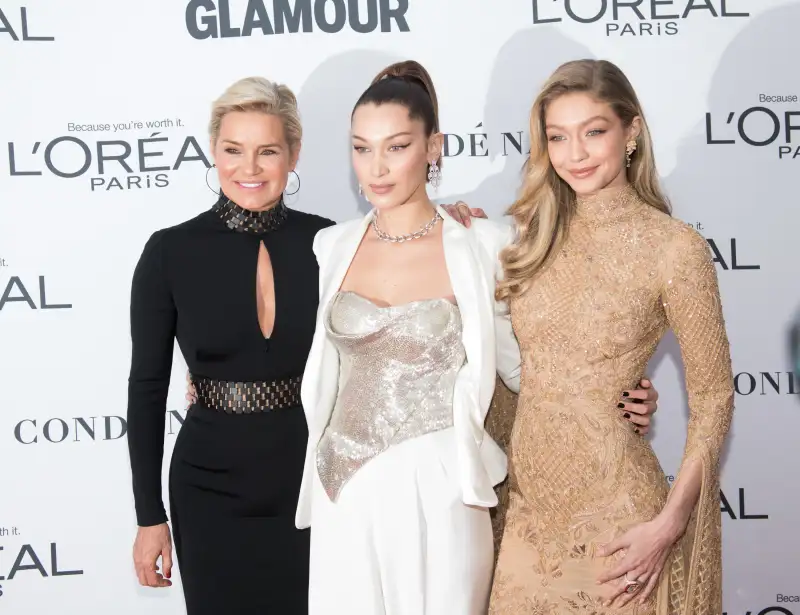 Yolanda Hadid is loving her second career. The 54-year-old former supermodel, who rose to fame as a teenager signed to the Ford agency, is now even more widely known as the mother of Gigi and Bella Hadid (supermodels in their own right) as well as a star of Bravo's The Real Housewives of Beverly Hills, which she left in 2016.
But she's back as the host of her own reality show, Making a Model with Yolanda Hadid, airing on Lifetime Thursdays at 10 p.m. EST. Hadid plays coach, judge, and surrogate mom to contestants who hope to be the next face of major fashion brands, with the twist that the young women's actual mothers are also in tow.
"The judging part of the show was really the hardest thing for me to do because I don't believe in judgment. I believe in positive reinforcement and doing it in a sweet way," Hadid said of the experience. She set out to pull on viewers' "heartstrings" with Making a Model and hopes she provided the models and their moms with "realistic" expectations of the industry.
After chronicling her struggle with Lyme disease on Real Housewives and in a book, Hadid says she is currently "feeling amazing" and is ready to tackle her next phase. She spoke to Money about what she's learned in a long, lucrative career in modeling and media—and her one true splurge.
Yolanda Hadid started with next to nothing
Born Yolanda van den Herik, Hadid grew up in the Netherlands under difficult circumstances, which influenced how she approached her modeling career, which began when she was only 16.
"I was very money-driven," she said. "I come from a very poor family and my dad died when I was seven, I took on this huge responsibility that I was going to provide for my mother and my brother. It wasn't that I had the dream of being a model. I never wore makeup. I didn't even know what Vogue or Cosmo or Elle was because it wasn't part of my life."
After being signed to Ford Models and spending time in Paris and Milan, Hadid moved into a "model home" in New York City—a place where rising models are given a chance to live.
"I remember my mom gave me 100 guilders [the former Dutch currency], which was a lot of money for where I came from, and when I exchanged it, I think I ended up with like $55 dollars in my pocket," she said.
Her agency gave her a "roll of quarters" to use between her go-sees, which are appointments where models have the opportunity to get hired. New to both the city and the country, she made her way from one meeting to the next using a paper map.
"I was hungry to survive and my mom gave me a great set of tools, a great work ethic, and I guess destiny puts you on your path," Hadid said. "I was meant to be there."
Hadid's first big purchase was a smart investment
As a young, successful model, Hadid was surprisingly careful with her earnings.
"I was keeping tally marks for every thousand dollars I was making. I came here to make money and go home and buy my horses and take care of my family and continue my life in Holland — America is just so great for that," she said. Except she never ended up leaving her adopted homeland.
Eventually, Hadid left New York for Los Angeles, where she made her first significant purchase at 21 years old. And it offers a lesson for young people today.
"I didn't know about luxury items. I never spent any money. I was very frugal," she said. "I bought an apartment in Los Angeles and that was my first piece of real estate. I started working for that, paying that off, and that was probably a good move because I sold it many, many years later, and made a lot of money off it. I was always interested in how I could make money."
Becoming Beverly Hills royalty
Hadid's first marriage was to real estate magnate Mohamed Hadid, who's known for building mansions and hotels in the Los Angeles area and has also appeared on Real Housewives of Beverly Hills. They had three kids who all became models: Gigi, Bella, and son Anwar. They were married from 1994 to 2000.
She later married David Foster, who's worked with singers including Whitney Houston and Celine Dion, in 2011, and their divorce was finalized in 2017. At the time of their split, Hadid's net worth was reported to be a lofty $45 million to his $30 million, in part coming from her modeling and TV success but also her divorce settlement with Mohamed Hadid. While on Real Housewives, Yolanda reportedly earned a six-figure salary per season.
"It's pretty amazing to look back," Hadid said, reflecting on how far she's come from her roots. "I was very motivated."
How modeling has changed in the internet age
When Hadid first stepped into modeling, the life was very different.
"I would do literally 12 go-sees a day in order to meet clients and advertising agencies in order to break into a new market," she said. "In today's world, you can start posting on your social media outlets and you can catch somebody's eye in Paris while you're not even in Paris. It's a very different business today."
Brands and agencies now look closely at models' online followings, and not just the numbers, but what they have to say.
"I think that in my time we didn't have a voice," Hadid said. "We were pretty faces who went to work at six in the morning, sunup until sundown, and we really didn't have a space to express who it was that we were as human beings. I say to my kids, 'Why has God given you this platform and what are you going to do with it? Because it certainly wasn't created for you just to post pretty selfies.'"
But the shift hasn't been entirely positive, she adds. "Social media also comes with a whole bag of worms. It's too new for us to really understand how it affects the youth and the hate and the death threats and opinions from people that don't really know who they're talking to—that's the negative part of it."
The tough lesson she gives her kids
Gigi and Bella Hadid may have made it to superstardom, with 37.9 million followers and 16.7 million followers on Instagram, respectively. But Yolanda is intent that it not go to her daughters' heads.
"Kids have to know they're no better than anybody else," she said. "My Gigi and Bella can be on the covers of magazines, but they're no better or prettier than anybody else. They're just normal kids like everybody else. When they started working, I said to the girls, 'Listen, there's going to be a million girls that are more beautiful than you are and deserve success as much as you do, so how are you going to set yourself apart?'
"You have to be the hardest-working girl on the job. You have to be kind and polite to everyone, not just to the people who can further your career," Hadid adds. "Beauty doesn't last, but the way you make people feel is something they will remember forever."
Why she prefers a simple life down on the farm
Hadid splits her time now between an apartment in New York City and a farm in the Netherlands, which she calls a "sanctuary" for her and her family. It's pretty much the opposite of what viewers saw of her Malibu mansion on Real Housewives.
"My happiness is buying a little pony, feeding my cows and my goats, and getting my fresh eggs from my chickens, so that's really where my joy is," she said.
She's back to riding horses, a pastime that she passed on to Gigi and Bella. "We're just hopping around shoveling the shit and getting back to our roots," she added, laughing.
Her one splurge
Hadid still claims she isn't much of a believer in the material life, but in dealing with lyme disease, she has become an ardent consumer of alternative remedies and adheres to a strict organic diet. She admits that she's dropped quite a lot of coin on vitamins alone, and even administers her own intravenous therapy three days a week.
"I'm eager to learn every day and try new things. That's really a big part of my life and that's the only place I like to spend money," she said of her dedication to holistic health.
Plus, she appreciates it a lot more than a Chanel handbag.