Jay Leno Is Worth $350 Million and Owns 181 Cars But Says He Still Lives Like Someone Who's on Their Last Dime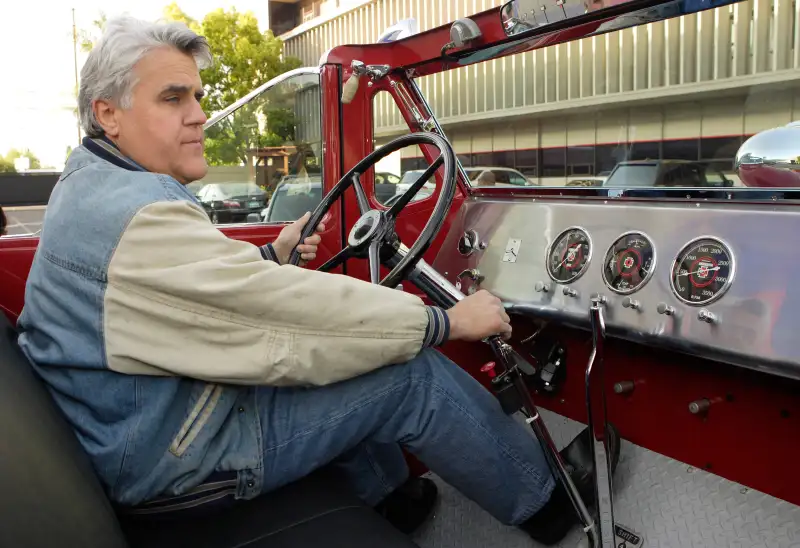 Paul Drinkwater/NBC—Drinkwater/NBC/
Jay Leno got rich by being America's class clown. The comedian has an estimated net worth of $350 million, largely thanks to his tenure as the host of The Tonight Show, which he left in 2014. He's still cracking jokes, but now he does it on Jay Leno's Garage, which started as a web series and is now in its fourth season on CNBC (airing Thursdays). It follows Leno's one true splurge: collecting prized and pricey cars. We talked to him about the money tips he's picked up from his auto obsession, how he started his standup career homeless, and the one thing he tells every comic who's trying to make a buck telling jokes.
You were extremely scrappy when you started in comedy. In Leading with My Chin, you wrote about being homeless and telling jokes to police when they picked you up off the street.
[Laughs] Yeah, I did. I just got on a plane one day and went to Los Angeles. I looked in the paper for open houses, say, from noon to 4 p.m., and I would get there at 3:30, and then I would hide in the closet. The realtor would leave and lock the door, and now I had a place to stay. Sometimes I could stay in a house two to three days. I didn't wreck anything. I did get picked up twice for vagrancy on Hollywood Boulevard. In fact, where I got my [Walk of Fame] star was where the cops picked me up. They'd put you in the back of the car, and they'd drive you around their entire shift, and then let you out in the morning.
They must've been used to that on Hollywood Boulevard.
I would tell the cops jokes, and most of the cops are pretty blue-collar guys. Once they realized you're not dangerous, you're not a crazy person... "You find a place to live yet? No? Okay, get in the back." It was okay. They were nice guys.
How'd you become a car geek, anyway?
I grew up in Andover, Massachusetts, which was a pretty rural area when I was a kid. There were always broken tractors, lawn mowers, vehicles you had to fix. I remember somebody had abandoned an old Renault in a field when we were about 11 or 12. We would drive it around the backyard. Your mom would kind of watch through the window. Of, course now they'd call child services, and the parents would be taken away. Back then, it was seen as not a bad thing—it taught you how to fix cars and get things running. I never set out to collect cars. I just bought what I liked. The general rule of car collecting is if you're reasonably astute and you understand how things work, if you like it, chances are other people will like it, too. My three things are: It should be of technical and historical significance. It should be fun to drive. And it should be attractive to look at. If an automobile has those three qualifications, then it's probably something that would be considered collectible.
There's a lot of speculation out there about your vast car collection. Exactly how many do you own?
About 181 cars, and about 160 motorcycles.
Do you have any idea what they're all worth?
No. I know individual ones. I bought a McLaren F1 in '99 for $800,000, and the last offer I got was $17.5 million. They only built 64 of them.
Are there any cars you look back on and think, "I wish I hadn't bought that"?
There's this thing in the car world: "You didn't pay too much, you just bought it too soon." There are a couple there. I don't really dwell on them too much. If you buy something that's rare and valuable, it will always be rare and valuable.
Charlie Nucci—Corbis via Getty Images
How often do you sell the cars?
I've never sold a car [Laughs].
Ever?
I will donate a car to charity. We've done that probably 10 or 15 times.
Your passion for cars is palpable. Is there anything else you don't mind dropping serious dough on?
You know, there's really not. It's obviously not clothes. I'm not an experienced person. I know I'm pretty wealthy, but I live like someone who's on their last dime. I take nothing for granted. I don't take vacations. When you're in show business, you get to go to vacation places. I enjoy doing philanthropy stuff. I like feeling like if I don't work this week, I'm gonna go broke. People say, "Why do you work all the time?" I go, "What do I do on a Tuesday that's worth this kind of money?" A job comes up, and I always feel like I was broke for so long, I never wanted to be in the position of, "Well, how much is that job? Oh no, I'm not…" It just seems so presumptuous to turn down.
You still have that hustler mentality.
Yeah, and I like being a piecemeal comic, the idea of write joke, tell joke, get check. I don't do HBO or Netflix specials because I can make almost the same money doing a live show. Why not just do four or five live shows instead of giving something away on TV?
So no eight-figure Netflix special for you.
It doesn't interest me. I'm not saying that to be snobby. It just doesn't appeal to me because once your joke is on TV, it disappears forever. I always think, "Did this person just hear me say this last night?" I always know where my act is. I control it.
You came into quite a lot of money as a famous comedian. What did you learn about spending money from that?
I never spent money before I had it. I never bought anything before I could afford it. I never bought anything on time. I don't lease vehicles. Cash is king.
You're not risky with your income.
I work and my money relaxes—that's the way I look at it. I live pretty frugally. I'm a huge believer in low self-esteem. The only ones with high self-esteem are actors and criminals. I'm dyslexic. My mother would say, "You're gonna have to work twice as hard as the other kid to get the same thing," and that always seemed like a fair tradeoff. The nice thing about being dyslexic—people tend to focus on something and then that becomes their goal. That always worked pretty well for me. I've always had two jobs, and I lived on one job and banked the other. All through The Tonight Show, I never touched a dime of my TV money because TV money is fleeting money. When you're a comedian, you can always generate income. You can always stand somewhere and tell jokes and get paid for it. In college I would go to what they used to call hootenanny night and I would put $50 on the bar. I would say to the bartender, "Let me go up and tell jokes. If I do good, give me my $50 back. If I do bad, you keep the $50." Eventually you could make $15, $20 bucks a night by doing that.
What do you say when you talk to a young comedian who's coming up and reaching for the kind of career you've had?
My advice is just take the job. Don't worry about how much it pays. I'm always astounded when I meet comedians who go, "I'm not going there for that kind of money," and I go, "Who are you? You haven't done anything. No one knows who you are." If you're any good, the money will come. Pay attention to your product. If you're not making enough money, it's 'cause you're not good enough.
I spent almost a year at the Comedy Store asking to go on after Richard Pryor. No one wanted to follow Pryor because he just blew the room out. He was really the best. After that, I realized I didn't have an hour of material. I had about 18 minutes of really funny material. I just kept throwing out everything that wasn't funny.