11 Celebrities Who Have Made Brilliant Investment Decisions
Money is not a client of any investment adviser featured on this page. The information provided on this page is for educational purposes only and is not intended as investment advice. Money does not offer advisory services.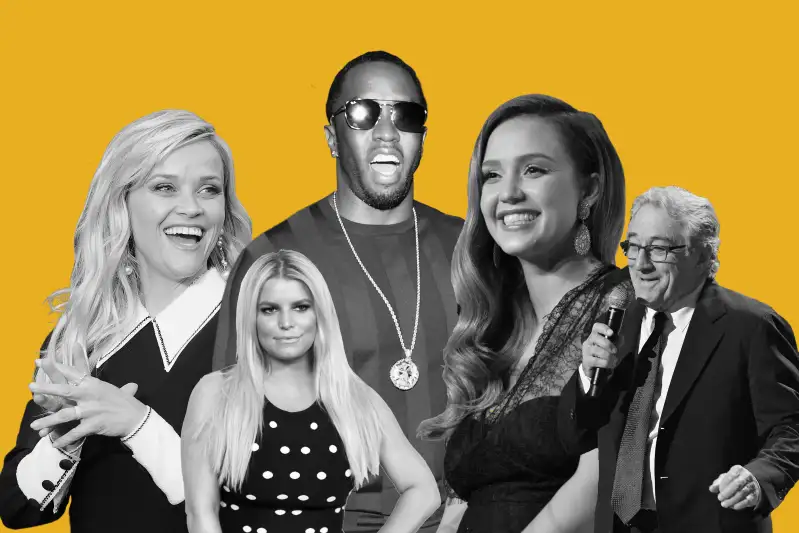 Photo illustration by Sarina Finkelstein for Money; Getty Images (5)
In the chaotic world of entertainment, its richest stars don't always make the best bets with their newfound wealth. There are endless stories about money poorly managed or blown on fast cars and massive homes that don't always have such hot resale value down the line. That's why celebrity money managers take careful steps to steer clients toward smarter, diversified assets. And some famous names have made savvy, if not always splashy, choices on where to place their chips. Here are 11 celebrities who took investment acumen to another level.
Diddy
With a net worth edging toward $1 billion, Sean "Diddy" Combs has moved far beyond the title of musician. The hip-hop star partnered with the liquor behemoth Diageo, offering his marketing muscle for its Ciroc vodka in exchange for a share of profits. He quickly helped transform it into one of the biggest vodkas on the market, before taking on another joint venture in the DeLeón tequila brand. And those are in addition to his many other ventures, including a clothing brand and a large stake in the Revolt TV network.
Ellen DeGeneres
Major stars, with their frequently eccentric taste, don't always play the real estate game to their best advantage. A clear exception is the current queen of daytime TV. Ellen DeGeneres has become one of the most well-known house-flippers in Hollywood, even if she doesn't look at the pursuit quite that way. "I've never bought to sell. I always say: 'This is it. I'm never moving.' People laugh at me now," she told The New York Times of her prolific real estate habit with wife Portia de Rossi, with whom she's renovated a number of homes. She's owned and sold 12 properties since becoming famous, of diverse sizes and styles, and made a good chunk of change in the process. She flipped one $40 million mansion for a $15 million profit. And that's when she's not one of the busiest people on TV.
George Clooney
It's hard to keep up with all the celebrity-branded liquors out there now. Certainly some of their famous founders are looking enviously at George Clooney. The actor started Casamigos as a tequila meant for his friends, but it blew up and Diageo recently acquired it for around $1 billion. "If you asked us four years ago if we had a billion-dollar company, I don't think we would have said yes," Clooney told CNBC. Well, at least he's modest about it.
Jessica Alba
Matt Winkelmeyer—Getty Images for Baby2Baby
A mother of two young daughters, Jessica Alba started the Honest Company in 2012 as a way to sell organic products like baby wipes, laundry detergent, and body lotion to ethically minded consumers. It has run into legal and PR snafus, but it's also grown to hundreds of millions in annual sales, proving she was on to something big.
Ashton Kutcher
He may still be known to most people as that guy from That '70s Show, but Ashton Kutcher has earned his bona fides in the tech industry in recent years. He and Guy Oseary, Madonna's longtime manager, forged an unlikely bond with billionaire Ron Burkle and formed A-Grade Investments. They turned $30 million into $250 million with shrewd backing of Silicon Valley darlings including Uber and Airbnb.
Nas
Nasir Jones has long ceded the rap throne to other, younger talents, but the musician has quietly become a star investor in the tech world, too. His venture capital firm QueensBridge Venture Partners, whose name is an homage to his native Queens, has made investments in startups ranging from health care to music production. Companies on its roster include Lyft, Dropbox, and the digital currency exchange Coinbase.
Robert De Niro
Celebrities are no strangers to vanity restaurants, but it's rare that one becomes a genuine hit. De Niro keeps his name off Nobu, but chef Nobu Matsuhisa credits the acting legend with convincing him to launch a Japanese restaurant empire. De Niro was a fan of one of Matsuhisa's early restaurants and became a business partner in the Nobu chain, which is thriving across the globe. He wisely saw the lucrative possibilities in the chef's signature miso black cod, among other dishes.
Jessica Simpson
Pop singer Jessica Simpson will perhaps always be remembered for her more ditzy moments on the hit reality show Newlyweds, but her moves in retail have been exceedingly clever. She launched the Jessica Simpson Collection in 2006 as a footwear collaboration with Camuto Group, but it's expanded to clothing, jewelry, handbags, and more. With billions in sales, its popularity led to Sequential Brands Group acquiring a majority stake in the brand for an undisclosed amount.
Jay-Z
Jay-Z will be the first to tell you he's not a businessman—he's a "business, man." Shawn Carter's career as a mogul has been fruitful, propelling him to a net worth of more than $800 million. That's thanks to diversified investments in everything from his streaming service Tidal, which is valued at more than 10 times what he paid for it, to his Armand de Brignac champagne and Roc Nation talent agency. The latter recently negotiated Kevin Durant's $51 million deal with the Golden State Warriors. Not bad for a rapper who grew up surrounded by drugs in Brooklyn's Marcy Projects.
Reese Witherspoon
Jordan Strauss—Invision/AP
Apparently not content with just being a beloved, Oscar-winning actress, Reese Witherspoon has broken out into two very different industries. For several years she self-funded her production company Pacific Standard, which has gone on to release successful films like Wild and Gone Girl. And Witherspoon was an executive producer on the hit HBO series Big Littles Lies, on which she stars. Pacific Standard focuses on female-driven material, with the mission "to make meaningful change" in Hollywood," as well as make money, which it's doing quite well. She also recently launched her own clothing line, Draper James, a Southern preppy line that competes with Tory Burch and has been expanding.
50 Cent
Shareif Ziyadat—Getty Images
50 Cent's tenure as a radio-dominating artist may be over, but his vast business portfolio isn't going anywhere. Among deals spanning everything from clothes to video games, he signed on to promote Vitamin Water in exchange for a stake in parent company Energy Brands. When Coca-Cola bought Energy in 2007, the deal netted 50 Cent a cool $100 million.