Early Bird's Guide to the 2016 Holiday Shopping Season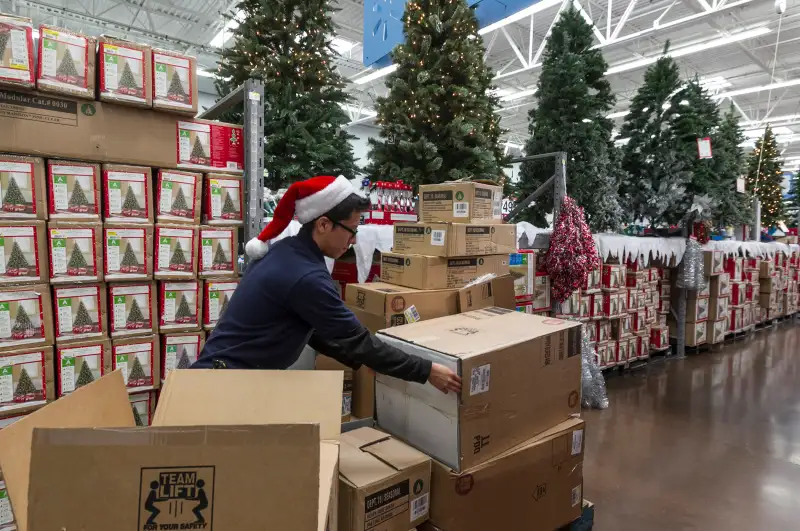 We're barely done with Halloween, it's weeks before Thanksgiving and Black Friday, and we've got a little ol' election in between that will decide the direction of the country for the next four years. Holiday shopping is probably not top of mind right about now.
The nation's retailers don't care. The relentless spread of Christmas creep has meant that huge holiday sales are often launched as soon as Halloween is over, if not earlier. Many shoppers seem to be on board with the trend too: According to one survey, as of mid-September, nearly half of parents said they'd already started their holiday shopping.
There's some indication that the 2016 presidential election is actually causing a delay in holiday spending and advertising. But make no mistake: Regardless of whether or not the majority of retailers roll out special holiday promotions this week or next, or who winds up in the White House, the onslaught of holiday season sales and marketing efforts is coming very soon. Here's what shoppers need to know to make smart spending decisions.
Online Shopping Will Be Huge
With every passing year, consumers do more of their holiday shopping on the web. Even so, traditionally, shoppers spend far more in stores versus online.
Read Next: 8 Surprising Economic Effects of the 2016 U.S. Presidential Campaign
According to the 2016 Deloitte holiday shopping survey, this holiday season will mark a major milestone, as shoppers plan on spending an equal amount online versus in stores. Consumers say that 47% of their holiday shopping budget will go to online spending, and 47% will go toward purchases inside physical stores. Based on the projected increases in online shopping, UPS is forecasting that its deliveries will rise nearly 17% from Thanksgiving through New Year's, compared with the same period in 2015.
Free Shipping Is Everywhere
Free shipping promotions abound throughout the holiday season. Like last year, both Best Buy and Target are offering free, no-minimum-purchase shipping throughout the holiday season; Target allows free delivery on returns too.
This is increasingly the cost of doing business for retailers trying to compete with Amazon, the online giant whose customers are more likely than not to be Prime members who enjoy free two-day shipping on most purchases. Partly because of Amazon, shoppers have come to expect that the shipping of online purchases should not only be free, but also fast. Roughly two-thirds of the consumers surveyed by Deloitte say that they should get free shipping even for orders placed after December 17 and still get delivery by Christmas. And 88% of consumers say that they wouldn't pay a dime for expedited shipping.
Physical Retailers Are Stepping Up Their Game
Understanding what they're up against in a world of Amazon and increased comfort with gift purchasing via smartphone, big brick-and-mortar retailers like Walmart, Target, and Toys R Us are trying to stand out with better service and more excitement in the stores. "What we see the leading retailers doing is creating emotional experiences in their stores," explained Steven Barr, PwC's U.S. retail and consumer leader, according to CBS News. "I like to say that a website can't give you goosebumps."
Read Next: Imagine That! Walmart Pays Workers Better and the Shopping Experience Improves
Specifically, Walmart is staffing stores with holiday helpers to assist shoppers find gifts and make purchases more quickly, while also boasting selfie stations and toy demos to liven things up. Target's holiday strategies include new value propositions, like $10 off $50 purchases for a rotating set of categories in the weeks leading up to Christmas, as well as Wondershop, a store-within-a-store concept stocked with 2,000 new seasonal items. Meanwhile, retailers like Kmart and Toys R Us are emphasizing deals and service with special offers focused on layaway and price matching, respectively.
Everybody Expects Amazing Discounts
The retail world is rife with original prices that are so inflated that some stores have been sued under the premise that their list prices are essentially fake—existing only to make the inevitable discounts seem more tempting.
Because list prices are so unrealistic, shoppers have come to expect markdowns at every turn. More than 4 in 10 shoppers say they will rarely or never pay full price for purchases during the 2016 holiday season, according to a survey from the consulting firm Accenture. Among the ways people avoid paying full price, 81% will engage in "showrooming" (scoping out goods in a physical store before purchasing it for less money online), and 84% say they'll check Amazon's prices before making any buying decisions.
The Election Is Affecting Holiday Spending
According to a National Retail Federation survey, 43% of American consumers are "being more cautious with their spending due to the uncertainty of the election season." Retailers like Barnes & Noble and Gap have blamed their recent poor sales performances on the idea that shoppers are too focused on Donald Trump and Hillary Clinton to hit the mall. There is also some evidence that stores are delaying holiday advertising because, what with America so engrossed in the presidential election, it would be a waste of money.
Read Next: 10 Numbers That Show How Amazon Is Absolutely Dominating
Thanksgiving & Black Friday Shopping Keep Fading
After years of expanding shopping into the Thanksgiving holiday—along with much controversy and anger over the perceived ruining of sacred family time—many retailers seem to be accepting that it's dumb to open early on Thanksgiving, or even to open at all. The Mall of America, for instance, decided to stay closed for Thanksgiving 2016 after being open for the past three holidays. Stores like Hhgregg and Office Depot/Office Max have also joined the long list of stores remaining closed on the holiday
after being open in the past.
There are exceptions to this trend, however, such as Macy's, which is opening an hour earlier on Thanksgiving than it did last year. But many stores seem well aware of how the majority of Americans feel about Thanksgiving shopping—82% say they hate it or are indifferent, according to a recent survey—so it's increasingly not worth it for retailers to open on Turkey Day.
It would make sense that Black Friday would benefit from the de-emphasis on Thanksgiving shopping. But experts think this traditional day for kicking off the holiday shopping season will be somewhat meaningless in the grand scheme because there are so many deals before and after it. Both sales and foot traffic have fallen on recent Black Fridays, and more than half of shoppers say they don't rely on Black Friday for deals as much as they did in the past, per the Deloitte survey.
Read Next: These Retailers Are the Worst Offenders Pushing Thanksgiving Day Store Hours
Last year, retailers began rolling out holiday promotions as soon as Halloween was over. We expect more of the same for 2016, though things may be a little subdued until after the election. Come mid-November, sales and deals should be in full swing.
Nobody Really Knows How the Season Will Go
As the Wall Street Journal reported in early October, most analysts anticipate a fairly strong holiday season, with spending up 3% to 4% compared with 2015. The forecast from PwC, meanwhile, estimates that spending will rise 10% compared with the 2015 season, and that digital sales will be up 25%.
While these figures are closely watched by retailers and marketers, they can also affect everyday consumers. Stores will discount more heavily if they anticipate a slow holiday period for sales, and the discounts will be especially large late in the game if it's been an off year. Savvy shoppers can therefore strategize according to how the season appears to be playing out, buying early (or late) depending on when it looks like the best deals will surface.
However, the truth, as Bloomberg columnist Barry Ritholz has summed up nearly every year around this time, is that each holiday sales prediction is an "exercise in innumeracy, flawed statistical methodology and foolishness." These sales forecasts tend to be based on the polling of regular shoppers, who rarely if ever make spending budgets, let alone stick to them. Because there are so many moving parts, and so many unknowns, the predictions are pretty meaningless and often wind up bearing little resemblance to whether the season winds up booming or busting for retailers.
Read Next: 5 Reasons Why Fewer People Are Shopping at Target
There's a lot of guesswork inherent in such forecasts. This also means that it's basically impossible to accurately predict whether stores will offer their deepest discounts sometime in mid-November, on Black Friday or Cyber Monday, just before closing on December 24, or some later date. To avoid overpaying, then, you should shop around and keep tabs on all the latest promotions. Consider using price-matching policies too.
And make sure that you're not paying full price, or anywhere near it: We're all shopping in the season of deals right now, so there's rarely any reason to bite unless you're getting at least 30% or 40% off.