Social Security Checks Are on Track to Rise 3% Next Year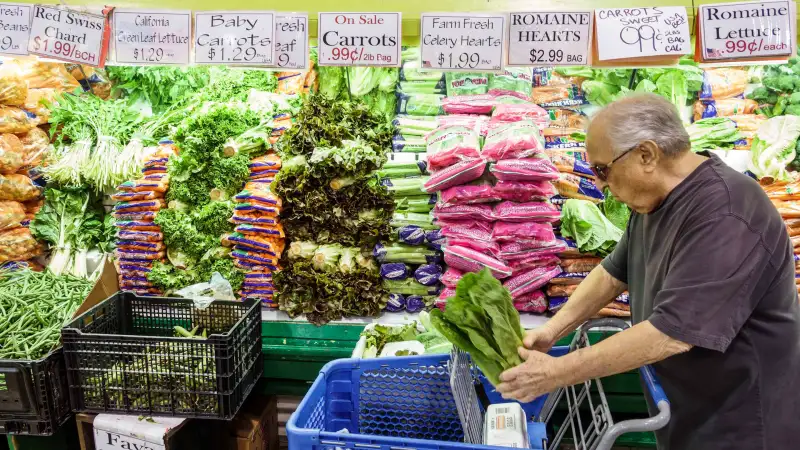 Expectations for next year's Social Security cost-of-living-adjustment have changed once again as inflation continues to cool, this time inching a little higher to 3% based on the June data released Wednesday.
While that's a better outlook for beneficiaries than last month's estimate of 2.7% from advocacy group The Senior Citizens League, there is still plenty of time for the numbers to change — for better or for worse. The official 2024 COLA won't be announced until October, when third-quarter inflation levels are calculated.
And with new costs associated with Medicare anticipated, some Social Security beneficiaries could be at risk of not seeing any growth in their 2024 benefits.
How the COLA is calculated
The Social Security Administration raises benefits every January for the roughly 67 million Social Security and Supplemental Security Income (SSI) recipients to keep up with inflation. Calculated using a subset of the consumer price index that measures the cost of goods and services for a certain demographic, the increase — called the COLA — is determined by the average inflation level in July, August and September.
The government compares the third-quarter inflation average to that of the previous year, and the percentage difference is the final COLA amount. In other words, the higher year-over-year inflation is, the higher the COLA is.
Whether the official 2024 COLA is below or above the current estimate, beneficiaries won't be getting anywhere near the same boost they received this year. The 2023 COLA was a historic 8.7% (and the largest in over 40 years) thanks to surging inflation. The average monthly Social Security payment increased by $140, according to The Senior Citizens League.
Despite the much higher-than-usual COLA for 2023, a previous survey from the group found that it still hasn't been enough for more than half of respondents to keep up with rising household expenses. The advocacy group says beneficiaries' expenses increased by $185 a month between 2022 and this year, meaning even their pumped-up Social Security checks fell short.
The 2024 COLA and Medicare Part B
Inflation increased 3% in June compared to the same time last year, according to the most recent report from the U.S. Bureau of Labor Statistics. If the 2024 COLA does come out to 3% in October, the average monthly benefit of $1,787 would increase by about $53.60.
The Senior Citizens League says Medicare Part B premiums, which are automatically deducted from Social Security payments, are also likely to go up due to new costs. Part B helps cover medical expenses, like outpatient care, that aren't included in Part A, which is free health insurance provided to most Americans when they turn 65.
(Premiums are determined by a recipient's modified adjusted gross income.)
Based on spending projections, new Medicare costs could add between $5 and almost $15 a month to the Part B premium for all beneficiaries. That could bring the 2024 premium to a little under $180 a month, up from this year's premium of $164.90.
"In many years, the Part B premium increase can take most, or even all, the COLA, leaving little else to cover other rising prices," The Senior Citizens League says in a news release.
Keep in mind that most, but not all, Social Security beneficiaries pay monthly Part B premiums. While data from the Centers for Medicare and Medicaid Services shows there are about 65.7 million people enrolled in Medicare as of March, the number of Social Security claimants is closer to 67 million.
What it means
The Senior Citizens League says that even with this year's COLA, the average benefit fell short by $1,054 as a result of inflationary pressures.
While inflation is cooling quickly, prices are not coming down on certain expenses that particularly pertain to retirees. In fact, dental care and auto insurance are actually getting more expensive as costs for other goods and services fall.
"It puts people living on fixed income, especially those with little savings or other resources, at risk of having problems paying their rent or electric bills, going hungry, or failing to fill expensive prescriptions," Mary Johnson, policy and Medicare analyst for The Senior Citizens League, told Money previously.
The group says a $15 a month increase for the Medicare Part B premium would likely be "doable" for most Medicare beneficiaries based on its current COLA prediction. But if inflation ticks down and results in a COLA under 3%, there's a risk that the 2024 monthly deduction for Part B may exceed the increase for some Social Security beneficiaries — especially those with the lowest benefits.
More from Money:
Missouri Will No Longer Tax Social Security Benefits, but These 11 States Still Do
401(k) Gender Gap: Men's Retirement Account Balances Are 50% Higher Than Women's
Here's How Much Money Americans Think They Need to Retire Comfortably