See Inside 50 Cent's Multi-Million Dollar Mansion He Forgot He Had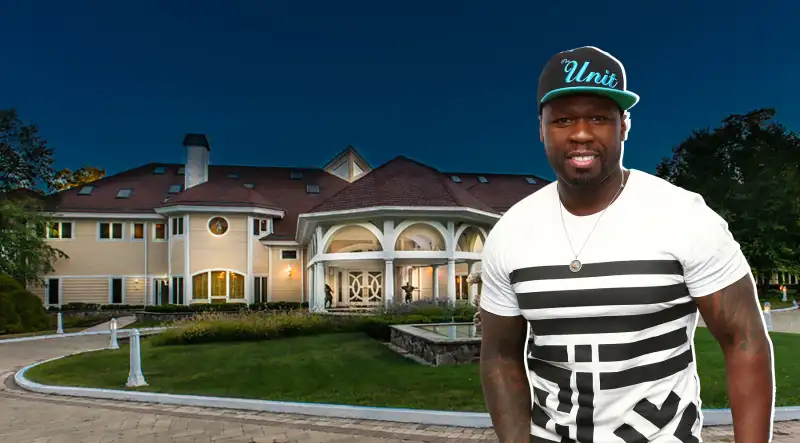 (house) courtesy of Douglas Elli
50 Cent has been trying to unload the his extravagant 50,000-square-foot Connecticut mansion for years now. Will a spot on Bravo's "Million Dollar Listing" be the kick it needs to finally sell?
The home the "In Da Club" rapper purchased in 2003 is being filmed for a future episode Bravo's "Million Dollar Listing," Page Six reported Thursday. 50 Cent, whose real name is Curtis James Jackson III, placed the home on the market for $5 million, a mere fraction of its original $18.5 million asking price.
courtesy of Douglas Elliman
The 19-bedroom estate's new price might be comparable to other Connecticut mega-mansions', but its luxurious extras set it apart. In fact, the most expensive home in Farmington, Conn., not only comes with typical high-end features, like an indoor pool and basketball court, but also a recording studio, full gym and "substantial night club." Worried about transportation? In addition to a garage, the 17-acre property has been approved for helicopter landings, the home's real estate listing says.
courtesy of Douglas Elliman
For such an opulent house, 50 Cent doesn't seem to spend much time in it. When the house was burglarized in May 2017, the performer was surprised -- because he didn't realize he was still the owner.
"What my house got robbed," 50 Cent reportedly wrote in a since-deleted Instagram post. "I thought I sold that MF. LOL."
courtesy of Douglas Elliman
50 Cent reportedly spent up to $10 million on updates to the home before placing it on the market in 2007. According to The Hartford Courant, the mansion's mortgage, property tax and other maintenance fees cost 50 Cent $67,000 a month -- a figure that came out after the musician filed for Chapter 11 bankruptcy protection in 2015.
That said, things are looking up for 50 Cent. His bankruptcy case was resolved in 2016 and, more recently, the rapper made headlines for becoming a bitcoin millionaire. In a since-deleted Instagram comment, Jackson said he had forgotten about the bitcoin earnings from 2014's Animal Ambition album, which reportedly add up to over $7 million today.
See more photos from inside the house below:
courtesy of Douglas Elliman
courtesy of Douglas Elliman
courtesy of Douglas Elliman
courtesy of Douglas Elliman
courtesy of Douglas Elliman
courtesy of Douglas Elliman
courtesy of Douglas Elliman
courtesy of Douglas Elliman
courtesy of Douglas Elliman
courtesy of Douglas Elliman
courtesy of Douglas Elliman
courtesy of Douglas Elliman
courtesy of Douglas Elliman