7 Things You Should NEVER Buy at Costco, According to a Shopping Expert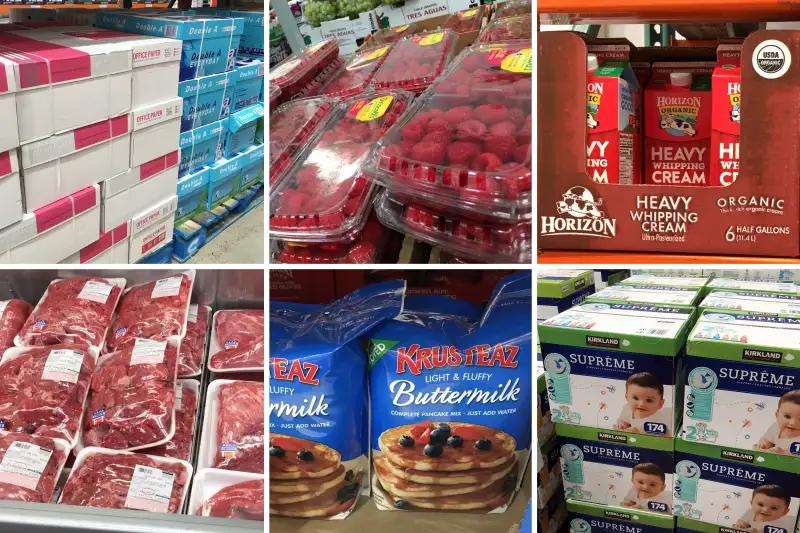 Costco can be an amazing savings tool in your arsenal. But you may be putting items in your cart that are costing you much more than you think.
As a frugal living and budget blogger at The Frugal Convert, my mission is to find the lowest prices possible for the most common staple items so you save money on your grocery bill.
It's important to know what items to avoid at Costco so you are able to save the most money. Not everything at Costco is a good deal.
Factors like unit price, product shelf life, grocery sales, and coupons can help you determine if an item is worth the cost. Basic math will help you see where the better deal is.
Here are 7 Costco items that you should avoid — and these items may surprise you. (Note: Prices may differ depending on the store.)
1. Meat and Poultry
While Costco does sell good quality meat and poultry, their prices tend to be much higher than local grocery stores. Stew meat, which is a relatively cheap cut of meat, is currently sold at Costco for $5.99 per pound. According to this week's sales ad, my local Vons in Los Angeles is selling stew meat for $2.99 per pound. While you have to cube the meat yourself (Costco's is pre-cut), that extra 10 minutes will save you money.
Boneless skinless chicken breast is on sale at the grocery store at least once a month for $1.29 per pound at its lowest, while Costco sells frozen chicken breast for $1.99 per pound.
In the end, it pays to shop your local grocery ads every week and stock up on meat and poultry when it goes on sale instead of picking it up from Costco.
2. Diapers
Not surprisingly, Costco sells diapers in huge quantities, starting at $29.99 for a 174-count pack. But in this case, buying in bulk can actually be a bad thing. Babies grow very quickly and when they grow out of a size, you'll be stuck with leftover diapers that have no other use. This means you'll be throwing away money.
Buying diaper packs at the drugstore or grocery store during a sale is a better choice. You can also use manufacturer coupons and save even more.
3. Stationery and Office Supplies
You'd think with the large quantities that Costco sells, that you'd get the best deal on print paper, folders, pens, etc. But, the truth is, you're better off shopping at Walmart for these items.
Shop during the back-to-school sales that are held in the summer to get the best deals. This is the ideal time to stock up on paper goods that you need for the year.
Costco currently sells a case consisting of 10 reams of copy paper for about $32. During back-to-school sales, Walmart sells one ream of copy paper for about $2, which means you can get 10 reams of paper for about $20. That's a $12 price difference!
4. Fruits and Vegetables
There are so many reasons why buying your fresh fruit and vegetables from Costco isn't the best idea. The quantities are often too large for average-sized families, which means the product will probably spoil before you have a chance to consume it all.
Considering that members in your family may not like the same fruit, buying a package of 12 honeycrisp apples may not satisfy everyone and some of those apples will likely spoil as a result.
The per unit prices can be relatively high compared to your local international market or a discount food store like Food 4 Less or Aldi.
The package of 12 honeycrisp apples (about 5.5 pounds) is about $18.29 at Costco, while at my local international grocery store, they sell for $0.89 per pound, ringing in around $4.90 for the same quantity. That is a drastic price difference.
The only exception to this are the bagged salads. If you store them right, you can prolong the lifespan long enough to consume before it goes bad.
5. Pre-made Meals
I'm a huge supporter of bringing your lunch to work to save money.
But pre-made meals like Costco's frozen burritos, which cost $13.99 for a pack of 18, or their infamous Chicken Bakes ($13.99 for six) are not saving you money. You're paying a premium price for convenience.
More importantly, grocery stores often hold sales where those same burritos are sold for as low as $0.50 each. You can lower the price even more if you have a manufacturer coupon as well.
6. Baking Mixes
Premade baking mixes don't really save you much time or money. As a busy parent, it sounds more efficient to buy baking mixes in bulk, but buying in bulk doesn't always mean you get a better unit price.
At Costco, buying a pancake mix costs about $6, but gathering common items like flour, baking soda, baking powder, and sugar and mixing it yourself would cost less than $2 for the same quantity.
If convenience is your priority and you would rather buy a mix premade than make it at home, you're better off waiting for a sale at your local grocery store, where mixes can go for less than $0.50 per box. Combine that with a manufacturer coupon, and you're spending pennies.
Costco mixes are priced between $6 to $11. It's cost efficient to stick with the grocery store for this item. (You can keep your eyes open for other items that are always cheaper at Costco than at your local grocery store.
7. Dairy
Surprisingly, items like heavy cream and eggs are not the best deals at Costco. Costco's heavy cream is almost $10 for a 64 oz. container, which I gladly paid, until I walked into Food 4 Less and found the same size bottle of heavy cream for $4.99.
Costco prices range from around $8.99 to $10.00 for five dozen eggs, but at least once a month, Food 4 Less has a dozen eggs for $1.49, at which point, I can buy five dozen for around $7.50 — a $1.50 savings compared to Costco.
There are plenty of good deals at Costco, but it always pays to look closely and find the ones that make the most sense for you.
For more money-saving tips, subscribe to our newsletter.