This Adorable Retired Couple Makes $75,000 a Year as Airbnb Superhosts — and They Give It Away to Charity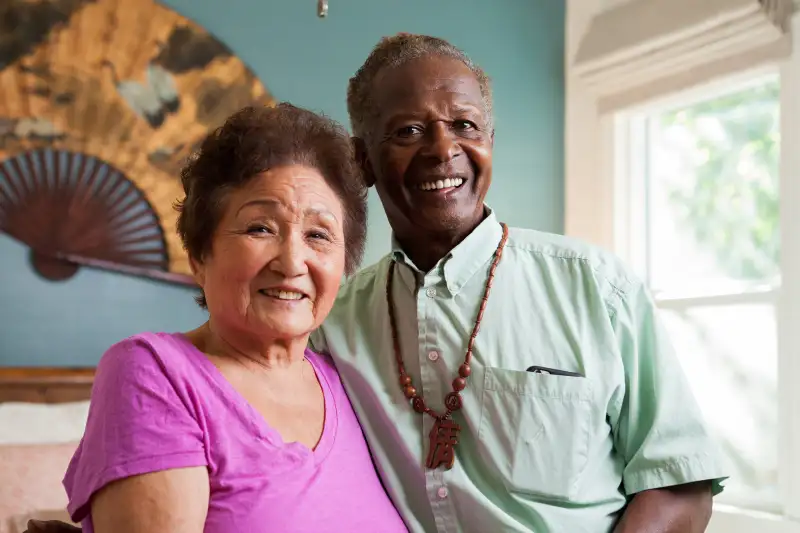 Many older adults are joining the sharing economy for extra income. But for James and In Ja Yates, sharing is more than just a gig — it's their whole way of life.
The L.A. couple, ages 80 and 79, respectively, share two units of their sprawling, 100-year-old home on Airbnb. It's a full-time effort: "We're not retired yet," James says jokingly. They earn $70,000 to $75,000 a year through Airbnb, about 10 times what the average senior host earns annually, according to the company.
The couple loves welcoming visitors from around the world, and their guests love them back, giving them 5-star reviews that have helped the couple earn "Superhost" status on the platform. "They adopted our kids as their own," wrote a recent guest. Another gushed, "This is by far the best Airbnb experience we've ever had."
Their interest in people is genuine, the couple says. "If you don't embody that hospitality within you, it's not going to work," James says.
For those who want to give it a try, here are James and In Ja's secrets for Airbnb success:
The Hollywood sign view from the Yates's house in Los Angeles. Courtesy of Airbnb
Value is Paramount
The Yates charge $109 per night for one of their listings, under the $136 average for L.A. homes on Airbnb. Their places come with all the standard amenities, including Wifi and free parking. But they give their guests even more for their money: a hearty breakfast.
Each morning, In Ja prepares a feast of bacon and eggs, omelets, French toast, and other delicacies. "I make sure their tummy is full when they leave my kitchen," In Ja says. "They don't get hungry until 3pm." She estimates that the breakfast is a $12 value per person.
The hearty meal is a big attraction for the guests. "The breakfasts each morning are incredible, delicious, and help you to get off to a good start each day," one recent guest wrote, adding that In Ja also sent his kids off with snacks.
The Yates's courtyard overlooking the Los Angeles hills. Courtesy of Airbnb
Give Back to Your Community
James and In Ja donate any leftover food to homeless people in their neighborhood. It's just one of many ways the couple gives back to their community. They also run a scholarship foundation called Soul 2 Seoul that gives money to students who promote racial unity. So far, they have given away $70,000, a sum made possible by their Airbnb earnings. The two receive Social Security and two pensions, in addition to having other rental income, so the money they make through Airbnb is largely gravy that they spend on others.
The couple met in 1960 in Korea, where James worked as a government employee. The challenges they faced as a mixed-race couple in the U.S. have helped them be open to their diverse guests, they say.
In a way, hosting is a fourth act for James, who after his stint as a government employee worked in marketing for Kodak for 29 years in Rochester, N.Y. and then moved cross-country and became a school teacher in L.A. In Ja stayed at home and raised the couple's three children. The two fell into hosting after their long-time tenant suggested it would be a good way to put their extra space to use.
Word of their hospitality has spread via word of mouth throughout the globe. Their referral network is especially strong in France and China. Children hear about the couple before they arrive and begin calling them "grandpa and grandma" as soon as they meet.
The Yates's house has lush vegetation along with hearty breakfasts. Courtesy of Airbnb
Know Your Audience
One way James and In Ja help guests feel welcome is by including some of their native cuisine in the daily breakfast spread. Mexican guests might get tortillas and salsa, while Chinese guests get rice porridge. "A lot of little things go into the package," James says.
The couple also keep their rooms spotless. One detail they notice from being guests themselves in hotels and other Airbnbs is that pillows often get musty from sweat. So they fastidiously wash their pillows and hang them to dry, maintaining two sets of each so guests can use one set while the other is being washed.
While the couple has hired two part-time workers to help with the cleaning, they still do the bulk of the work themselves. "Today is a light day, but I've washed five loads already," In Ja said one recent afternoon.
Some of their seven grandchildren, who range from ages 13 to 27, also pitch in with chores when they want to earn some cash. Airbnb earnings have helped the couple take their extended family on trips to Korea and Africa.
The couple hadn't imagined quite how fulfilling their encore act could be. Says In Ja, "It brings so much joy to my husband and me."
The Yates's bedroom. In Ja makes sure every guest has a clean pillow. Courtesy of Airbnb