Airlines Are Offering a New Way to Get Upgraded. Here's How to Score a First Class Seat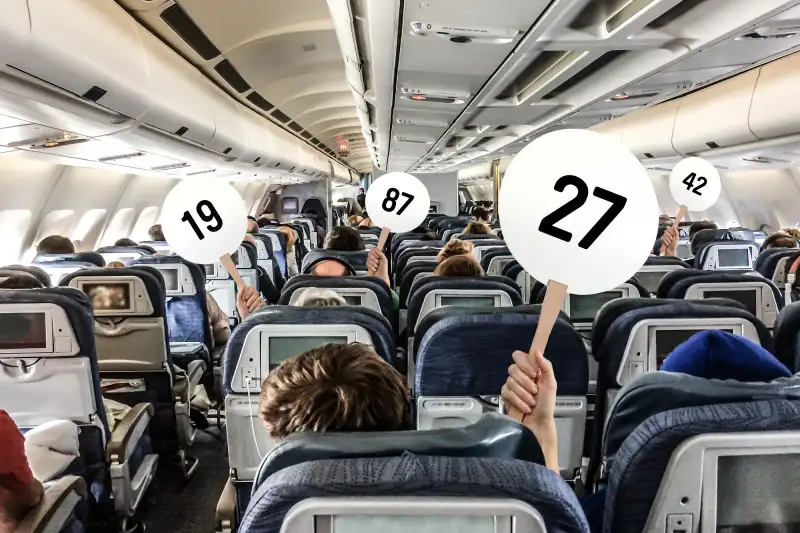 Photo illustration by Sarina Finkelstein for Money; Getty Images (2)
Bid Now For a Chance to Upgrade!
If you've purchased an international flight over the past year, you've probably received an email (or several) with a similar subject line.
Recently, more and more international airlines have launched programs that allow you to bid ahead of time for any empty premium seats at the front of the plane. But these programs usually are set up as a blind auction, with only one chance to bid—so you need to make it count if you really want to score a premium economy or business class seat without paying the premium prices. Here we break down how these systems work, who offers them and what strategies work best to score a deal.
How it Works
In the past, it was much easier to get a free upgrade to first class—particularly if you had loyalty status with a U.S. airline. But today, airlines are watching every penny and it's much harder to justify upgrading passengers to premium seats that sell for up to quadruple the price of an economy ticket. Business class seats typically cost two to three times the price of an economy class ticket, while first class tickets are three to four times as much, according to airfare prediction app Hopper.
Instead of giving away the seats, a number of airlines are taking a different approach—providing passengers with a chance to bid for an upgrade to a premium seat.
The process starts after you purchase an economy ticket. Participating airlines will email you touting the opportunity to bid on the chance to score these premium seats. Like eBay, the airlines generally start the bidding at a specific threshold such as $150—although the minimum bid varies airline by airline. But suffice to say, you're not going to get an upgrade to first class for $10.
Typically, you'll spend far more than the minimum to win an upgrade. For instance, Zach Honig, editor-in-chief of The Points Guy, says he has scored business class seats through this system when he bid €400 (about $472) each way for a business class seat on a recent Austrian Airlines flight. Still, not a bad deal when you consider that most business class seats from the U.S. to Europe average about $2,500, according to FirstClassFrequentFlyer.com.
In most cases, there's a slider tool on the bidding website to help you select the amount when requesting an upgrade. As you move the slider, there is a feedback meter telling you the likelihood of success at each amount. For many of these auctions, you can't see what others have bid, and once a bid is submitted, you can't change it.
The airlines typically notify "winners" 48-72 hours before the scheduled flight. The bid amount you offered is automatically charged to your credit card and a new boarding pass is assigned (with the corresponding perks like lounge access and extra baggage allowance included).
When it Works
Long, overseas flights are typically the best time to try bidding for an upgrade, says Patrick Surry, chief data scientist at Hopper. Generally, these flights have a business class section with seats that will lie flat and multiple meals—a better value than spending for a reclining seat and a snack on a domestic route.
Before you bid, do a little digging on how many seats are left in business class on your flights through websites like ExpertFlyer.com. If there are a good number of seats, then follow this quick calculation: check the regular cost of a business seat and subtract what you've already paid for your economy ticket. You should then bid between 20% and 40% of the difference, according to travel blogger Bethany Davies. So if your economy ticket was $700 and a business class ticket is selling for $1,700, you should bid between $200 and $400 for an upgrade.
Another way to approach your bid is to consider what kind of trip you're taking, Surry says. If you're trying to get a cheap business or first class fare that you would've purchased anyway, then consider going up to double the cost of what you paid originally for the economy ticket. If it's more of a nice-to-have splurge, you should probably bid no more than a 50% markup on what you paid for your economy ticket, he recommends.
It definitely helps to spend a little more than the absolute minimum. "You probably want to go a little above the minimum because that will put you ahead of the people who go for the lowest they can possibly get," Surry says. At the end of the day, you need to price your bid around what your value of having that premium seat is, since you'll be spending a lot more than you would to get there in economy.
Like with all auctions, however, don't get drawn in by the temptation to overspend. "It can feel like a game," Honing says, adding it's best to bid what you're comfortable with. Especially if you're booking a few months in advance—because once you submit a bid, you're on the hook for that money if it's accepted. So make sure you budget that extra money into your plans—just in case. There's nothing worse than having to cut back on activities while you're on vacation because you had a major, unexpected expense.
Also, consider alternatives. If you really want that business class seat, bidding for an upgrade may not be the best solution—especially since it's not guaranteed that you'll win the auction, no matter how high you bid. Consider purchasing a business-class ticket outright. When you factor in the miles you're earning with the airline, and the points you'll earn through the credit card purchase, you could easily walk away with enough miles for a domestic flight within the U.S. and perhaps a second free flight, Hoing says.
If you really don't want to spend on a business class seat, try using frequent flier miles to upgrade a flight. Not a member of their loyalty program? Check out your credit card's rewards programs, Hoing recommends. Many times, you can exchange credit card points for airline miles. For example, if you're flying British Airways, you can transfer your AmEx points to the Executive Club and then use your Avios (British Airways currency) to upgrade to premium economy or business class.
Where it Works
You'll find more luck on bidding for a seat upgrade with international carriers, particularly those based in Asia, Europe and South America. On a whole, U.S. carriers, including the big three—American Airlines, Delta and United—do not currently offer this upgrade option. The exception is Hawaiian Airlines, which offers the ability to bid for First Class upgrades.
Airlines That Accept Bids for Premium Economy
Airlines That Accept Bids for Business Class
Airlines That Accept Bids for First Class
Airlines That Accept Bids for Neighboring Seats