The 14 Best Beaches in the World—and How Much It Costs to Visit Them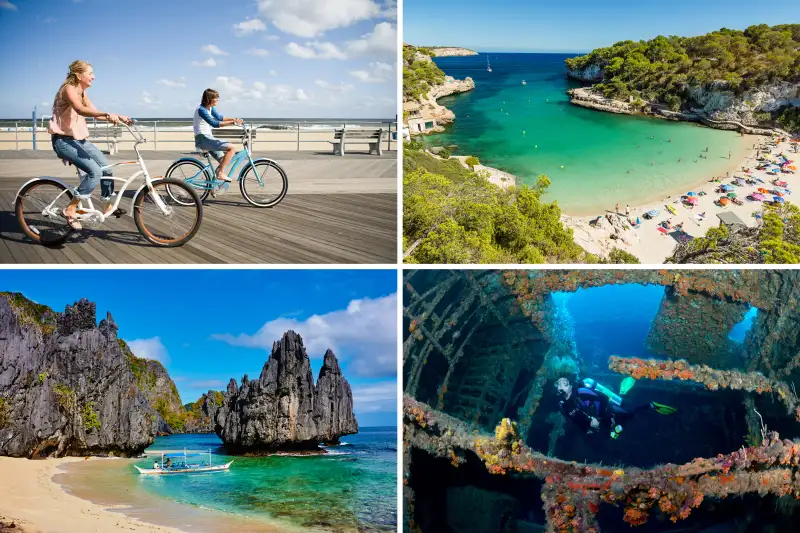 (clockwise from top left) Getty Images (2); Alamy (1); Getty Images
No matter how you define a beach or how high your waterfront standards may be, Money has found a perfect destination for you.
The following 14 beaches, both in the U.S. and overseas, range widely. They include quiet sandy retreats, breaks surfers will love, lush foliage-hidden escapes, and kid-friendly options with boardwalk games. The one thing they share: All offer that ideal mix of waterfront amenities and affordability.
Money weighed thousands of data points about more than 250 popular beach spots across the world to narrow the list, picking seven domestic and seven international destinations. Only one international winner was chosen per country; domestically, we limited winners to one city in each state.
---
Best U.S. Beach Vacations
1. Pompano Beach, Florida
Average airfare: $278
Average hotel night: $124
Cost of a week for two: $2,125
Enjoy all that Florida beaches are known for—warm ocean waters, long stretches of golden sand, and tons of sunshine—at a more reasonable cost with a stay in Pompano Beach, otherwise known as "the Heart of the Gold Coast." Sitting on the Atlantic Ocean just north of Fort Lauderdale, Pompano Beach is an "affordable and family-friendly alternative to other South Florida hotspots," says Lonely Planet's Evan Godt. Average rates for hotel rooms run only $124 a night, according to Hotels.com. That's less than what you'd pay to stay in Fort Lauderdale, Miami, or West Palm Beach. (And it's one reason Pompano Beach landed at No. 5 on this year's Best in Travel list.)
Don't think you'll be sacrificing any beach fun; Pompano still offers more than enough to satisfy every kind of water lover. From the shore, you can access natural coral reefs; scuba divers, meanwhile, can visit 18 shipwrecks in the area. The Okinawa, located just off the 1,000-foot-long Pompano Beach Pier (currently closed for a major reconstruction), makes for a great beginner dive—with the top of the wreck sited just 40 feet below the surface.
As befits its name, Pompano Beach attracts plenty of sport fishers too. Every May, the town hosts a fishing rodeo (this year on May 19); some catches can earn more than $18,000. Families will love the beachside playgrounds, complete with grills and picnic tables, as well as the shoreline itself—at more than 100 yards wide, it gives kids more than enough space to build castles and bury their siblings.
---
Image Source—Getty Images
2. Asbury Park, New Jersey
Average airfare: $293
Average hotel night: $185
Cost of a week for two: $2,676
Made famous by Bruce Springsteen, Asbury Park offers the classic combo of beach and boardwalk. Surfers can be seen riding the waves on this mile-long stretch of the Jersey Shore.
Like most Shore beaches, Asbury Park requires a pass (weekdays $5/weekends $7). If the the sun isn't cooperating, while away time with a host of nearby family-friendly activities, including the Silverball Museum Arcade (no quarters needed, passes sold starting at $10), which showcases hundreds of antique pinball games.
Looking for fun after the sun goes down? The Stone Pony, one of the area's biggest music venues, puts on an annual Summer Stage concert series. (This summer's lineup includes New Found Glory, Boy George and the Culture Club, and Billy Currington.) Restaurants and shops are open late for the monthly "First Saturday Asbury Park." Swing by Asbury Festhalle & Biergarten for a beer (over 50 on tap) or take in the sunsets from the rooftop bar Salvation (part of The Asbury hotel).
---
3. Sag Harbor, New York
Average airfare: $386
Average hotel night: $350
Cost of a week for two: $,3651
Sag Harbor has fewer celebrity homes and summer crowds than other parts of the Hamptons — but that's what makes it so special. Family-owned groceries, antique stores and art galleries line the streets, giving the town a laid-back vibe. The village also has a rich history, including its use as a British naval port during the Revolutionary War and later status as a refuge for African-Americans during the Jim Crow era.
A reservation at the American Hotel may give you a taste of Sag Harbor's history and culture; built in 1846, it remains the "epicenter of Sag Habor life," according to Coastal Living. The hotel has a 30,000-bottle wine list and a French restaurant founded by the legendary wine director Ted Conklin, where you can find local firefighters and celebrities intermingling.
Families (and dogs) love Foster Memorial Long Beach on Noyack Bay. The waters are calm and get warm faster than the ocean, making it ideal for young children. Lifeguards are on duty from 10 a.m. to 5 p.m., and the beach closes at 9 p.m. Bathrooms and showers are available on site and parking permits are $20 per day during the high season.
---
4. Long Beach, California
Average airfare: $301
Average hotel night: $178
Cost of a week for two: $2,508
Although once a must-visit destination for surfers, Long Beach constructed wave-taming breakwaters around the beach starting in the first half of 20th century. The calm water is now more suitable for recreational swimmers and children, and offers the opportunity for various water sports like kayaking and kite surfing.
Alamitos and Junipero beaches are walking distance from the hotels and restaurants in downtown Long Beach. Locals and visitors can enjoy biking along the several scenic beachfront bike trails. If you didn't bring a bike, the city has several rental options; Long Beach Bike Share, for instance, offers 60 minutes of biking for $7.
For dining and shopping, walk over to the Shoreline Village entertainment center that overlooks the Rainbow Harbor. You can either eat at the upscale Queensview Steakhouse or snack on hot dogs at Tugboat Pete's. Kids may enjoy the Pelican Pier Pavilion's 70 arcade games, plus the center's large carousel. Across from Shoreline on Rainbow Harbor, you can also visit the Aquarium of the Pacific, the largest aquarium in Southern California and the fourth-most-attended in the world. The attraction has over 50 exhibits and 11,000 animals, including sharks, squids, penguins and sea otters.
---
Stephen Saks—Getty Images/Lonely Planet Image
5. Glen Arbor, Michigan
Average airfare: $515
Average hotel night: $150
Cost of a week for two: $2,689
Perched on a small strip of land running between Glen Lake and Sleeping Bear Bay, Glen Arbor offers visitors the best of Northern Michigan. Water laps at a shore of white sand, inviting quiet sunbathers, hikers and water-sport enthusiasts.
Glen Arbor is situated in the middle of the Sleeping Bear Dunes National Lakeshore, a federally protected park, and delivers easy access to 65 miles of shoreline, forested islands, walking trails (including the paved Sleeping Bear Heritage Trail), and the park's most prominent feature: mammoth sand dunes. Climb to the overlooks at the Sleeping Bear, Empire, or Pyramid Point bluffs and you'll be treated to lake views from more than 400 feet up.
Settle in at Peterson Beach for quiet lounging with views of the Empire Bluff sand dunes to the north and Platte River Point to the south. Kids may prefer a stop at Esch Beach (also called Otter Creek Beach); the swimming area is located at the creek mouth but shallow enough that you can walk upstream to admire wildflowers blooming on the banks.
Year-over-year prices for a hotel room in Glen Arbor have dropped 21%, according to Hipmunk, making this a good year to have a Michigan summer.
---
Sean Pavone—Getty Images/iStockphoto
6. Myrtle Beach, South Carolina
Average airfare: $286
Average hotel night: $155
Cost of a week for two: $2,332
The hub of South Carolina's Grand Strand—a 60-mile long crescent-shaped stretch of beaches that runs along the Atlantic Ocean—Myrtle Beach offers families everything they need to keep active kids happy without pinching the wallet too much. Flights are down nearly 13% year-over-year, according to Kayak and a weeklong trip for a family of four averages $3,535.
This beach resort isn't for those looking for a tranquil escape. Myrtle Beach is a booming vacation town hosting more than 16 million visitors per year. Its clean beaches are still the main draw but are surrounded by shops, snacks, and tourist attractions.
The 1.2-mile beachfront boardwalk is lined with arcades and souvenir stands; you can stop in at the iconic Peaches Corner for a hot dog or take a spin on the 187-foot SkyWheel. At night, the massive ride dazzles with an evening light show. Reach the southern end of the path and you can wander through sand dunes to get a more natural view.
Celebrity-designed golf courses entice more seasoned putters to Myrtle Beach, while kids can try for a hole-in-one in the self-proclaimed "Miniature Golf Capital of the World": There are dozens of mini-golf courses, and the over-the-top kitsch includes fire-breathing dragons and giant volcanoes. Most courses offer full-day tickets, so you can let your kids play extra rounds without an extra cost.
For a break from the attractions and outlet malls, visit Myrtle Beach State Park or nearby Huntington Beach State Park, both of which offer overnight camping and educational activities, so your family can learn more about alligators and loggerhead sea turtles.
---
Walter Bibikow—Getty Images
7. Outer Banks, North Carolina
Average airfare: $325
Average hotel night: $142
Cost of a week for two: $2,382
With over 100 miles of shoreline, the barrier islands that make up the Outer Banks offer a wide range of beach options for visitors. Those looking for footpaths, piers and free parking should check out the Northern Beach towns, as they're known—including pet-friendly Duck and the surfer's hangout at Kitty Hawk. The Cape Hatteras National Seashore (free), on the other hand, offers a less commercial shoreline. This is also where you can climb the eye-catching black and white Bodie Island Lighthouse ($10). And if you're looking to cut costs, the park offers campgrounds with nightly rates starting at $20.
The Outer Banks also offers more than just beaches. Travel back in time at Raleigh National Historic Site (free) to discover how European settlers and Native Americans fared, and learn about the mysterious disappearance of the Roanoke Island settlement. Aviation buffs can see the site of the first successful flight at the Wright Brothers National Memorial ($7). The main visitors' center is under renovation, but a smaller temporary facility is up and running.
---
Best International Beach Vacations
MariusLtu—Getty Images/iStockphoto
1. Bali, Indonesia
Average airfare: $990
Average hotel night: $133
Cost of a week for two: $3,464
Famed as a tropical paradise, Bali's reality doesn't disappoint. Whatever waterfront fantasy you've envisioned—from tranquil, isolated strands to big-wave surfing to raucous beach parties—Bali has a spot for you. The best part: Paradise has gotten cheaper. Flights are down 8% on average since 2016, according to Kayak.
Surfers looking to challenge their skills should visit the waves breaking off Balangan Beach. This reef break in the Bukit peninsula offers large consistent barrels for experienced surfers. Beginner surfers (or those looking to learn) should head to Kuta Beach. One of the most most-visited places on the island, it is also one of the easiest places to surf, with several local businesses offering lessons.
If you're looking for undersea treasures, stop off at black-sand Amed Beach, on the island's eastern shore. The coral-filled waters, with multiple shipwrecks, are a hit with scuba divers. And those willing to work a bit can discover largely isolated hidden beaches all across Bali. Nyang Nyang Beach, for instance, requires some trekking but rewards the adventurous with empty stretches of sand.
Finally, no trip to Bali would be complete without a visit to at least one stunning temple. The shoreline hosts several stunning options, including Tanah Lot Temple, which sits on a large offshore rock. It is one of seven sea temples that run along the southwestern coast, and offers a view of the next site in the chain.
---
ellobo1—Getty Images/iStockphoto
2. Mallorca, Spain
Average airfare: $881
Average hotel night: $210
Cost of a week for two: $4,204
Famed largely for its beach clubs and nightlife, this Spanish island also offers sheltered beach coves and peaceful hill towns. "Even among the tourist swarms of mid-August you can find pockets of silence," says Tom Stainer, a Lonely Planet destination editor.
To get to the island, fly into the chic city of Palma, and spend some time exploring. Take in the imposing Catedral de Mallorca, then have lunch at Marc Fosh—the Michelin-starred chef's namesake restaurant. A three-course meal of weekly specials, such as salmon and coffee panna cotta, will set you back less than $40.
Then go beyond the city limits: Stainer recommends visiting the nearby coves, trekking to hilltop monasteries, or cycling through the surrounding villages. One scenic beach, Platja des Coll Baix, is only accessible by boat or by foot—and the trail down can be steep and rocky in places. Lonely Planet suggests arriving early or late to see the beach at its most serene.
---
3. Crete, Greece
Average airfare: $1,215
Average hotel night: $126
Cost of a week for two: $4,224
At over 3,200 square miles, Crete is Greece's largest island, home to an abundance of historic sites, natural beauty, and outdoor attractions—ranging from farmers' markets to mountain biking excursions and glass-bottomed-boat rides.
Check out spots like Elafonisi Beach, known for its pink sand. Balos Beach and Lagoon, set in a nature preserve, is also a stunner with clear turquoise waters. World-famous archaeological sites include the Palace of Knossos, located outside Heraklion.
Crete also has a distinct culture and a great food scene; a plethora of tavernas serve fresh seafood and house-made raki and cheeses. Be sure to sample some of this Mediterranean island's wines at the Lyrarakis winery—tastings start at around $10—and check out its world-famous olive oil.
---
4. Jeju Island, South Korea
Average airfare: $1,034
Average hotel night: $126
Cost of a week for two: $3,715
South Koreans have been vacationing on Jeju for decades, but the wider world has only recently started to explore this volcanic island. Most flock to the popular Jungmun Beach, but you can also enjoy the powdery white sands of the tranquil Hyeop-jae Beach.
Hotel prices have fallen by about 8%, reports Hotels.com, while flight costs (via stops in Seoul, Shanghai or other regional hubs) tumbled almost 19% over the past year, according to Kayak.
Located 60 miles off South Korea's southern coast, Jeju offers outdoor wonders, says Lonely Planet's Megan Eaves. At the center of the island, Hallasan mountain soars above the surrounding national park (admission is free). It's the country's highest peak, with six hiking trails that let you explore its walls. To the north is another remnant of the island's geological past: Manjanggul Lava Tube, a 5-mile-long cavern littered with volcanic stalactites, shelves and bridges.
Jeju island's relatively small size—it's only about 20 miles wide—means the ocean is never far away, so fresh, local seafood is abundant. Some of that harvest is caught by the Haenyeo, traditional female divers.
---
Tuul & Bruno Morandi—Getty Images
5. El Nido, Philippines
Average airfare: $1,137
Average hotel night: $150
Cost of a week for two: $3,828
Use El Nido, surrounded by turquoise lagoons and limestone formations, as a base to explore the beauty of the Bacuit Archipelago. Both flights and hotel rates have dropped big-time over the past year: The average cost of a hotel room dipped 24%, according to Hotels.com, while flights are down 37%, Hopper found.
Rent kayaks to experience the best of the area, or book a boat tour to visit sites like the Small and Big Lagoons, Snake Island, and Pinagbuyutan. The region's islands feature limestone cliffs, deserted white beaches, and little coves and caves to explore, while the coral reefs will tempt you to grab snorkel or scuba gear for a closer view.
Nacpan Beach on El Nido's main island is more touristy, but with a reputation for beauty. You'll find miles of white sand and palm trees as well as easy access to restaurants, food shacks, and even umbrella seats for rent. For stunning sunset views, meanwhile, visit Las Cabanas beach. You can squeeze in some final swimming for the day before settling into one of the many bars for a drink as you watch the sun descend.
Scuba divers should visit South Entalula, this site hosts some of the most colorful and beautiful coral formations in El Nido. More experienced scuba divers can risk the Dilumacad underwater tunnel. This cave formation extends for 50-65 feet before opening into a cavern where small fish and crabs can be glimpsed, then you must swim out a different narrow 32-foot exit tunnel.
---
Luis Javier Sandoval—Getty Images
6. Cozumel, Mexico
Average airfare: $435
Average hotel night: $165
Cost of a week for two: $2,705
Cancun may be one the more popular travel destinations for Americans, but you could arguably find more beautiful beaches and excursions, and slightly less crowds, at the neighboring island of Cozumel.
Known for its scuba diving, Cozumel's clear water allows for visibility of 100 to 200 feet. You can peer into the Great Mayan Reef, the second-largest reef system in the world, at Arrecifes de Cozumel National Park. For just a $2 donation, you can choose from any of the park's wide-ranging dive sites, making it suitable for both beginners and advanced divers.
If you'd rather enjoy Cozumel from dry land, you can visit one of the island's dozens of beaches. The terrain varies depending on whether you're on the east or west side of the Island; east coast beaches tend to be rocky and unprotected, making them ideal for private travel or snorkeling, while the west coast has more developed and tourist-focused sites. If you're venturing to the east side, take your beloved to Playa Bonita, considered one of the most romantic beaches on the island: It's got gentle waves and powdery sand, and is nestled in a cove with its own restaurant/bar called Punta Chiqueros.
If you want to stay near the beach clubs on the west side, try Playa Corona for some snorkeling or the Playa Palancar, where you can find big crowds and options for drinks and dining.
---
sack—Getty Images/iStockphoto
7. The Azores, Portugal
Average airfare: $750
Average hotel night: $99
Cost of a week for two: $3,046
A small archipelago of nine islands roughly 1,000 miles off the coast of Portugal, The Azores are home to volcanic mountain peaks, whale watching, and 15th-century village architecture. There is no wrong time to visit: Mild year-round temperatures mean there is no "off season," and while summer is peak tourist time, you can see the hydrangeas bloom in early spring and soak in skin-nourishing geothermal pools in the fall and winter.
The two islands with the most popular beaches are São Miguel and Santa Maria. The Western half of Santa Maria, the oldest island in the Azores, has a dry, warm temperature similar to the Mediterranean, while the east side is hilly and green. The most famous beach, Praia Formosa on the Baia de Praia bay, has white sandy beaches and has the island's hillsides in the background.
São Miguel, meanwhile, is the largest island of the Azores and famed for its twin lakes (one blue and one green). Some of this island's beaches include the Praia da Vinha da Areia, located near many major hotels and a large waterpark, and the surfer-friendly Praia de Santa Barbara.
There are also plenty of ways to see Azores on dry land. Horseback riding, bicycle tours, hiking, and volcanic exploration are particularly popular, as are visits to the area's ancient villages and churches.
---
Methodology
To find the beach destinations that deliver the best value, Money considered more than 3,500 data points for more than 250 of the most popular beach destinations worldwide. For both U.S. and international beach cities, we ranked the seven that scored highest on overall cost factors, giving the most weight to the price of airfare, lodging, and food, as well as the biggest year-over-year price drops. We also considered the number of beaches each city offered, as well as tourist activities and experience factors like low crime rates and pleasant weather.