These Are the 10 Best Family Vacation Bargains in America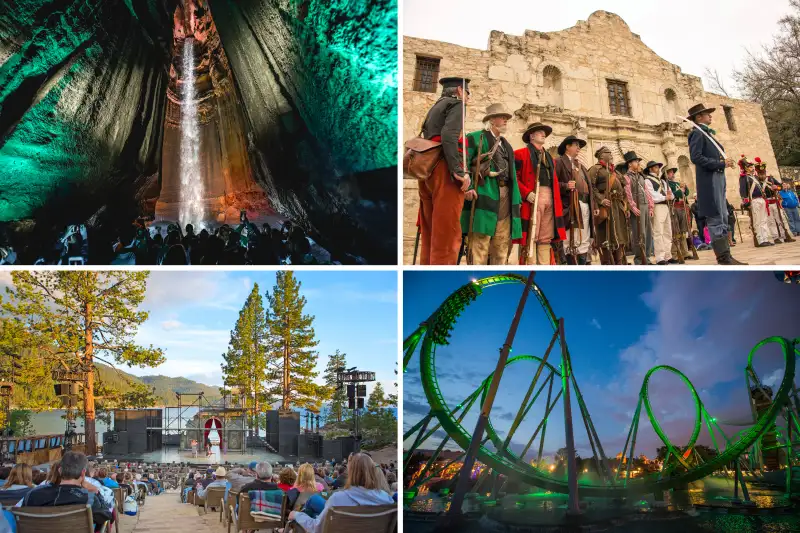 (Clockwise from top left) courtesy of Ruby Falls, courtesy of Visit San Antonio, Octavian Cantilli—Universal Studios Orlando, Joy Strotz
Traveling with any other human being can be stressful at times. Planning a trip with the whole family can seem nearly impossible.
You need to identify places that have enough to offer children of different ages, with different interests; places that won't deplete your entire savings, even when you're visiting with small gang; and places meant for children and adults alike to enjoy. To help parents track down the perfect family vacation spot, Money used its Best in Travel database to determine 10 inexpensive U.S. cities to visit that also offer plenty of entertainment for all ages.
Each city offers unique attractions. Fans of the outdoors would enjoy Reno's family-friendly ski resorts, or Tucson's cactus-themed national park. History class all-stars may fall in love with the Alamo in San Antonio. Thrill-seekers should head to one of the country's largest water parks, located in Kansas City, Kansas.
Here are the best, most affordable places to take your family this year:
---
1. Oklahoma City, Oklahoma
courtesy of the National Cowboy & Western Heritage Museum
Average hotel cost: $99
Average airfare: $291
5-day cost for four people: $3,232
Oklahoma City's cowboy heritage, jazz hangouts and a chance to run into NBA superstar Russell Westbrook on the streets are some of the reasons Money picked OKC as one of the 10 best places to travel in the country earlier this year.
Kids have plenty to enjoy inside the town's Adventure District, home ot the National Cowboy & Western Heritage Museum. The museum features interactive history galleries that detail the history of cowboys, the culture of Native Americans in the region and the legacy of the American West. Tickets cost $12.50 for adults and $5.75 for children 6-12. The Adventure District also hosts live horse racing at Remington Park, plus an opportunity to feed giraffes at the Oklahoma City Zoo and Botanical Gardens.
For a chance to brush up against real cowboys, visit Stockyards City, home to world's largest stocker and feeder cattle market (which even hosts live cow auctions — though good luck fitting one into your suitcase for the trip home). While you're there, grab a steak from Cattlemen's Steakhouse, or shop for alligator cowboy boots at Langston's Western Wear.
Older kids will enjoy the Western-themed amusement park Frontier City, which includes the high-speed looping coaster the Silver Bullet. Tickets to the park cost $44.99 at the gate. Basketball fans shouldn't miss an opportunity to see the Western Conference's elite Oklahoma City Thunder team play in Chesapeake Energy Arena.
When you're hungry, grab a bite at one of the 125 food trucks around the city, including Boss Man BBQ, and Taste of Soul Southern Chicken and Waffles. You can even get a gourmet corn dog at Anchor Down, located in the Deep Deuce District, which was once the heart of Oklahoma's jazz scene.
---
2. Orlando, Florida
Octavian Cantilli—Universal Studios Orlando
Average hotel cost: $118
Average airfare: $182
5-day cost for four people: $3,210
Orlando, the Sunshine State's tourism hotbed, welcomed a record 72 million tourists last year to its numerous theme parks, including the iconic Walt Disney World, sporting events and museums.
Kids will love the area's many amusement parks. Though Walt Disney World isn't technically in the city (it's in nearby Lake Buena Vista), the resort provides transportation to and from the city. Head over to any of Disney World's four major parks, including the wildlife-friendly Animal Kingdom and the cultural immersion Epcot. Thrill-seekers should head over to Magic Kingdom's Space Mountain, named one of the country's hottest rides by Yelp reviewers.
Tickets to Disney World vary depending on the day, when you visit, and how far in advance you book, though prices per day decrease if you buy in a multi-day bundle. Lonely Planet estimates daily costs at Disney World itself can range from less than $140 to $250, depending on your budget.
Orlando is also home to Universal Studios; note that some of its rides, such as the high-speed Incredible Hulk Coaster and the Jurassic Park River Adventure (with an 85-foot drop) are better suited for older kids. Fantasy lovers shouldn't miss its Wizarding World of Harry Potter, constructed to look like the book's downtown hub, Diagon Alley. A single day ticket to Universal Studios starts at $115, but prices vary depending on when you book your ticket.
Outside of Orlando's major theme parks, visit the city's numerous museums and shops. Go to the Chocolate Museum to sample the world's finest chocolate, or build your own crayon color at the Crayola Experience.
---
3. Albuquerque, New Mexico
Scott S. Warren—Getty Images/National Geographic
Average hotel cost: $96
Average airfare: $275
5-day cost for four people: $$3,343
If you can score tickets to Albuquerque in October, don't miss the International Balloon Fiesta, the world's largest balloon festival. The festival features laser light shows, fireworks, chainsaw wood-carving contests, rodeos, and more, in addition to the sight of over 500 hot air balloons rising through the sky. The balloons vary widely — taking the shapes of cartoon characters, animals and even political figures — making the festival one of the most photographed events in the world. Tickets cost $10 per morning or evening "sessions."
Other Albuquerque highlights include the Indian Pueblo Cultural Center, where your family can learn about southwestern Pueblo Indian history, diversity, art, and dance. Inside, eat a Pueblo-inspired and Native-sourced meal alongside live music, and shop for traditional, locally made souvenirs. Admission to the center costs $8.40 for adults and $5.40 for kids ages 5-17. For more educational excursions, visit the Petroglyph National Monument, one of the largest petroglyph sites in the continent. You can view 700-year-old designs and symbols carved onto volcanic rocks; the entrance fee is $2 per car on weekends ($1 on weekdays).
For kids that enjoy a thrill, visit the American International Rattlesnake Museum — home to the largest collection of different species of live rattlesnakes in the world. Or head over to Cliff's Amusement Park to ride a variety of roller coasters and water slides for $28.99 for adults and $25.99 for kids ages 3-7.
---
4. Tucson, Arizona
Average hotel cost: $293
Average airfare: $109
5-day cost for four people: $3,398
Take your kids hiking and exploring around Tucson's unique desert terrain.
The city boasts one of the country's best national parks, Saguaro — named after the towering cactus plant. The park is divided into two sections: the Rincon Mountain District and the Tucson Mountain District. Family travel website trekaroo recommends hiking the paved, stroller-friendly Cactus Garden Trail on the Tucson Mountain District, as well as the beginner 2.5-mile Cactus Forest Drive trail in the Rincon Mountain District. Individual weekly passes to the park cost $5 per person, or $15 per car.
Sabino Canyon is another popular recreational area with various trails around the Santa Catalina Mountains. Kids can play in the pools of water along the Sabino Creek, or hike the 2-mile Bear Canyon Trail to spot more of the area's iconic saguaro. The Sabino Canyon Trail costs $10 for adults and $5 for children, while the Bear Canyon Trail costs $4 for adults and $2 for children.
After you're done exploring the area's parks, take the kids to the outdoor Arizona-Sonora Desert Museum to learn more about the desert's flora, fauna, and wildlife. There you'll see 20 species of native birds — such as the roadrunner, popularized in the Looney Tunes cartoons — in the Walk-in Aviary. General admission to the park is $21.95, but children ages 3-12 get in for $8.95.
When the kids get hungry, grab a Sonoran hot dog, a style of dog popular in the area. The dog comes wrapped in bacon and topped with pinto beans, onions, tomatoes, mayo and mustard. El Guero Canelo has one of the best Sonoran hot dogs in the area, receiving a James Beard award this year.
---
5. San Antonio, Texas
courtesy of Visit San Antonio
Average hotel cost: $129
Average airfare: $273
5-day cost for four people: $3,661
Check out one of Texas' most iconic sites, the Alamo, on your stop to San Antonio. The site hosted a pivotal battle during the Texas Revolution, when 200 defenders, including the famed frontiersman Davy Crockett, held the fort for 13 days against powerful Mexican troops. The Battle of the Alamo is now remembered as a symbol of Texan strength.
While there, visit the Shrine, an iconic structure that was originally a Spanish mission church, as well as the nearby Long Barrack, a former living quarters for Spanish missionaries. Guided tours of the various buildings cost $15 per person. Children can enjoy the living history performers who are part of the Young Texans Tour ($12), who reenact life in 1836 Texas.
After your trip to the Alamo, walk along the city's waterfront River Walk that passes restaurants, boutiques, museums, and other attractions. Stop by the popular Tex-Mex restaurant Boudro's on your way along the walk. Kids will also enjoy the water park, arcade, go-kart race track, and Guinness World Records Museum, all along the walk.
---
6. Reno, Nevada
Joy Strotz—Strotz Photography
Average hotel cost: $102
Average airfare: $286
5-day cost for four people: $3,662
Families can skip the casinos here: Reno, named Money's top U.S. ski and snowboard destinations, excels at outdoor options in both summer and winter. During snow season, head over to Mt. Rose, the only mountain that offers views over both Lake Tahoe and Reno. Kids ages 4-10 can take ski lessons with on-site instructors for $125 (the ticket includes a lift ticket, helmet and rental equipment), and 20% of mountain terrain is suited for kids and beginners. Adult lift tickets cost $135, while rates for children vary, according to the Mt. Rose website.
In summer, drive over the mountains to the north edge of Lake Tahoe for numerous family-friendly beaches. Sand Harbor, the Tahoe beach closest to Reno, boasts long beaches along shallow water that's safe for children. Kayaks, sailing kayaks and stand-up paddleboards can be rented during the summer, and you can boat from one of two wave-protected double ramps. The park also hosts Lake Tahoe Shakespeare Festival during the summer, as well as musical events. The entrance fee for Sand Harbor is $10 per vehicle or $2 per bike.
---
7. Little Rock, Arkansas
courtesy of the Little Rock Conv
Average hotel cost: $97
Average airfare: $325
5-day cost for four people: $3,592
Give your kids a crash course in American history at Little Rock's numerous museums and historic landmarks.
Visit Little Rock Central High School historic site to learn more about the 1957 desegregation showdown, when nine African-Americans faced protests upon their enrollment at the formerly all-white school, or visit the William J. Clinton Presidential Library and Museum to learn more about the former commander-in-chief's legacy. Check out the MacArthur Museum of Arkansas Military History in Little Rock Arsenal, the birthplace of General Douglas MacArthur, to see weapons, uniforms and other artifacts used in wars at home and abroad. (Note this museum is slated to reopen in September 2018 after renovations).
Be sure to stop by the Museum of Discovery, which Mensa called the sixth-best science museum in the country. Kids can spend time experimenting with tools, motors and wires in its Tinkering Studio to learn about engineering, or learn about the state's unique wildlife and climate at the Earth Journeys exhibit. General admission tickets cost $10 for adults and $8 for children 12 years old and younger.
During the day, cool down under the fountains at Peabody Splash Park. At night, walk along one of the illuminated bridges across the Arkansas River, stopping by the River Market District to shop along the souvenir stores and eat at one of the many restaurants.
---
8. Chattanooga, Tennessee
Average hotel cost: $118
Average airfare: $259
5-day cost for four people: $3,627
For an underground adventure, head to Ruby Falls, the largest and deepest U.S. waterfall that's open to the public. The 145-foot waterfall is located 1,120 feet beneath Lookout Mountain's surface. The natural landmark started as a limestone cave formed through chemical weathering; later, a surface stream entered the cave to form the waterfall. A guided tour through Ruby Falls costs $11.95 to $19.95.
Your adrenaline-loving kids will enjoy Ruby Falls ZIPStream Aerial Adventure, which connects nets, bridges and tunnels with zip lines in a concourse located near Ruby Falls. Older kids can opt for the $44.95 Extreme Adventure Pass that includes over two dozen aerial obstacles and zip lines, while younger kids (up to 44 inches tall) should select the easier $24.95 Kids Course Ticket.
For an educational adventure, head to the Tennessee Valley Railroad Museum for a ride upon a full-sized historic train. You'll learn all about locomotives used in the 19th and 20th century to transport goods and people across the country. The 55-minute, $17 Missionary Ridge Local ride takes passengers through the pre-Civil War Missionary Ridge Tunnel, while the nine-hour day trip on the Summerville Steam Special takes you from Chattanooga to Summerville, Georgia, passing through numerous cities and the historic Chickamauga-Chattanooga National Military Park. Tickets range from $70 to $190 depending on which area of the train you opt to sit in.
Family travel site trekaroo suggests eating at the Chee-Burger, Chee-Burger diner for lunch and the Bluegrass Grill for breakfast, where you can get 2 eggs any style for just $4.50.
---
9. Bismarck, North Dakota
Average hotel cost: $96
Average airfare: $371
5-day cost for four people: $3,524
Head to Fort Abraham Lincoln State Park to visit the 400-year-old On-A-Slant Indian Village. The area is a former settlement for the Mandan tribe; you can tour the areas in which the Mandan lived and farmed for $8 per adult, or get a family pass for $25 for parents traveling with children under 18. The state park also has two cabins and two tipis to rent for overnight visits, plus various hiking trails along the Missouri River.
Younger kids will probably enjoy the slides, go-karts, ferris wheel and carousel in the city's Super Slide Amusement Park, as well as the 75 mammals and 23 birds at the Dakota Zoo. Admission to the zoo costs $9.50 for adults and $6.50 for kids ages 2-12; entrance to Super Slide is free, but you can pay a la carte for ride tickets.
---
10. Kansas City, Kansas
mikiefarias—www.mikiefarias.com
Average hotel cost: $116
Average airfare: $241
5-day cost for four people: $3,263
Cool off this summer at the one of the country's biggest waterparks: Kansas City's Schlitterbahn Waterpark.
Snag an inflatable tube and float along the Torrent River, the world's largest tidal wave river, with connections to 12 other chutes, rivers, and beaches. The ride holds 1,800 feet of waterways in all. Smaller children can wade through the shallow waterpark in Kinderhaven, or climb ropes and glide down mini-slides at Pirate Ship. When you're hungry, grab a Cookie Blaster Funnel Cake, made up of fried dough, whipped cream and a scoop of bright blue-colored vanilla ice cream.
For summer 2018, one-day general admission tickets cost $44.99 at the door, while children ages 3-11 get in for $34.99.
Drive across state lines to Kansas City, Missouri, to find some of the country's best barbecue. Travel + Leisure recommends checking out Arthur Bryant for classic fare, like a one-pound meat tray for $15.45. Got sports fans in tow? Catch a Chiefs game at the Arrowhead Stadium or a Royals game at Kaufman Stadium.
---
Methodology
We used Money's Best in Travel database to analyze thousands of data points for roughly 300 major U.S. cities to find which offer the best value for families. We gave equal weight to both the overall cost to visit each city, and the value provided by each city's attractions, weather, and walkability. We eliminated places that did not offer a significant amount of family-friendly entertainment. We selected only one area per state to ensure geographic diversity. Five-day cost was calculated assuming five nights in a shared hotel room, average airfare for four people, plus food and other per-day costs, all for a family of four.