The 10 Best Ski and Snowboard Destinations for Your Money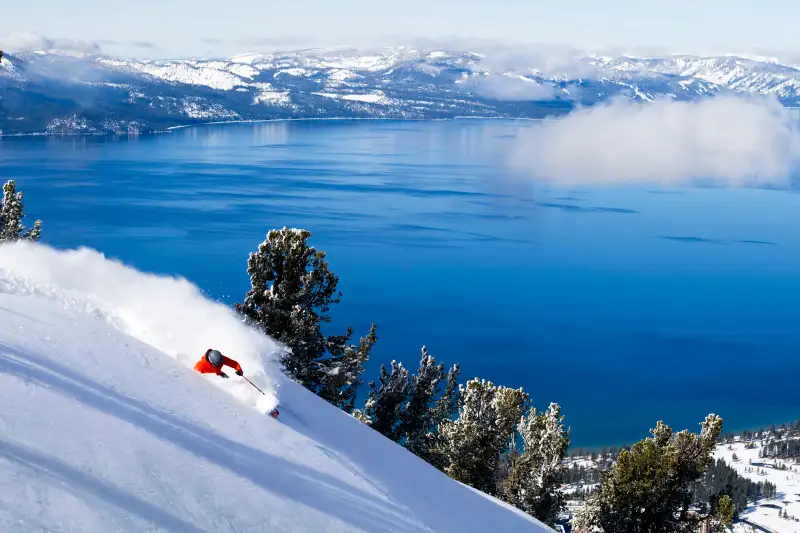 Rachid Dahnoun/Vail Resorts
Now that winter's in full swing and the snow's piling up, it's time to get your snow pants out for a ski or snowboard trip with family, friends or a significant other. Whether you're a casual skier or experienced racer, there are plenty of mountains with extraordinary views and challenging summits to try all over the country.
Money dug into its Best in Travel database to put together the following list of 10 snow-friendly cities that offer the greatest value. Each offers a variety of nearby ski resorts, a nice mix of other apres-ski attractions, and good values on travel, food and lodging for the perfect winter vacation.
---
Courtesy of Billy Jesberg
1. Reno, Nevada
Total cost of a week for two: $1,625
Number of nearby resorts: 12
Reno has the perfect combination of stunning natural beauty and a lively nightlife scene for after you quit the slopes. It's only a modest drive from the scenic summits of Lake Tahoe, yet flights to Reno for a winter trip are still a bargain. Average flight prices begin at $312, according to the flight booking app Hopper. You can even ditch overpriced resort stays for a nearby hotel, which will cost around $100 per night, according to Hotels.com.
Make sure you hit the runs at local favorite Mt. Rose, the only mountain offering views over both Lake Tahoe and Reno, according to the website Ski Lake Tahoe. Plus, you won't have a long trip after you fly in—the resort is just 25 miles from the Reno Airport. Lift tickets are $125 for an adult day pass and $75 a day for children, but booking in advance can score you some discounted tickets.
---
2. Salt Lake City, Utah
Total cost of a week for two: $2,295
Number of nearby resorts: 8
For another ski excursion with truly remarkable views, consider the West Coast's other great lake. Salt Lake City gets plenty of snowfall, which you can enjoy at any of the eight nearby ski resorts. Flights from U.S. destinations are $258 round-trip on average, according to Hopper, while Hotels.com finds rooms cost about $122 per night.
If you're a regular skier looking for a new challenge or views unlike any other, hit up Alta, one of the oldest—and one of the rare skiing-only—resorts in the U.S. The top elevation reaches 10,550 feet and the mountain drops about 2,000 feet, with five lifts. An adult single-day lift ticket is about $99, but prices vary depending on age and at what time you purchase.
If you're a snowboarder or looking for more outdoor options, Snowbird is another great option. During the winter months, the resort offers activities like snowshoeing, mountain tours, "cat skiing" tours and even heli-skiing, for one-of-a-kind views of the 11,000-foot mountain. Snowbird day tickets start at $119.
---
Rachid Dahnoun/Vail Resorts
3. South Lake Tahoe, California
Total cost of a week for two: $3,249
Number of nearby resorts: 10
Just across the state line from Nevada, South Lake Tahoe can deliver an adrenaline rush both on and off the slopes. Heavenly Mountain Resort boasts almost 100 runs across 4,800 acres of terrain; you can feast your eyes on celestial views of Lake Tahoe while skiing the mountain's 3,500-foot vertical drop. In the evening, warm up with some drinks and dancing at Unbuckle at Tamarack Lodge, a nightclub located 9,150 feet above sea level, at the top of the resort's gondola.
Flights to South Lake Tahoe cost $312 on average, Hopper finds, and hotel rooms are about $155 a night, according to Hotels.com. Buying online and advance will land you the best lift ticket deals at Heavenly, but window prices for adults are $126 per day each, while children can enter for $69.
---
Jack Affleck/Vail Resorts
4. Ann Arbor, Michigan
Total cost of a week for two: $1,293
Number of nearby resorts: 2
Ann Arbor is known more as a college town than a ski town, but the city has easy access to nearby ski resorts, and its historic landmarks and renowned restaurants make it a lovely winter destination. Flights to Ann Arbor are the cheapest on this list, at $245 on average, according to Hopper, and renting a car costs just $32.50 per day, according to data from CheapCarRental.net.
Drive up to Mt. Brighton and hit one of the 24 trails sprawled along the 130-acre resort. More appropriate for family outings than for mogul jumping, the resort is packed with beginner and intermediate runs; it also has some of the least expensive child lift tickets on the list, starting at $35. (And if the family gets bored, there's also the University of Michigan campus to explore, and obligatory tours of the country's largest stadium, The Big House.)
---
5. Taos, New Mexico
Total cost of a week for two: $1,919
Number of nearby resorts: 4
You won't have to drive far from Taos Pueblo to hit the slopes at the nearest ski resort, Taos Ski Valley. Only 18 miles from town, the resort offers spectacular views of the Sangre de Cristo mountain range. There's also a nearby hot springs destination, Ojo Caliente Mineral Springs Resort & Spa, that offers sulfur-free mineral waters, mud pools, massages, yoga, and hiking trails. Single-day lift tickets at Taos start at $105 for adults, $85 for teens and seniors, and $65 for children.
---
Courtesy of Ober Gatlinburg
6. Gatlinburg, Tennessee
Total cost of a week for two: $1,903
Number of nearby resorts: 2
Don't forget the South. Gatlinburg's proximity to the Smoky Mountains situates it as a perfect ski destination south of the Mason-Dixon line. One of the best known ski resorts in the area is Ober Gatlinburg. Ober's 600-foot mountain might draw sneers from purists, but families will love one of its most unusual features: an outdoor, year-round roller coaster. Airfare to Gatlinburg is about $323, and snag adult single-day lift tickets starting at $36.
---
7. Milwaukee, Wisconsin
Total cost of a week for two: $3,214
Number of nearby resorts: 3
Beer and ski hills—what more could anyone want in the wintertime? Flights to Milwaukee are under $300 right now according to Hopper, and the city is about 50 miles away from the scenic Lake Geneva. The Grand Geneva resort gives you gorgeous views while offering cheap lift tickets—just $20 a day. On your drive back, stop to tour some of the best breweries in the state (according to Thrillist), including the Milwaukee Brewing Company and Lakefront Brewery.
---
Courtesy of Stowe Mountain Resort
8. Burlington, Vermont
Total cost of a week for two: $1,934
Number of nearby resorts: 5
Vermont's stunning natural beauty shines from atop the many summits near Burlington. One of the most popular destinations here is Stowe Mountain Resort, and for good reason—the 485 acre land has more mile-long lifts than any other resort in the East, and you can choose from 116 trails, with the highest skiing elevation reaching 3,625 feet. Adult lift tickets are $99 per day in peak periods (and $94 off-peak).
You can also check out the historic Mad River Glen resort, home to the famous 'Single Chair'—one of just two single-person lifts in the country. It's also the only skier-owned mountain in America: If you buy a share in the cooperative ($2,000 per share), you can vote on issues surrounding the mountain.
---
Courtesy of Buck Hill Ski & Snow Area
9. Minneapolis/St.Paul, Minnesota
Total cost of a week for two: $2,848
Number of nearby resorts: 3
Midwesterner ski fans shouldn't write off the Twin Cities: Low-key local resort Buck Hill has launched the careers of World Cup ski racers Kristina Koznick and Lindsey Vonn. The resort's low prices—lift rates start at $16 some nights—and mix of skiing, snowboarding and tubing trails make this a great family destination.
After the slopes, your family can also hit the Mall of America and other local attractions. Flights from the U.S. cost just $248 on average, according to Hopper.
---
Idaho Statesman—MCT via Getty Images
10. Boise, Idaho
Total cost of a week for two: $2,243
Number of nearby resorts: 1
The last city on our list is Boise, which gets a boost from its affordable average hotel costs ($110 on average, according to Hotels.com.) You'll need to drive a couple of hours to reach the famed Sun Valley resort or its newish rival, Tamarack, but Boise has its own historic hill much closer at hand: Bogus Basin, which features 78 runs across 2,600 acres, plus snowshoe trails, a tubing hill and night skiing.
Methodology
To make the preceding selections, we used Money's Best in Travel database to analyze roughly three dozen of the most popular winter sports destinations nationwide. Then we ranked the cities, identifying the 10 that scored highest for value delivered. Among cost factors, we gave the most weight to the price of airfare, lodging, and food, as well as the biggest year-over-year price drops. We also considered the number of ski resorts each city offered, tourist activities, and experience factors like low crime rates, pleasant weather, and ease of access to public transportation.