These Are the 10 Best Amusement Parks in America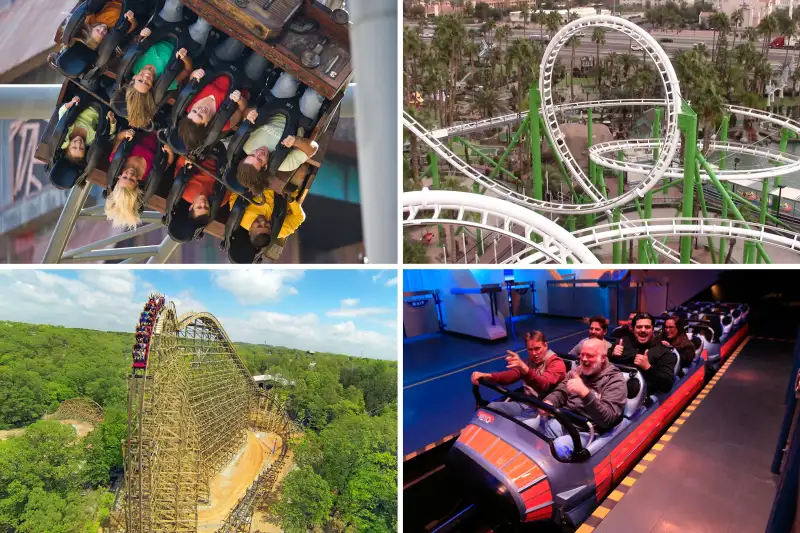 (clockwise from top left) courtesy of Dollywood, Castles N' Coasters, Disneyland, Silver Dollar City
Nothing screams summertime quite as much as amusement parks.
They are the one place you can walk for miles, listening to screaming thrill seekers and munching on sugary funnel cakes. If you're an adrenaline addict, you can tour the U.S. to find the world's tallest steel coaster, the steepest wooden coaster, and tallest steel-on-wood hybrid ride.
To find out which parks offer the biggest thrills, Money partnered with Yelp to identify the country's best amusement parks, as well as the best rides at each attraction. Whether these parks are driving distance or require planning, we guarantee they are worth a trip.
Here are the 10 best amusement parks in the country:
---
1. Disneyland Park
Allen J. Schaben—LA Times via Getty Images
Anaheim, California
• Hottest ride: Hyperspace Mountain
The happiest place on Earth doesn't disappoint visitors, earning the top spot among all other amusement parks. Walt Disney came up with the idea for the park himself, helping with the original design and layout. The park is now home to classic rides like the Pirates of the Caribbean boat cruise and the dizzying Matterhorn Bobsleds. The most popular ride is the indoor, space-themed roller-coaster Hyperspace Mountain, which features Star Wars-themed clips and simulators.
If you've still got an appetite, you can grab Mickey Mouse beignets at the park's New Orleans Square, or seafood at Ariel's Grotto, named after the character in The Little Mermaid. Those who want the full Disney experience night and day can stay at its resort hotels, the Grand Californian Hotel & Spa and the Disneyland Hotel.
Ticket prices vary depending on the day. Regular prices rose earlier this year to $117; peak prices are een higher. According to the Disneyland's website, two-day passes start at $105 per day for ages 10 and older.
---
2. Magic Kingdom Park at Disney World
Lake Buena Vista, Florida
• Hottest ride: Space Mountain
Disneyland's sister park in Lake Buena Vista takes the No. 2 spot, ensuring Mickey Mouse's dominance. Magic Kingdom Park is one of four themed parks inside Disney World, and is recognizable by its majestic Cinderella castle. You'll find characters from Disney classic movies like Aladdin, Mickey Mouse and Peter Pan roaming the streets, and kid-friendly rides, like the giant spinning tea cups at Mad Tea Party.
Be sure to check out Space Mountain, the park's most popular ride. You'll zip through the "galaxy" on an indoor roller-coaster, inside a dark room illuminated by "stars." Another popular ride to try is Splash Mountain, which delivers a slow cruise up a mountain before taking a 50-foot drop into a pool of water.
Tickets to Disney World don't come cheap. Two-day tickets, which also give you a day in one other Disney World park, cost $209 per person ages 10 and up. If you want to max out your visit, Travel + Leisure suggests visiting on a Friday when Magic Kingdom is open extra hours.
---
3. Cedar Point
Sandusky, Ohio
• Hottest ride: Millennium Force
Sometimes dubbed "America's Roller Coast," Cedar Point is the second-oldest operating amusement park in the U.S. The Midwestern park features 71 rides over 364 acres of space. This year, the park opened the Steel Vengeance, the tallest and fastest hybrid (wood-plus-steel) roller-coaster in the world; it's 205 feet tall, runs at 74 mph, and goes upside down four times, in and out of loops.
The park's most popular ride, however, is the Millennium Force, a steel coaster that opened in 2000 and was briefly the tallest and fastest coaster in the world. The 310-foot-tall, two-minute ride reaches speeds of 93 mph. Riders must be at least 48 inches tall.
Daily admission to the park varies depending on the time, but prices typically start at around $50.
---
4. Busch Gardens
Williamsburg, Virginia
• Hottest ride: Griffon
The Busch Gardens theme parks have sites in both Tampa and Williamsburg, but the Virginia location comes out on top. The 383-acre park's thrilling coasters including the 360-degree virtual reality adventure ride Battle for Eire, the bumpy wooden Invadr, and the interlocking, double looping Loch Ness Monster. Or try the park's most popular ride, Griffon, if you want to drop 90 degrees straight down from 205 ft in the sky — while going 75 mph.
The park also offers a selection of fare from around the world: try German classics (including sausages and hot red cabbage) and different types of craft beer at the Brauhaus; fill up on stew and corned beef sandwiches at the Irish O'Tators; or feast on cannolis at the Italian-style Marco Polo's Marketplace.
One-day tickets vary in price, but average $70 for rides alone, or $95 for rides and all-day dining and drinks.
---
5. Hersheypark
Hershey, Pennsylvania
• Hottest ride: Storm Runner
Founded by Milton S. Hershey, Hersheypark was originally developed as a space for his chocolate factory employees to relax. Over the decades since, the park has introduced a variety of roller-coasters and a waterpark.
Recently, the park opened the country's first "choose your own thrill" coaster that lets riders choose between three different plummets. The park's most popular ride, however, is the Storm Runner: Its 2,600-foot-long course is relatively short, at just 30 seconds, but takes riders from 0 to 72 mph in just two seconds.
If coasters aren't your speed, meet some candy bars "characters" — like a Hershey's bar and a Reese's Cup — during Breakfast at the Park. You could also visit ZooAmerica, the year-round zoo adjacent to Hersheypark and home to 200 animals form across North America.
One-day tickets to the park cost $66.95, while two-day tickets cost $85.
---
6. Dollywood
Pigeon Forge, Tennessee
• Hottest ride: Mystery Mine
Dollywood is named after Dolly Parton who cofounded the park with theme park giants Herschend Family Entertainment. The park is situated in the Smoky Mountains, so that you can admire their natural beauty in the seconds you're up on top of the rides.
The 150-acre theme park boasts many roller-coasters, including the Mystery Mine, which took top marks from Yelp — a steel 1,811-foot-track coaster that travels through what purports to be an abandoned coal mine. Dollywood's Splash Country Water Park Adventure has many thrilling water slides and kid-friendly pools. Unwind at the park's onsite hotel, the DreamMore Resort and Spa, where you can get Southern-style barbecue dinners at the Song & Hearth restaurant.
---
7. Carowinds
Charlotte, North Carolina
• Hottest ride: Fury 325
This North Carolina Peanuts-themed amusement park boasts many thrilling coasters, including the vertical looping ride Vortex, the Afterburn (with a 113-foot drop), and the whirlwind Carolina Cyclone. The most popular ride, however, is Fury 325, the world's tallest and fastest "giga coaster" — a category defined as being between 300 and 399 feet tall and completing a full circuit. You'll reach a peak height of 325 feet and reach speeds up to 95 mph. Fury 325 is also North America's longest steel roller-coaster, at 1.25 miles, and the average ride time is 3.25 minutes.
Younger children can head over to Camp Snoopy for kiddie rides and a chance to see the Peanuts characters in person, or head over to Harmony Hall Market Place for a lunchtime dance party with Charlie Brown, Snoopy and the rest of the gang.
Daily ticket rates at Carowinds vary, but start at $67 at the gate.
---
8. Silver Dollar City
courtesy of Silver Dollar City
Branson, Missouri
• Hottest ride: Outlaw Run
Silver Dollar City is a 1880s mining village themed park with over 40 rides. The park also hosts 10 festivals throughout the year, including the National Crafts & Cowboy Festival, featuring barn dancing and 125 visiting craftsmen.
The park just opened its Time Traveler ride, the fastest, steepest, and tallest spinning complete-circuit roller-coaster in the world. The most popular ride, however, is the wooden coaster Outlaw Run — the only wood coaster that twists upside down three times, and reaches speeds up to 68 miles per hour.
When the rides wear you out, try the signature succotash skillet dishes, made up of sauteed chicken, corn, yellow squash, peppers and okra. The skillets can be found in various locations throughout the park. For dessert, grab a handful of fudges, brittles and candy made right before your eyes at Brown's candy factory.
One-day general admission tickets cost $65 for adults 12-61, $54 for children 4-11, and $63 for seniors aged 62 years old or over.
---
9. Canobie Lake Park
Salem, New Hampshire
• Hottest ride: Untamed
Canobie Lake Park started as a trolley park — a recreational area at the end of the streetcar lines. The park featured a botanical garden, an arcade and an area for canoeing.
The thrills have accelerated a bit since those days. Hop on a grizzly bear-style cart on Untamed, the park's most popular ride, to be dropped "beyond vertically" — at 97 degrees — from 72 feet in the air. Other rides include the Yankee Cannonball, a wooden roller-coaster that lasts 60 seconds, and the spinning Ice Jet. To cool off on a warm day, get soaked on the Boston Tea Party ride, which drops riders from 50 feet into nearly 250,000 gallons of water.
Elsewhere in the park, try St. Louis style barbecue ribs and pulled pork at Smokin' BBQ, or see if you can use critical problem-solving skills to escape the Puzzle Rooms.
General admission tickets cost $39 at the gate and online.
---
10. Castles N' Coasters
courtesy of Castles N' Coasters
Phoenix, Arizona
• Hottest ride: Desert Storm
Castles N' Coasters features four outdoor mini-golf courses, several rides, a go-kart track and an indoor video game arcade. The Desert Storm Roller Coaster, the park's most popular ride, features loops, twists and vertical drops. You could also hop on Skywire, a popular zip-line attraction that lets guests soar across the park, or take young kids to the Junior Dixie Wheel — children can ride this one even without an adult.
When you're hungry, try to get chicken and waffles and ice cream in waffle cones at Waffles~n~Stuff, or build your own tacos for just $2.50 each at Tacos~n~Stuff.
The bronze pass, which gets you unlimited rides all day, costs $29.99 per person; tickets that include mini golf and arcade games are more expensive.