The 10 Best National Parks in the U.S.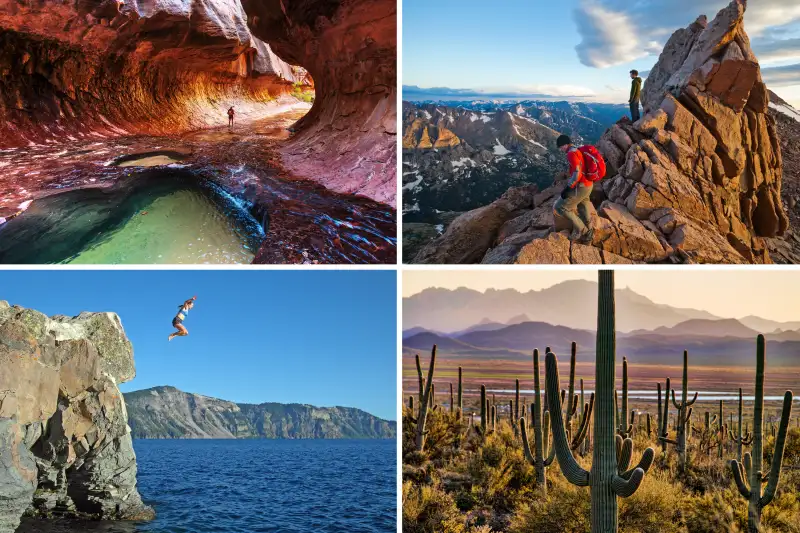 (clockwise from top left) Alamy, Getty Images (2), U.S. National Park Service
From swampy marshes to soaring canyons, from pristine glaciers to scorching deserts, America's national parks encompass nearly every possible ecosystem and offer a world away from the everyday hustle and bustle.
The 60 official national parks form a vast system that collectively spans 84 million acres, and was visited over 331 million times last year alone. But with such a plethora of options, it can difficult to pick just one to visit for any given vacation.
To help with that, Money teamed up with Kayak to price out how much it would cost to visit each of the parks this summer—a tab that covers round-trip airfare, a week's worth of hotel rooms, plus a car rental, meals, and park entrance fees. From there, Money reviewed what each park had to offer—from activities to scenery—and ranked them based on which were primed to deliver the highest value for your dollar.
Each of the top 10 parks are packed with must-do experiences and amenities but at prices that, relatively speaking, make them a steal.
Read on to discover which of the national parks should be at the top of your to-do list this year.
---
Ethan Welty—Getty Images/Aurora Creative
1. Rocky Mountain National Park

Cost to spend a week for two: $2,336
Average summer airfare: $277
Average nightly lodging: $192
Park entry: $30 per vehicle
Even if you've never been to Rocky Mountain National Park, you've likely seen its iconic peaks. In fact, Longs Peak—the park's tallest at 14,259 feet—graces the back of Colorado's state quarter. Aspen and pine forests blanket the slopes of the Rockies, providing shade for the park's prolific wildlife—including big horn sheep, elk, black bears and moose.
Located northwest of Boulder, the park is a hiker's paradise, with 355 miles of hiking trails available for all skill levels. For example, if you don't have the expertise needed to climb to Longs' summit via the Keyhole Route, try the Lily Mountain trailhead, a modest 4-mile, round-trip trek that offers panoramic views of Longs Peak, as well as the nearby Mummy mountain range. Families should check out the Bear Lake Loop, a paved nature trail that passes through pine forests and circles the pristine waters of Bear Lake.
Rocky Mountain National Park is also home to the highest continuous paved road in the U.S., Trail Ridge Pass Road. The 48-mile road, called "Highway of the Sky," travels through pine forests and high-Alpine tundra and offers numerous viewpoints in which to gawk at the mountainous vistas. During July and August, wildflowers bloom in the meadows and temperatures are comfortable.
---
Bernard Hardman—Shutterstock
2. Great Smoky Mountains National Park
Cost to spend a week for two: $2,297
Average summer airfare: $421
Average nightly lodging: $148
Park entry: Free
This Tennessee-based park is the most popular national park in the U.S.; more than 11 million people visited it last year. That's roughly the equivalent of the number of visitors at the Grand Canyon, Yosemite, and Yellowstone combined. Part of the reason for its popularity is its free admission, a constant over the years thanks to a stipulation in the park's original charter.
For the best views of the surrounding mountains and valleys, head to the observation tower on Clingmans Dome, which offers spectacular 360-degree views.
But despite the views from Clingmans or even the main artery of the park, Newfound Gap Road,
The experts at Lonely Planet say the best way to explore the park is by foot—you can wander amid blueberry patches, explore swimming holes, and even scale wild waterfalls. Check out the Trillium Gap Trail, a meandering 3-mile trek that winds through a hemlock forest and takes visitors to Grotto Falls, a 25-foot waterfall. Great Smoky offers visitors a chance to experience a range of ecosystems brimming with wildlife. In fact, over 900 new plant and animal species have been discovered here over the years.
---
3. Zion National Park
Cost to spend a week for two: $2,297
Average summer airfare: $272
Average nightly lodging: $185
Park entry: $35 per vehicle
If there's one park that's guaranteed to provide a top-notch outdoor adventure, it's Zion. This majestic national park in southern Utah boasts stunning 2,000-foot Navajo sandstone cliffs awash in shades of terra cotta, creams, and even delicate pinks. The Narrows portion of the park—thus named because it's the narrowest section of Zion Canyon—offers a great introduction to Zion's iconic slot canyons, formed through a millennia of water rushing through the rocks.
Adrenaline junkies should head to the Subway, a picturesque canyon with a shallow basin where water pools. Getting there can become a wild backcountry hike, with some approaches necessitating short rappelling, climbing down waterfalls, scrambling over boulders, and swimming short distances through frigid waters. (You'll need a permit for almost any backcountry exploration at Zion.)
Zion is also a great pick for a family trip—offering a wide range of trails, along with a free shuttle service (March through November) that makes all trail entry points easily accessible. Water stations and restrooms are available at every stop. The Canyon Overlook trailhead is an easy 1-mile leg-stretcher from the parking lot to the viewpoint, but offers stunning views of the iconic Zion Canyon. Another classic hike is the Emerald Pools trail, a relaxing hike that takes visitors along small streams at the base of the canyons and offers views of the Lady Mountain, eventually winding behind a dramatic waterfall at various times of the year.
---
Emily McCuistion—National Park Service
4. Death Valley National Park
Cost to spend a week for two: $2,193
Average summer airfare: $272
Average nightly lodging: $169
Park entry: $30 per vehicle
The hottest, driest, and lowest national park in the country, Death Valley may at first glance appear to live up to its name—but there are plenty of amazing sites that attract wildlife, and humans, to this part of California's Mojave Desert.
Visit at the right time and you'll be treated to the site of beautiful rust-colored mountains surrounded by multi-hued wildflower displays. If conditions align, the desert becomes a mass of yellow, purple, pink and white flowers in spring. Some flowers—including the desert mariposa, purple sage and magnificent lupine—do still bloom in summer at the higher elevations of the park. While flower hunting you may also come across critters like bighorn sheep, tortoises and jackrabbits.
Get a reminder of the park's mining history in ghost towns such as Skidoo and Rhyolite, as well as at the beehive-shaped charcoal kilns in Wildrose Canyon.
Another major park attraction appears only at night. Death Valley makes for a spectacular spot to glimpse the stars and Milky Way, thanks to its dark skies. Visit Harmony Borax Works for large unobstructed views, or head to Ubehebe Crater, which has some of the darkest skies in the whole park.
---
5. Yosemite National Park
Cost to spend a week for two: $2,870
Average summer airfare: $304
Average nightly lodging: $257
Park entry: $35 per vehicle
One of the oldest federally protected swaths of land, Yosemite has been attracting visitors to California's Sierra Nevada mountains for more than a century with a landscape that includes towering waterfalls, granite cliffs, and ancient sequoia trees.
To see its most iconic vista, head to the east end of the Wawona Tunnel for the "Tunnel View." It combines sightings of three of the park's best attractions: the rock formations El Capitan and Half Dome as well as the Bridalveil Fall. Another picture-worthy stop is the Sentinel Bridge, where you can see the Half Dome reflected in the glassy waters of the Merced River.
Inside the park's 1.190 square miles you'll find plenty of wildlife to ogle. In the summer, wildflowers bloom all across the Tuolumne Meadows. Giant sequoia trees maintain watch over the land as they have for the past two millennia in Mariposa Grove. And blacks bears can sometimes be spotted strolling below Glacier Point.
In summer, you can rent a raft and float down the Merced River while viewing all the park's natural wonders. Experienced rock climbers should head to Camp 4 near El Capitan to try their hand at tackling the massive granite slab.
---
U.S. National Park Service
6. Crater Lake National Park
Cost to spend a week for two: $2,243
Average summer airfare: $349
Average nightly lodging: $151
Park entry: $25 per vehicle
This tranquil Oregon lake, famed for the clarity and color of its water, conceals a violent past. About 7,700 years ago Mount Mazama violently erupted—blowing its top off, collapsing in on itself and forming a steep-sided caldera, which we now know as Crater Lake. Over time the caldera collected snow and rainwater, transforming itself into the deepest lake in the United States, with a depth of 1,943 feet.
Crater Lake also claims another rare attribute. It's one of the only places on Earth where you can see a volcano within a volcano. The conical Wizard Island, which sits on the western side of the lake, is just that. Take one of the daily shuttles to the island and hike the novelty yourself.
Another odd sight to watch for is known as "the old man of the lake," a vertical tree stump that has been bobbing across the lake's surface since the 1890s.
---
Richard Rasmussen—Getty Images/America 24-7
7. Hot Springs National Park
Cost to spend a week for two: $2,211
Average summer airfare: $400
Average nightly lodging: $114
Park entry: Free
Hot Springs National Park is not only one of the most affordable sites on this list; it's also the oldest: The Arkansas land, just an hour or so's drive outside of Little Rock, was set aside as federal reserve in 1832, predating even Yellowstone (traditionally recognized as the country's first national park). The national park holds 47 scenic hot springs and waterfalls, flowing from the western slope of the Hot Springs Mountain, at the base of the Ouachita mountain range.
At 143 degrees Fahrenheit, the springs themselves are too hot to submerge yourself in directly—but you can enter any of the eight facilities on Bathhouse Row that use the water for mineral baths, hot tubs and spa pools. Other bathhouses host cultural events and art galleries, while one has been renovated into a brewery and a distillery.
The park also has 26 miles of hiking trails, as well as a campground you can use for $10 a night.
---
Mark Newman—Getty Images/Design Pics
8. Saguaro National Park
Cost to spend a week for two: $2,527
Average summer airfare: $368
Average nightly lodging: $190
Park entry: $15 per car, $5 per individual
Succulents are having a moment on Instagram right now—so visiting the iconic cactus forests preserved by Saguaro National Park may help spruce up your social media presence.
The 10-foot-tall, bright green, prickly saguaros are the iconic symbols of the American west, even used on the Arizona license plate. Because the cactus only grows in the Sonoran Desert, the Saguaro National Monument (later renamed as a park) was the first created to protect a specific plant, according to Lonely Planet.
The national park itself, located just outside of Tucson, is divided into two units separated by 30 miles. One section, the Rincon Mountain District, offers horseback riding, picnic areas and hikes, including the rocky Tanque Verde Ridge Trail. Hikers climb nearly 4,000 feet up on the Tanque Verde trail, surrounded by dense saguaro and prickly pear cacti forests, at Mica Mountain. The park's western area, the Tucson Mountain District, offers shorter and slightly easier hiking trails, as well as camping areas.
---
Viktor Posnov—Getty Images
9. Great Basin National Park
Cost to spend a week for two: $1,715
Average summer airfare: $309
Average nightly lodging: $90
Park entry: Free
As one of the newest national parks in the country, Great Basin National Park is home to the second-highest mountain in Nevada, Wheeler Peak. Take the scenic drive along the summit for views of the Great Basin desert from more than 10,000 feet above sea level. The national park's namesake Great Basin measures roughly 200,000 square miles and is home to 800 species of plants and 61 species of mammals.
Among the most popular activities in Great Basin National Park are the Lehman Caves tours. The marble cavern is located at the side of the Snake Range, and filled with such structures such as stalactites, stalagmites and over 300 rare shield formations. The caves can only be accessed via tours, which cost at least $9 for adults and $5 for children.
Astronomers say Great Basin National Park has the last true dark skies in the U.S.—so dark that they're considered an "endangered resource." Five planets, the Milky Way, meteor showers and the Andromeda Galaxy can all be seen with the naked eye, according to Lonely Planet.
---
Per Breiehagen—Getty Images
10. Voyageurs National Park
Cost to spend a week for two: $1,999
Average summer airfare: $328
Average nightly lodging: $134
Park entry: Free
One of the most affordable national parks to visit this year, northern Minnesota's Voyageurs National Park offers boaters and fishers a water paradise. It houses four massive linked lakes that stretch for 56 miles, so it isn't surprising that this park is 40% water.
The Ojibwe people and French fur traders once used the area as a thoroughfare for swapping beaver pelts, but now you're more likely to see fishing fans hoping to catch the trophy walleye, northern pike and smallmouth bass that live here. Look above the watery depths and you may be able to spot bald eagles, loons, moose, and perhaps even some of those famous beavers. Families can also take canoes and motorized boats out on the lakes.
Prefer to stick to land? Among this park's attractions are rocks that are half the age of the Earth. The exposed rock you'll see here is part of the volcanic bedrock that forms the continent and can be dated to the birth of North America.
---
Methodology
To find the national parks offering the best value for summer 2018, Money analyzed more than 500 data points for all of the U.S. national parks. To rank each park, we gave the most weight to overall cost—using prices from June to September for roundtrip airfare, lodging and car rentals, all of which was provided by Kayak. We also calculated what travelers should expect to spend on meals, with pricing from Numbeo. We also factored in what each park had to offer visitors, weighing all available scenery ratings from GoOutsideBook.com and the number of things to do at each park from TripAdvisor.