The 10 Best Places to Visit in Canada Now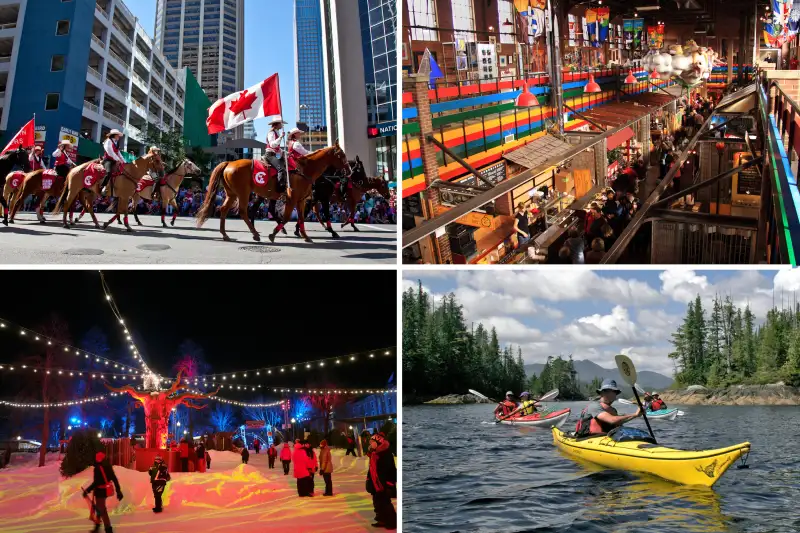 (clockwise from top left) Getty Images (3); courtesy of Carnaval de Québec
Canada is the world's second-largest country, yet still manages to get overlooked when it comes to North American travel.
Canada's beaches aren't rowdy resorts like in Mexico or the Caribbean — the shorelines are backdropped by snow-capped mountains and etched with waterside biking trails. Canada's biggest cities have award-winning restaurants to rival New York eateries, plus award-winning vineyards and craft breweries. Canada possesses some of North America's most ethnically diverse areas, one of its oldest cities, its biggest ski area, and a lot of maple syrup.
To celebrate the Great White North's bustling tourist sites, Money put together a list of the 10 best places to go in Canada. Using our Best in Travel database, we calculated the cities that offer the best value for your dollar: places with affordable hotel and airfare costs that offer plenty of excursions, museums, restaurants, etc. (Unless otherwise specified, prices are in U.S. dollar equivalents.)
Money also got recommendations on things to do from partner Lonely Planet's Explore the Americas guidebook. And then we calculated the cost of a four-day trip for two people, including airfare, hotel, and meals.
Here are the best places to go on your next trip to Canada:
---
1. Calgary, Alberta
Henry Georgi—Getty Images/All Canada Photos
Average nightly hotel cost: $125
Average coach airfare: $350
Cost for a four-night trip: $1,563
Calgary has charged ahead of other Canadian cities to take the top spot — literally.
In addition to boasting natural beauty and historical sites, the city is best known for the Calgary Stampede — a 10-day rodeo featuring a parade, bull riding, and a 36-team derby. At night there's musical entertainment and fireworks, and carnival rides and Canadian carnival food (Funnel Cake Poutine anyone?) are scattered around the venue. The Stampede takes place in July and tickets cost less than $14 U.S. online.
If rodeos aren't your thing, no fear: The city bustles with indoor and outdoor adventures. Head over to Prince's Island Park on warmer days for outdoor skating or Shakespeare in the Park. You could grab a cocktail and enjoy views of the city at Sky 360 Restaurant and Lounge in the Calgary Tower, or learn how to trade furs like a 1860s settler at the country's largest living history museum.
For a place nicknamed "Cowtown," Calgary dining serves up much more than beef. The award-winning restaurant MARKET uses fresh, local ingredients for relatively affordable bites. Stampede fans can learn to line-dance at popular Ranchman's Cookhouse and Dancehall. Wind down after a day of exploring with a glass of wine and fresh-shucked oysters at River Café.
---
2. Quebec City, Quebec
courtesy of Carnaval de Québec
Average nightly hotel cost: $188
Average coach airfare: $384
Cost for a four-night trip: $1,775
Francophiles and European history buffs will find plenty to do in Quebec City, one of North America's oldest cities. The cobblestone streets are lined with 17th and 18th century houses and historic churches. Here you'll find the continent's first Anglican cathedral, first French-speaking university, and oldest newspaper.
Lonely Planet encourages travelers to hit Quebec City in the wintertime. Cross-country skiers should head over to the Plains of Abraham, home to a namesake battle in 1759. The trails offer views of the St. Lawrence River on one side, and the city skyline — including the iconic Chateau Frontenac hotel — on the other. Another exclusively wintertime activity is Quebec City's famed Winter Carnival, where you'll find ice sculptures, parades, skating rinks and ice canoe races.
Expect to eat top-notch French food. Sweets include the sugar pie in the city's Cafe Krieghoff or a box of Parisian macarons (just over $11 U.S.) from the Le Croquembouche bakery. Be sure to grab a cup of Quebec's signature Caribou, a sweet beverage made of red wine, whisky and maple sugar with various spices. Revelers sometimes sneak it into Winter Carnival by pouring it in hollow plastic canes; you can also order it served in shot glasses made of ice.
---
3. Toronto, Ontario
George Pimentel—Getty Images
Average nightly hotel cost: $178
Average coach airfare: $327
Cost for a four-night trip: $1,711
Lonely Planet calls Toronto the most multicultural city on the planet, and it does seem to offer attractions for every type of tourist.
One of the best ways to explore its riches is via the distinctive neighborhoods. Check out 1800s-era buildings along the pedestrian-only Distillery District, whose Victorian industrial buildings have been turned into shopping and dining centers. Eat your way around Kensington Market, a neighborhood full of eclectic shops and eateries serving up authentic food from China, Japan, the Caribbean and South America. Orr stand atop the iconic, 1,800-foot-high CN Tower in the tourist-friendly Entertainment District.
Toronto also hosts a variety of annual festivals and celebrations. The Toronto International Film Festival, one of the world's largest and most prestigious publicly attended film festivals, attracts hundreds of thousands of patrons a year. Drake fans can plan on attending the rapper's annual OVO Fest, where Canadian musicians put on a show for the star's hometown crowd.
---
4. Ottawa, Ontario
Average nightly hotel cost: $154
Average coach airfare: $363
Cost for a four-night trip: $1,622
Canada's capital city has more to offer visitors than just possible glimpses of the country's superstar prime minister.
Take a trip to ByWard Market, one of Canada's oldest public markets, where over 500 businesses set up shop in roughly 260 stalls. Other nearby landmarks include the Chateau Lafayette, Ottawa's oldest tavern, and the Notre-Dame Cathedral Basilica, the city's largest and oldest church.
In the winter, the city opens up the Rideau Canal Skateway, the world's largest skating rink. The 4.8-mile-long skating rink, which gets a million visits a year, winds from the city's downtown to Dow's Lake. Skate rentals vary, depending on which part of the skateway you visit, but are around $17 for two hours of adult skating. For more winter fun, visit one of the nearby ski resorts, such as Mont Cascades — about a half hour's drive from the city.
---
5. Montreal, Quebec
courtesy of Tourisme Montréal
Average nightly hotel cost: $184
Average coach airfare: $335
Cost for a four-night trip: $1,695
Montreal may be one of the best places to eat in Canada. You'll find 80-year-old Jewish delis, ample food markets, sophisticated French cafes, hipster craft breweries and, of course, poutine. Check out the popular Atwater market, lined with food stalls selling berries, chutneys, meats, and flowers — plus the acclaimed Thai food joint Satay Brothers. Sample duck foie gras or croissants at Lonely Planet's recommended French eatery, L'Express, or head over to Damas in the Outremont neighborhood for authentic Syrian dishes, like the red pepper and walnut spread mouhammara.
On warmer days, you can stroll along the cobblestoned Rue Saint Paul, one of the oldest and most iconic streets in the city. Check out some of the galleries and boutiques in the area, or visit the Pointe-à-Callière Museum to learn about Montreal's founding. When it's chilly out, take your shopping indoors — and underground — at the numerous Underground City malls. You can find local crafts at L'Art des Artisans du Quebec, or grab a book from a city author at Renaud-Bray.
---
6. Niagara Falls, Ontario
Average nightly hotel cost: $169
Average coach airfare: $330
Cost for a four-night trip: $1,656
Get your rain ponchos ready for your trip to Niagara Falls, one of North America's great natural wonders. Niagara is actually made up of three waterfalls — American Falls, Bridal Veil Falls, and Horseshoe Falls — with the latter appearing on the Canadian side. Horseshoe has the highest drop, at 173 feet, and accounts for 90% of the falls' total water volume. You can see the falls up close from the Hornblower Niagara Cruise, a 20-minute boat tour that traverses the Niagara River to get close to the giant falls. Adult tickets cost $19.50 U.S., while children's tickets cost $12.
If you're in Niagara during wintertime, check out the numerous light displays along the river at the Winter Festival of Lights. Different light shows and events occur from mid-November to the end of January. While there is no admission required, donations are suggested.
In the nighttime, check out the acclaimed farm-to-table restaurant AG. If upscale fine dining isn't in your budget, head over to The Flying Saucer, a no-frills diner famous for its hefty early bird special (just $2.99 Canadian!) that comes with two large eggs, home fries, and toast.
---
7. Victoria, British Columbia
Michael Wheatley—Getty Images/All Canada Photos
Average nightly hotel cost: $188
Average coach airfare: $361
Cost for a four-night trip: $2,186
A British colony until 1843, Victoria is known for its, well, Victorian-style buildings, as well as its British influence more generally. Book a tour of the Craigdarroch Castle, a mansion overlooking the city, which is marked by Romanesque arches, cylindrical towers, stained glass windows, and 19th century paintings. Adults get in for about $11 U.S., while children enter for less than $4. Or get some traditional fish and chips at the outdoor Red Fish Blue Fish seafood joint in the city's Inner Harbour. Tempura-battered Pacific cod and wild salmon go for $9 a piece, while the local halibut sells for $13.
Cycling may be one of the best ways to explore Victoria's natural beauty: The southernmost city on Vancouver Island also claims to have more bike routes than any other city in Canada. Or visit the world-famous Butchart Gardens, one of Canada's National Historic Sites. You'll find over 1 million plants and more than 900 varieties of flowers and greenery. The Gardens host fireworks every Saturday during the summer, and offer greenhouse tours to teach visitors on how the large garden is managed. Rates vary by season; summer 2018 tickets cost $25 for adults, while autumn tickets are $21.
---
8. Vancouver, British Columbia
Average nightly hotel cost: $221
Average coach airfare: $335
Cost for a four-night trip: $1,867
Vancouver is a outdoor-lover's dream destination.
The city sits on the westernmost side of the country, near the coast of the Pacific Ocean and surrounded by the North Shore Mountain Range. Try hiking up the steep Grouse Grind trail, nicknamed "Mother Nature's Stairmaster" by locals, to get breathtaking views of the city. Bike along the world's longest uninterrupted waterfront path at the Stanley Park Seawall, or learn about the history of the area on the Cycle City Tours (which start at $49).
You can also swim in one of the world's largest saltwater swimming pools, the Kitsilano Pool, for less than $5 U.S. for adults, or kayak at the popular English Bay Beach, or First Beach.
The area also offers numerous mountains and ski resorts. Grouse Mountain is a favorite for nighttime skiing, while Cypress Mountain was a former Winter Olympics venue. Lonely Planet also suggests visiting the Great Bear Rainforest on Prince Royal Island, north of the city: You can kayak among whales, fish for salmon or trout, or get a chance to see the namesake bear roaming the islands.
---
9. Winnipeg, Manitoba
courtesy of Tourism Winnipeg
Average nightly hotel cost: $119
Average coach airfare: $398
Cost for a four-night trip: $1,553
Is Winnipeg not on your travel list? You could be missing out — the city boasts one of Canada's best culinary scenes, a loyal hockey fan base, and numerous polar bears.
The interactive Canadian Museum for Human Rights unpacks the history behind Canadian-Japanese internment during WWII, and the country's mistreatment of First Nations peoples. Admission costs $16 for adults and $8 for children under 17. You could also visit the Forks National Historic Site of Canada, a 6,000-year-old meeting place used first by the area's indigenous peoples, and later by European fur traders and Scottish settlers. Learn about the site's history on the walking tour (less than $3 U.S.), try one of 40 different craft beers and wines in the the Food Hall of The Forks Market, or canoe in the same port used by York settlers to exchange goods.
---
10. Banff, Alberta
MJ_Prototype—Getty Images/iStockphoto
Average nightly hotel cost: $232
Average coach airfare: $358
Cost for a four-night trip: $1,969
This Alberta resort town is surrounded by the Canadian Rocky Mountains, home to natural hot springs, the country's oldest national park, and some world-class skiing. Not too far away, Lake Louise resort also offers awe-inspiring views, numerous hiking trails and a chance to see a grizzly bear from its 6,850-foot gondola and wildlife center.
Don't miss taking a drive on one of the most scenic roads in the world, the Icefields Parkway — a winding route in the heart of the Canadian Rocky Mountains. With luck, you should be able to see bighorn sheep, woodland caribou, and the Columbia Icefield, home to the largest glaciers south of the Arctic Circle.
---
Methodology
To find the cities in Canada that deliver the best value for travelers, Money considered roughly 1,200 data points for 18 major Canadian destinations. To rank each place, we gave the most weight to overall cost — using average 2017 prices for lodging, round-trip flights, and car rentals as provided by Kayak, Hotels.com and Hipmunk. We calculated what travelers can expect to spend on meals, drinks and transportation, using pricing from Numbeo. We then factored in the number of amenities each place offered —including museums, parks, attractions, beaches, and restaurants — as well as "pleasantness" measures, such as weather, crime and walkability. We finally factored in recommendations found in Lonely Planet's guidebook, Explore the Americas: Discover 60 Fantastic Travel Experiences.
This story has been updated to replace an incorrect reference to a U.S.-based tour at Niagara Falls.