The 7 Best Places to Go in Florida Now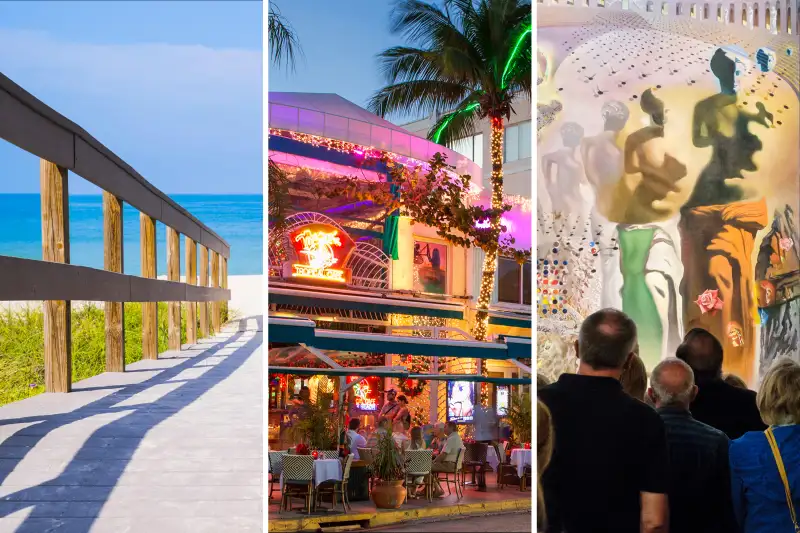 Millions of people touch down in the Florida each year, drawn by its seemingly endless coastline of white sand beaches, warm weather, and blend of family-friendly and adult activities. In 2017 alone, Florida welcomed a record 116.5 million visitors, according to the state's tourism division, with more than 102 million coming from other parts of the U.S.
If you are one of the throngs seeking a sunny escape, read on. Money scoured its Best in Travel database to locate the best places to go in Florida: vacation spots that deliver fun amenities and attractions—from beaches and golf to museums and theme parks—with prices that are relatively low. (For more on how we select our picks, read our full methodology; airfare and hotel prices reflect year-round averages.)
Money found that while there were standout places throughout Florida, two regions in particular delivered the best value: the Tampa Bay region and South Florida's Miami metropolitan area. Florida vacationers should zero in on the following seven spots for their next trip.
---
1. Pompano Beach
Average airfare: $278
Average hotel night: $124
Cost to spend a week for two: $2,125
Enjoy all that Florida beaches are known for—warm ocean waters, long stretches of golden sand, and tons of sunshine—at a more reasonable cost with a stay in Pompano Beach, otherwise known as "the Heart of the Gold Coast." Sitting on the Atlantic Ocean just north of Fort Lauderdale, Pompano Beach is an "affordable and family-friendly alternative to other South Florida hotspots," says Lonely Planet's Evan Godt. Average rates for hotel rooms run only $124 a night, according to Hotels.com. That's less than what you'd pay to stay in Fort Lauderdale, Miami, or West Palm Beach. (That's one reason Pompano Beach landed at No. 5 on this year's Best in Travel list.)
Don't think you'll be sacrificing any beach fun. Pompano still offers more than enough to satisfy every kind of water lover. From the shore, you can access natural coral reefs. Scuba divers can visit 18 shipwrecks in the area's water. The Okinawa, sunk just off the 1,000-foot-long Pompano Beach Pier, which is currently closed for a major reconstruction, makes for a great beginner dive, with the top of the wreck sited just 40 feet below the surface.
As befits its name, Pompano Beach attracts plenty of sport fishers too. Every May, the town hosts a fishing rodeo; some catches can earn more than $18,000. Families will love the beachside playgrounds, complete with grills and picnic tables, as well as the shoreline itself—at more than 100 yards wide, it gives kids more than enough space to build castles and bury their siblings.
---
Treasure Island
Average airfare: $294
Average hotel night: $185
Cost to spend a week for two: $2,550
White sand beaches and warm Gulf of Mexico waters welcome visitors to the town of Treasure Island, part of the barrier island chain off the coast of western Florida.
With three miles of beachfront, Treasure Island is wider than neighboring St. Pete Beach to the south. The family-friendly getaway is also easy on the budget, with moderately priced hotels and flights into nearby Tampa International Airport available for under $300 on average, according to Kayak. The lively downtown features beach shops and local institutions like R Bar. And you can catch your own dinner by booking a deep-sea fishing charter (starting at $125 for a half-day trip on summer weekends) to catch the year-round local varieties of red grouper and hogfish.
---
mariakraynova—Getty Images
3. Fort Lauderdale
Average airfare: $278
Average hotel night: $149
Cost to spend a week for two: $2,275
Fort Lauderdale, on Florida's southeastern coast, is more than just a beach getaway. The city has traded much of its spring break vibe for a more sophisticated scene built on an array of museums, art galleries and music festivals.
Sometimes called "the Venice of America," Fort Lauderdale is sprinkled with canals, with some areas hosting a number of free weekend activities and entertainment. The first Sunday of each month, look for free jazz concerts in downtown Fort Lauderdale's Riverwalk area. Meanwhile on Fridays you can grab a drink and check out a live mermaid swim show at the Wreck Bar.
Check out the historic Bonnet House Museum & Gardens ($20 for adults). Situated on 35 acres on a barrier island, the site transports visitors back to the early 20th century and houses an impressive art collection. Or if modern art is more appealing, check out the murals and sculpture along Mockingbird Trail, an urban outdoor art path.
---
Sylvain Sonnet—Getty Images
4. Miami
Average airfare: $275
Average hotel night: $186
Cost to spend a week for two: $2,679
Glamorous beaches, buzz-worthy nightlife, amazing art deco architecture and creative Cuban-American cuisine: We must be talking about Miami.
Take in the city's famed South Beach neighborhood by visiting architectural masterpieces such as the Cadillac Hotel, the Breakwater, and the Colony Theatre. The Miami Design Preservation League hosts a popular, 90-minute Art Deco Walking Tour ($25 for adults) that hits all the major highlights.
The art and design scene goes well beyond architecture. Miami Beach plays host to the renowned art show, Art Basel, which this year runs December 5-9, 2018—a period when artists, art lovers, and collectors descend upon the convention center and surrounding neighborhood galleries.
And don't forget to take advantage of the bar and club scene. Lonely Planet recommends heading over to the Freehand Hotel's award-winning bar, The Broken Shaker, for cocktails like the vodka-based Salty Drew ($13) or the Tayne Sequence ($13), a tequila concoction. Or dance the night away at the Story nightclub, which regularly hosts hot musical acts.
---
fallbrook—Getty Images/iStockphoto
5. Sarasota
Average airfare: $293
Average hotel night: $147
Cost to spend a week for two: $2,195
Sarasota is a seaside town that boasts plenty of typical beach attractions, like the warm Gulf waters and white sands at Siesta Key and Lido Beach, but with one key distinction: a circus heritage that spans both entertainment and the arts.
Visit the 66-acre estate of developer and big top legend John Ringling, where you can tour his Venetian Gothic home, Cà d'Zan, and get a sense of his extravagant tastes. A guided tour ($20) gets you access to both the first and second floors.
Also on the site: the John & Mable Ringling Museum of Art, which holds an impressive collection of European tapestries and paintings from the 14th to the 18th century, plus the nearby Circus Museum, with artifacts from Ringling Bros' original show as well as a detailed miniature of the big top. (A joint adult ticket to both the art and circus museums costs $25, although the former is free on Mondays.)
Back in downtown Sarasota, you can visit Towles Court, a historic artists' colony that holds several studios and galleries, or stroll Palm Avenue to find even more art galleries. Both spots also hold monthly art walks.
Finally, gather some inspiration for an artistic creation of your own: Hike through the pine flatwoods and oak hammocks of Crowley Nature Center ($5), or view orchids and other flowers at the Marie Selby Botanical Gardens ($25).
---
Jeff Greenberg—UIG via Getty Images
6. St. Petersburg
Average airfare: $294
Average hotel night: $134
Cost to spend a week for two: $2,283
Calmer than either Miami or Fort Lauderdale, St. Petersburg offers a blend of cultural activities and outdoor adventures, surrounded by nearby white sand beaches on Florida's Gulf Coast.
Locals are understandably proud of the world-class Salvador Dalí Museum ($24 for adults), which houses thousands of works—including the Spanish surrealist's paintings, sculpture, and photography, as well as a document archive. After working up an appetite, head a few blocks north to Locale Market, a 20,000-square-foot gourmet marketplace and dining destination.
For those seeking a taste of Florida's natural habitat, head south of St. Petersburg's bustling downtown. Sitting on the banks of Lake Maggiore, Boyd Hill Nature Preserve (admission $3) is a 245-acre protected area with six miles of trails, where you can experience a wide range of wildlife. Every second Sunday of the month, the Boyd Hill Environmental Education Center hosts a guided tour where you can learn about and search for alligators.
---
7. Orlando
Average airfare: $254
Average hotel night: $186
Cost to spend a week for two: $2,049
It is easy to get caught up in the neatly contained, perfectly constructed fantasy lands of Disney World and Universal, but Orlando itself has much to offer—and this is a great time to explore it. Average airfares to the city have dropped 8% year over year, according to Kayak. (Theme park fans should also see Money's tips on saving money on a trip to Disney World itself.)
Check out the tree-lined streets of Winter Park, an area with small-town shops, wine bars, and sidewalk cafes. Duck inside the Charles Hosmer Morse Museum of American Art to discover the world's most comprehensive collection of works by Louis Comfort Tiffany, including the stunning chapel interior he designed for the 1893 World's Columbian Exposition. Or visit the nearby Leu Gardens, a 50-acre botanical retreat with a beautiful rose garden ($10). Treat yourself afterwards to a meal at either the Ravenous Pig, for inventive gastropub fare, or Prato for classic Italian dishes.
If you're after old-Florida kitsch, take your family to Gatorland ($30). You can witness alligator wrestling, feed a couple of hot dogs to some gators, and even watch the creatures leap out of the water to devour whole chickens.
For true old-world Florida, head 15 miles north to Wekiwa Springs and rent a kayak or canoe; as you glide through the waters, you'll see what Central Florida looked like when the Timucua tribe lived here.
End your days downtown. Take in an Orlando Magic (basketball) or Orlando City (soccer) game, dine at one of the many restaurants that surround the landmark fountain in the middle of Lake Eola—being careful to avoid the swans—or bar hop around Church Street and Wall Street Plaza.
This story has been updated to correct a mistaken reference to a defunct bar in Treasure Island.