10 Cities Where Airbnb Will Save You the Most Money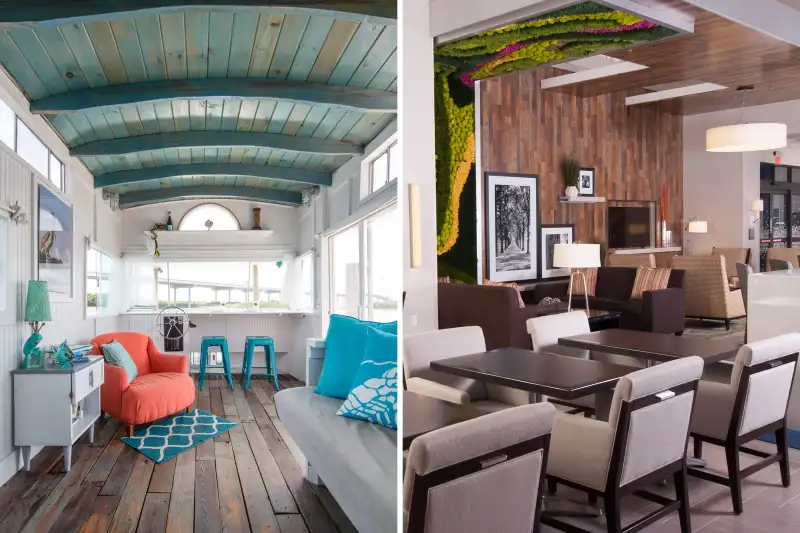 (left) courtesy of Airbnb; (right) courtesy of Hampton Inn
It's a question that pops up in almost every trip planned: Where do you want to stay? These days, travelers are more likely to be choosing between a traditional hotel and a home or apartment rental.
As part of Money's Best in Travel, we analyzed hotel room and Airbnb apartment rental rates in nearly 300 cities to determine where it makes the most sense to stay in each type of lodging.
For budget travelers looking for the lowest-cost option, hotels deliver lower rates on average—something that may come as a surprise to many travelers. Among the popular travel destinations Money analyzed, there were less than 40 cities where the average rate for an apartment on Airbnb was cheaper than a hotel.
In fact, Airbnb prices increased 5.4% over the past year, as opposed to hotel rates, which rose less than 1%, according to Money's research. (See Money's picks for the best hotel chains in the U.S., from budget to luxury.)
"Everyone is looking for a good deal, but in many markets Airbnbs can be more pricey than a basic hotel room," says Scott Shatford, founder of AirDNA—a company that tracks Airbnb pricing. For Money's analysis, AirDNA provided pricing for entire apartment rentals, while Hotels.com, Booking.com, Hipmunk.com and Trip by Skyscanner provided hotel rates.
Of course, when it comes to finding lodging, price isn't always everything. According to Airbnb's own research, those who rent out vacation rentals (predominately millennials) aren't always looking for the lowest cost; about 80% of millennials say they're looking to live like locals when they travel, Airbnb found.
When making your decision between an Airbnb spot and a hotel, Shatford says it's helpful to consider three factors: price, location, and length of stay.
If location is key, it may make the most sense to search for an Airbnb rental: Typically, they are distributed more evenly across a city than hotels are, so there is more of a chance you'll find one in an area you want. In fact, Airbnb reports that 74% of its rentals are outside the main hotel districts.
Hotels can be easier for shorter stays (one or two nights), however, because there's not much uncertainty about the check-in process or extended communication with hosts, Shatford says.