The Best Hotel Chains in the U.S., for Every Type of Budget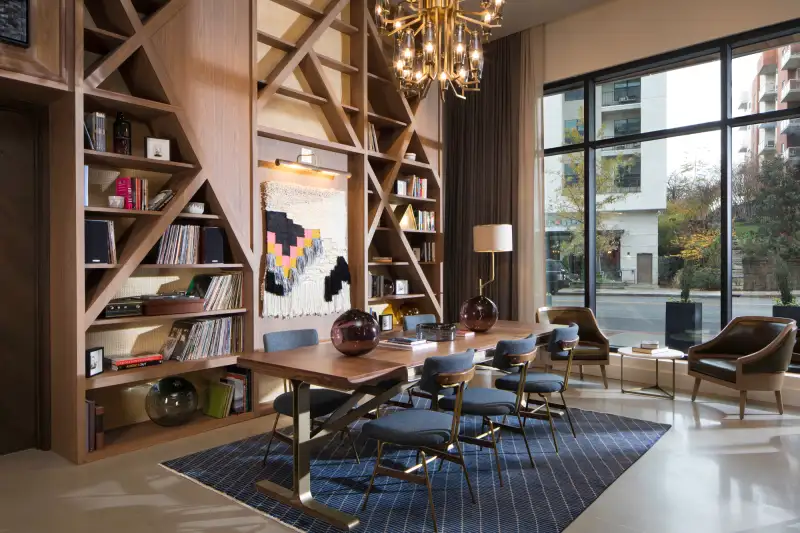 courtesy of Thompson Hotels
If you're looking to make your dollar go further while traveling, hotels can be a good area to focus on. Hotel room costs actually make up a significant portion of the average American's travel budget—about 26% of the cost for U.S.-based trips, and just over 20% for international trips, according to financial research company ValuePenguin.
But good value doesn't necessarily mean "cheap." Some travelers just want a hotel that's clean and reliable, with budget prices and basic amenities like reliable Wi-Fi; others are happy to splurge on extra service and higher-end amenities, but want to be sure they're getting all the luxuries they're paying for.
To identify the best hotel chains, Money compared price, value, and customer service across three different classes of price/service, out of a total pool of 95 brands. At each level—budget, midrange, and luxury—we identified a winner and two honorable mentions.
Our picks for the best hotels are below.
---
Best Budget Hotels
Some hotel chains manage to provide a good guest experience while still keeping costs down. To find the best, Money analyzed 25 hotel chains—those brands with one to two stars, with room rates that average $100 per night.
The Winner: Americas Best Value Inn
courtesy of America's Best Value Inn
Great rooms at great rates: This hotel chain consistently hits the mark for budget travelers, offering low prices without forcing guests to settle for poor service. Landing well above rivals in Money's value analysis, the company says customers can expect to pay $75 a night—the cheapest rate among the budget chains we surveyed. These hotels generally provide complimentary continental breakfast, free Wi-Fi and parking, as well as premium television and movie channels. Customers seem to be happy with the deal: The chain outscored all other economy chains for guest satisfaction in J.D. Power's annual ranking. Americas Best Value Inn spans the country with 870 outposts, covering every U.S. state except Delaware, Hawaii, New Hampshire, and Vermont—often with convenient locations near highways and interstate exits.
Honorable Mention: Baymont Inn & Suites
Part of the Wyndham family of hotels, Baymont yet again came out strong in Money's analysis after turning up last year as a winner among the 2017 best hotels. The hotel chain offers a good combination of solid customer service and low rates. Rooms here run about $73 a night, according to the company's earnings report.
Honorable Mention: Clarion
Clarion is a bit more expensive than Americas Best or Baymong, but as a Choice hotel, frequent guests can take advantage of the company's robust rewards program—encompassing more than 6,500 hotels in more than 35 countries. Expect to spend about $85 per night at this chain, according to company filings.
---
Best Mid-Range Hotels
Typically, these mid-priced hotel chains are more centrally located than their budget counterparts—near city centers and major attractions—and often offer high-quality bedding, pool facilities, and on-site restaurants. Money analyzed almost 40 mid-range hotel chains—those brands with fewer than four stars, generally costing $100 to $200 per night.
The Winner: Drury Hotels

The sheer volume of guest freebies helps push Drury ahead of its competitors. The hotel chain, which operates 150 hotels in 25 states, goes beyond free Wi-Fi and complimentary hot breakfast—Drury's includes Belgian waffles and eggs—to include lobbies stocked with popcorn and soda. There's also offers a free happy hour at 5:30 p.m. every day, where guests can mingle and pick up appetizers and drinks (including wine and beer in almost all of the chain's properties).
This attention to amenities has won Drury top hotel ratings from J.D. Power for 12 consecutive years—the only hotel chain to do so. And Drury's prices are right: Customers can expect to spend just over $125 per night, on average, a company spokesman says.
Honorable Mention: Hilton Garden Inn
The Hilton family of hotels is very competitive when it comes to the mid-range category. Hilton Garden Inn just inched out Home2 Suites, getting a boost from higher customer service scores from J.D. Power. Rooms at the chain run about $133 per night, according to Hilton's earnings report. The brand, which has over 760 hotels worldwide, just opened new locations in late 2017 in New York City, Austin and Phoenix.
Honorable Mention: Home2 Suites by Hilton
This brand is great for travelers looking to save. As an extended stay hotel, each room comes with a kitchenette, so you can eat in a few nights, if you'd like. (You can bring your pets with you too.) A night here will only set you back about $117 a night, according to company filings. All Hilton hotels are part of the Hilton Honors program, which rewards members with free standard Wi-Fi and digital check-in.
---
Best Luxury Hotels
If you're going to pay high prices, make sure you're getting a hotel that has a track record of excellence. In this category, Money analyzed 31 luxury brands—those with four or more stars, and an average room price that tops $300 per night.
The Winner: Thompson Hotels
courtesy of Thompson Hotels
No two Thompson properties are alike. The boutique hotel chain works with local designers and architects in building each of its hotels and resorts, aiming at a luxurious experience that delivers a true sense of place. Visitors arriving at The Cape, Thompson's Cabo San Lucas location, for instance, receive a free bottle of tequila upon checking in. The Thompson Nashville, meanwhile, features a vintage turntable in the lobby and a deep library of vinyl—with a particular nod to Third Man Records, owned by the White Stripes lead Jack White and located just a few blocks away.
Thompson currently has 10 hotels and resorts across four U.S. states, plus a few more in Mexico and Canada. And the brand is building out quickly, with seven more hotels under development, largely in U.S. cities like San Antonio and Denver. Rooms go for roughly $300 per night, on average, according to a company spokeswoman.
Honorable Mention: Kimpton Hotels
Part of the IHG family of hotels, Kimpton came in a close second in Money's best hotels analysis. The chain has over 60 hotels spread across the U.S., offering guests a lot of fun perks, including a complimentary wine hour. Guests can expect to spend under $300 per night, on average, according to the company's earnings report. And pets stay for free.
Honorable Mention: Langham Hotels & Resorts
Although slightly more expensive than Thompson and Kimpton, Langham hotels offer guests a truly luxurious experience. The Hong Kong locations are home to multiple Michelin-starred restaurants, for instance. And at afternoon tea in the London flagship location, the proprietary tea blend is sourced by tea sommeliers and served on "Langham Rose" Wedgwood china.
---
Methodology
Money evaluated 95 national and international hotel chains in three price/service classes. For each of the different classes, Money used data from Hipmunk and Hotels.com, as well as varying customer experience information. Criteria for best hotel chains included average cost per night; year-over-year changes in price; customer service ratings from J.D. Power; and 2017 reader reviews from our sister publication, Travel + Leisure.