The Best Hotels in the World 2017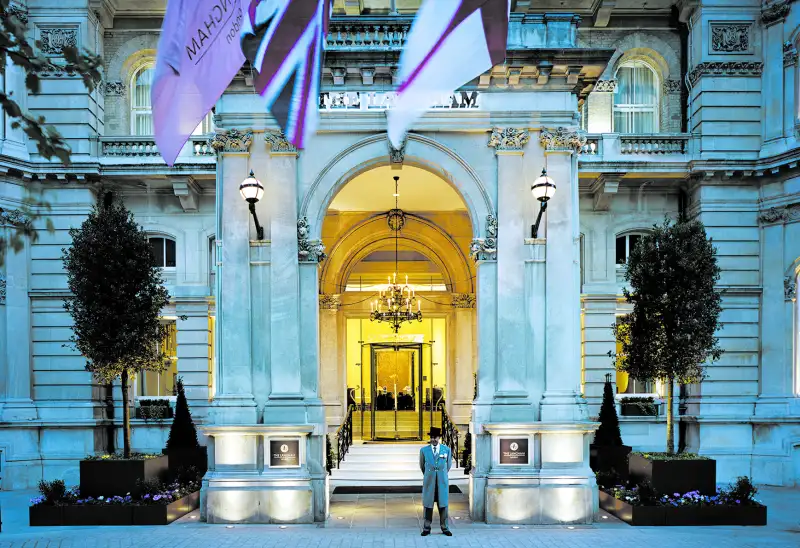 Courtesy of the Langham Hotel
Money surveyed 75 national and international hotel chains and ranked brands based on average cost per night, year-over-year price changes, customer service ratings from J.D. Power, and 2016 reader reviews from fellow Time Inc. publication Travel + Leisure. (Read all of Money's Best in Travel 2017.)
---
LUXURY HOTEL CHAINS
Five-star hotels that generally cost more than $200 per night
Courtesy of The Langham Hotel
Platinum: Langham Hotels & Resorts
Langham Group's reputation for top-notch customer service, combined with a affordability relative to its high-end peers, made it the clear winner for luxury value. A night at one of Langham's 20 properties, in destinations from Boston to Bali, will set you back $264 on average, according to company records. That's about 6% less than you would pay at the 22 other luxury hotel brands Money surveyed. Langham offers an additional 30% off if you book at least 46 days in advance, and right now the London flagship—in operation since 1865—is offering a special: four nights for the price of three, through Sept. 30. Book online and get free Wi-Fi.
Gold: Conrad Hotels & Resorts
Like Langham, Conrad (Hilton's brand targeting "smart luxury travelers") gets high marks for customer service and delivers a high-end experience for around $250 a night. A unique touch: a "pillow bar" offering dozens of options, many with a nod to the local culture, such as a porcelain pillow in Singapore and a traditional Tiba pillow in Egypt. During their waking hours, guests at Conrad's 28 locations can enjoy custom tours designed by travel expert Peter J. Lindberg, featuring one-, three-, or five-hour explorations of local art, culture, and food.
---
MID-RANGE HOTEL CHAINS
Three- and four-star hotels that generally cost between $100 and $200 per night
Platinum: Hampton by Hilton
If you're looking for a good night's sleep at a price that lets you rest easy, Hampton has you covered. Its signature "Hampton bed" features a custom Serta mattress, quality sheets, and four plush pillows. All that for around $122 a night, less than the average mid-range hotel. The chain's customer service scores in the top third in its class, and Richard Garlick, head of J.D. Power's global travel and hospitality practice, notes that travelers are increasingly prioritizing bedding and linens in the amenities they care most about. At its 2,067 locations across the U.S., Hampton provides free Wi-Fi and breakfast. In a hurry? Many locations offer breakfast-to-go bags on weekdays.
Gold: SpringHill Suites
SpringHill Suites' 361 locations deliver a lot of room for your money. Staying at this chain will generally set you back about $123 a night, but the rooms are about 25% larger than what's typical in this range, and most include a sofa bed, good for those traveling with kids. SpringHill, a Marriott brand, also delivers on service, ranking second among its peers in J.D. Power's customer experience study. Travelers give it high marks for value. "Marriott hotels always have predictable quality," says J.D. Power's Garlick. Plus, because it's part of the Marriott family, SpringHill participates in Marriott's popular rewards program.
---
BUDGET-FRIENDLY HOTEL CHAINS
One- to two-star hotels that generally cost less than $100 per night
Platinum: Baymont Inn & Suites
Baymont, part of the Wyndham family of hotels, came out on top for its combination of solid customer service and low rates. It has one of the highest over-all customer satisfaction scores from J.D. Power among the budget hotels we surveyed and showed the largest year-over-year improvement in its category. For an average of $72 a night, Baymont offers free Wi-Fi, breakfast, and airport transportation where applicable. Plus, AARP members get 20% off, twice the discount offered by most competitors.
Gold: Candlewood Suites
At $82 a night, Candlewood's rates are a little higher than average. But this chain, which caters to extended stays, offers a broader range of amenities than is found in most economy accommodations, including kitchens and free on-site laundry facilities. Many rooms include a sofa bed, a money-saver for families. Typical of extended-stay hotels, housekeeping services are limited to once a week, but fresh towels and room cleanings are available at any time upon request. There's no minimum stay, and the family pet is welcome.
We've included affiliate links into this article. Click here to learn what those are.