These Are the 9 Best Drinking Cities in the U.S.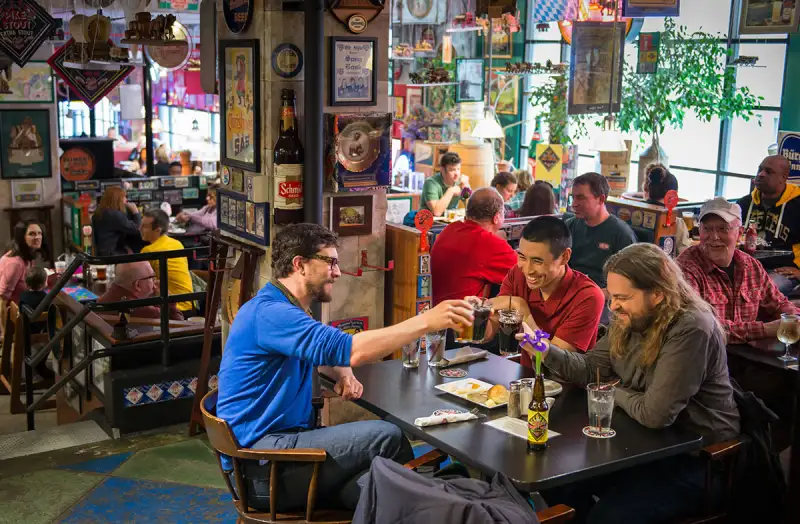 courtesy of Pike Brewing Company
One of the best ways to take in a city while traveling is to find a great local brewpub or hometown bar. But some cities have a better scene than others.
To find destinations that offer both the best boozy joints and the best bang for your buck (that pint won't pay for itself, sadly), Money has scoured its Best in Travel database to identify the top 10 U.S. cities. (For more travel inspiration, check out all 17 of the top destinations named in Money's 2017 Best in Travel.)
We looked at cities that offered a good value as well as a high proportion of bars, breweries and wineries. Read on to find the best places to unwind (and uncork) on your next vacation.
---
1. Portland, Ore.
Clay McLachlan—Getty Images/Aurora Creative
Where to drink: Bergström Vineyard
Make Portland your base for exploring Oregon's Willamette Valley, famous for its world-class pinot noir and chardonnay producers. With flights averaging just $265, according to Hopper, there's plenty left in the budget to bring home a few bottles. Start with winemaker Josh Bergström's namesake vineyard ($25 for tour and tasting), where you can sample some gorgeous pinot noirs, as well as the 2014 Sigrid Chardonnay, recommended by Food & Wine's Ray Isles.
If you're more of a beer drinker, Portland also has a hopping brew scene. Four of the city's breweries made the cut in Lonely Planet's Global Beer Tour guidebook, including Bissell Brothers Brewing Co. and the renowned Commons Brewery. Cider lover should visit Bushwhacker Cider, which has 200 bottled ciders in stock and a dozen on tap.
---
2. Denver, Colo.
courtesy of Breckenridge Brewing
Where to drink: Breckenridge Brewery
Denver earns its spot with a growing culinary and arts scene, plus a good number of brewpubs.
Take advantage of First Fridays, when art galleries along Sante Fe Drive stay open late. You can browse the art while grabbing some munchies from the local food trucks, which park nearby.
When it comes to breweries, Colorado stands out with six breweries for every 100,000 residents. Check out gold standards like Breckenridge, or smaller shops such as Renegade Brewing, where they've removed all televisions to eliminate distractions—just good friends and good beer. Or sample several with the Mile High Tap Tour, which partners with six local breweries to create a 4-hour tour packed with tasters and pints.
---
3. New Orleans, La.
Where to drink: The Carousel Bar

With its infamous Bourbon Street, there's no denying that New Orleans is a drinking town. But even if you want to steer clear of the famous avenue, New Orleans is home to almost 700 bars; you're sure to find the perfect drinking hole for you.
Plan to spend about $2,900 for two people for a week in this charming Southern locale, according to Money's estimates. And that includes taking in some of the classic sites, such as Jackson Square. And don't forget the food: Check out Mother's, Gumbo Shop, and the beignets at Cafe du Monde.
Spend your evenings at the classic Carousel Bar at the Hotel Monteleone or a local hangout like the Erin Rose, which features an amazing jukebox and one of the best Bloody Marys in the city. Then, as the locals say, let the good times roll.
---
4. Pittsburgh, Pa.
Where to drink: Spoon
This former steel capital is getting its swagger back, as new businesses and a burgeoning food scene take center stage downtown. This year is the time to go, with flight and hotel prices down slightly from 2016, according to data from Hotels.com and Hopper. Two people can spend a week here for less than $2,500.
Split by its three famed rivers—Allegheny, Monongahela, and Ohio Rivers—Pittsburgh also has a growing art scene, including the cornerstone Andy Warhol Museum ($20 for adults). Cross the Allegheny to visit the Strip District, a former warehouse area that now houses a diverse mix of restaurants and shops. Try the epic stuffed sandwich at the famous Primanti Bros for under $10.
You're here for the drinks, however, and you've got options: Pittsburgh has over 500 bars and almost 30 breweries, with many newcomers adding their own spin on things. If you like gin, check out Spoon, which features over 60 bottles on a growing list. Looking for low-key? Head to Gooski's, a dive bar that hosts local punk, rock and metal bands, and features a killer jukebox for when the bands aren't raging.
---
5. Albuquerque, N.M.
Roberto E. Rosales/Albuquerque J—ZUMA Press Inc./Alamy Live News
Where to drink: Marble Brewery
Breaking Bad and Better Call Saul may have put Albuquerque back on the map—it was one of Money's top U.S. destinations this year—but the city is more than just a filming location.
Situated with the Sandia mountains to the east and the Rio Grande flowing through the city, Albuquerque provides a lot of activities for the outdoor lover. Make sure to get a visit to the Indian Pueblo Cultural Center ($8 for adults) and take in the gorgeous desert scenery on the Sandia Peak Tramway ($25 for adults).
After a long day, hit up the city's established breweries,as well as a few up-and-comers. Sample Marble Brewery's distinctive red ale—aptly named Imperial Red—in its downtown taproom. Or try an Elevated IPA at the rustic La Cumbre Brewing Company.
---
6. Sedona, Ariz.

courtesy of 89 Agave Cantina—DEAN STEVENSON
Where to drink: 89Agave Cantina
Hit the trails at Red Rock State Park ($7 for adults), where you can view the breathtaking red sandstone canyon. Also nearby is the Coconino National Forest, where you can wander through the famous Ponderosa pine forests.
Then it's time for tequila. Sit down at the copper-topped bar at 89Agave Cantina, which has over 60 premium tequilas on its menu, including several house-made infusions. (We don't recommend trying them all in one go.)
Just outside of Sedona are several wineries that are known for crafting big, jammy reds out of cabernet, merlot and syrah grapes. Both Burning Tree Cellars and Javelina Leap Vineyard are worth a visit (tastings start at $2). Or, if you'd rather leave the organization to someone else, Sedona Wine Adventures offers day tours of several wineries (starting at $200 per person) that include tastings and lunch.
---
7. Seattle, Wash.
courtesy of Pike Brewing Company
Where to drink: Pike Pub & Brewery
Arrive during daylight, and stunning views of Mount Rainier and the Pacific Ocean will hit you as you descend into Seattle—the highlight of a flight that averages $271, according to Hopper. Plan to visit this Pacific Northwest gem in September, when the summer crowds die down and there's less competition for hotel rooms.
If it's your first time in the city, check out Seattle's iconic Space Needle (adults starting at $19). Get 360-degree views of the city from the observation deck, 520 feet off the ground. Then spend some time at the quirky Museum of Pop Culture (adults $28)—formerly known as the Experience Music Project—where you can listen to the tunes from Seattle's grunge rock phase and take in exhibits around Star Trek and David Bowie.
No trip to Seattle is complete without stopping at the famed Pike Place Market. Right next door is the Pike Brewing Company, which has been making craft beer since 1989. Check out their Kilt Lifter or Naughty Nellie brews—but if those don't hit home, no worries. Seattle is home to over 60 beer makers, including newer entrants like Populuxe Brewery, Ravenna Brewing Company and Figurehead Brewing Co.
---
8. Sonoma, Calif.
courtesy of Sonoma Valley Wine Trolley
Where to drink: Keller Estate
Sonoma isn't the best for those on a budget—a week for two will set you back almost $3,200, according to Money's estimates. But the destination is well worth the extra expense. Before heading out to the vineyards, stop in for a hearty breakfast at the Downtown Bakery & Creamery, renowned for sweet treats like sticky buns and savory items like poached farm fresh eggs over polenta. Make time to check out Sonoma's Plaza—the old adobe storefronts house trendy boutiques and restaurants, while the square itself plays host to a weekly farmers' market on Tuesdays.
With over 425 wineries in Sonoma County, you'll want to narrow your tasting plan. At the south end of the region, check out the Petaluma Gap, set to become California's newest designated wine grape-growing spot. The area houses a number of notable wineries, including the Keller Estate ($35 tour and tasting) and Trombetta Family Wines.
Don't want to drive? There are a number of tour operators who will do the work for you, including the Sonoma Valley Wine Trolley ($99), which takes you to four area wineries and includes a picnic lunch.
---
9. Louisville, Ky.
Brian Bohannon—Invision for Bulleit
Where to drink: Down One Bourbon Bar
Home to the Kentucky Derby, Louisville is at the heart of Kentucky's bourbon country. In fact, the city is the official gateway to the region's almost 80-mile Bourbon Trail; there's even a bourbon bar right at the airport—Book & Bourbon Southern Kitchen.
Downtown Louisville is a mix of grand dame and hipster cool, perched on the Ohio river. Take in the city's charm through the Louisville Historic Tours, which highlight Louisville's Victorian-era mansions. Baseball fans will want to check out the Louisville Slugger Museum & Factory ($14 for adults), with its iconic 120-foot baseball bat sculpture. Here you can tour the plant and visit the hall of baseball memorabilia.
Five miles from downtown is the Stitzel-Weller Distillery, which hosts the Bulleit Frontier Whiskey Experience ($10), where you learn the history of Kentucky bourbon and taste four of the distillery's brown pours. Post up for the night at the speakeasy-themed Down One Bourbon Bar, which has over 160 bourbons.
---
Methodology
To make the preceding selections, Money weighed almost 2,000 data points for over 60 of the most popular U.S. destinations. We ranked the cities according to several factors, including drinkability—defined as an abundance of bars, breweries and wineries—and cost factors such as the price of airfare, lodging, and food, as well as the biggest year-over-year price drops. Only one winner was chosen per state.