These Are the 10 Airports Where You Have the Best Chance to Score Flight Deals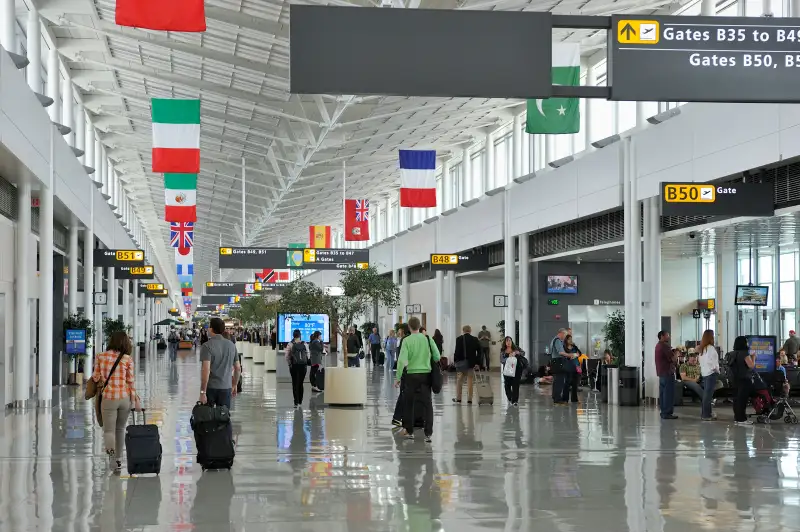 When it comes to airfares, your destination airport plays a big role in your final ticket price. Ticket prices can vary more than 23% for any given flight at some U.S. airports, airfare prediction app Hopper found in a recent report. That's good news for savvy shoppers looking to score a deal on airfare for their next trip.
How does that work? Often, it boils down to an airport's share of business travelers. Airlines can generally charge business travelers more because they're usually booking last minute and less concerned about costs, says Alex Chang, a data scientist with Hopper—and if they can count on a certain segment of passengers paying those higher fares, they can then offer lower prices to leisure travelers in order to fill seats.
So perhaps it's not surprising that the airports where prices vary most are also the airports near major metropolitan areas where there's a lot of business travel. Chang notes that Dulles Airport, which serves government travelers in and out of Washington, D.C., tops the list; Chicago, which comes in second, is a major Midwest business hub.
"Whenever you see that combination of a lot of travelers and a substantial portion of business travelers, you know airlines are going to try to vary the prices," Chang says. That way, he explains, they can charge lower fares to draw more leisure travelers—"and basically gouge the business travelers."
When it comes to international destinations, the same principles hold true. Amsterdam, for example, is a major international business center. It also benefits as a route for many of the ultra-budget airlines like easyJet, as well as acting as a hub for KLM.
So which cities offer the least amount of variability? Those that tend to serve vacation spots, Chang says. In the U.S., those airports are Kahului and Honolulu, along with Florida airports Orlando and West Palm Beach.
"Those airports are serving people who are going for a nice, sunny vacation," Chang says. Here, prices will be more stable—meaning it's not worth putting as much time toward shopping around for a great deal.
Internationally, Norman Manley International Airport in Kingston, Jamaica came in as the airport with the least variability.