Here's How Much It Really Costs to Attend Lollapalooza This Year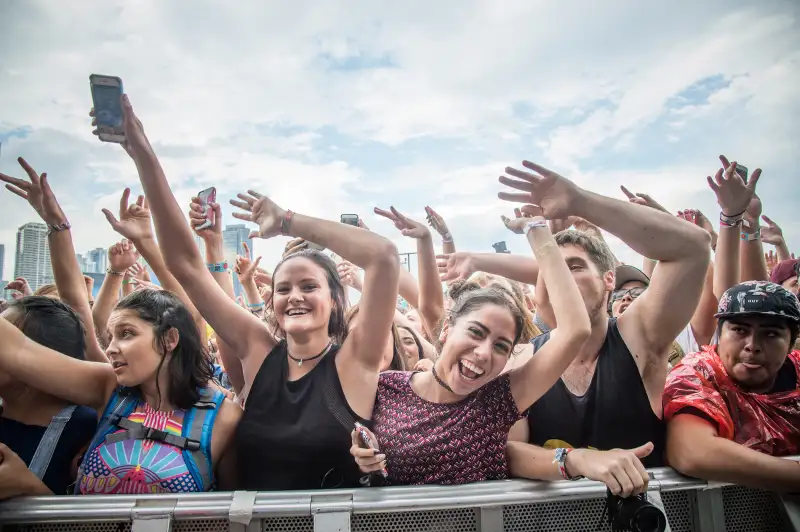 The annual four-day Lollapalooza music festival kicks off on Aug. 3 in Chicago's famous Grant Park. Among the highlights are Chance the Rapper, Lorde, Arcade Fire and the Killers.
But if that lineup sounds tempting, be advised: As the city braces for the 400,000 expected guests, hotel prices are already on the rise. The average cost for a hotel in the city during the festival is 55% higher than average, according to hotel booking site Trivago. And hotels near Grant Park are charging a premium, with prices 77% higher than the monthly average.
Yet unlike the Coachella festival, for instance, Lollapalooza takes place in a big city, with more options to accommodate a variety of travel budgets. So whether you're looking to splurge on a trip of a lifetime or simply hang out for the weekend on a shoestring, Money scouted the options and priced out what it really costs per person to attend Lollapalooza 2017.
If you're totally broke, but still want to catch your favorite band, there's an armchair option. Red Bull TV will be streaming many of the main stage acts online starting at 6 p.m. EST on Aug. 3, 2017. For everyone else, read on.
For the Cheapskate Music Lover
Traveling on a budget? You're in luck on one front—Lollapalooza tickets are a bit cheaper than Coachella. But there's no cheap camping option on site, so expect to pay over $115 a night for a hotel room, even in the suburbs.
$54: Gas for road trip to Chicago
$335: General admission ticket + fees
$336: Average for three-night hotel stay in Chicago suburb of Aurora
$48: Daily transport into downtown Chicago—Union station is four blocks from Grant Park
$70: Food for the weekend—hit up some carts outside the park to save, but allow yourself a few bites at Chow Town, inside the gates
$4: Water, if you buy a pack of water at the supermarket before you go. (You're allowed two factory-sealed water bottles a day; there are also water filling stations at the festival.)
$20: Pabst Blue Ribbon, if you pick up a couple of 12-packs at the local 7-Eleven (you can chug a couple on your way to Grant Park)
________________________________________
$867 Total Cost
For the Spontaneous Attendee
So you decided last week that you can't miss the chance to see Chance the Rapper headlining in his hometown. It's not too late to book your trip, but you're going to pay for coming late to the party.
$367: Average cost of a four-day pass to Lollapalooza on Stubhub
$271: Round-trip flight price, on average, from other U.S. cities
$1,170: Midrange hotel within walking distance of Grant Park (minimizing your daily travel hassle)
$60: Locker rental inside the festival
$140: Food for the weekend, mostly from Chow Town (but also check out the infamous Devil Dawgs just 2 blocks from Grant Park)
$4: Water
$95: Beer and wine at the festival—most sell for less than $10, but they'll still add up
________________________________________
$2,107 Total Cost
For the Trust Fund Kid
For the ultimate fan with cash to spare, go with the platinum experience. It will get you free food, drinks, and alcohol throughout the festival, as well as access to VIP lounges and dedicated golf cart transportation to and from the stages.
$4,200: Four-day Platinum pass (which includes premium wine, cold beer, and cocktails)
$271: Round-trip flight price, on average, from other U.S. cities
$175: Round-trip drive in Uber black car from the airport to downtown Chicago
$1,881: 5-star hotel stay for duration of festival. (Try the Langham, which was Money's pick for best luxury hotel chain.)
$400: Dinners on the town—or if you really want to splurge, check out Alinea's $385-per-person chef's table experience
________________________________________
$6,927 Total Cost


How Money Calculated the Costs
Lollapalooza has a variety of resources, including a planning guides Money utilized to price out packages. Stubhub provided average ticket costs for a four-day pass on July 18, 2017. Hotel prices were estimated by Trivago. Airfare to Chicago was provided by flight booking app Hopper. The cost was based on an average price of flights to Chicago O'Hare International Airport and Chicago Midway International Airport, booked from other U.S. cities. The cost of gas was calculated using the national averages for car fuel efficiency and Chicago-based prices for gas, along with the average road trip of 261 miles. Uber's app was used to estimate the cost of using an Uber black car to get from the airport. Money based food and alcohol costs on restaurants' posted prices, both from Lollapalooza 2016 and at their normal locations. Additionally, several travel guides' food budgets were used to calculate Chicago dining costs.