Heading Overseas? These Are the Best International Airlines for Your Money Now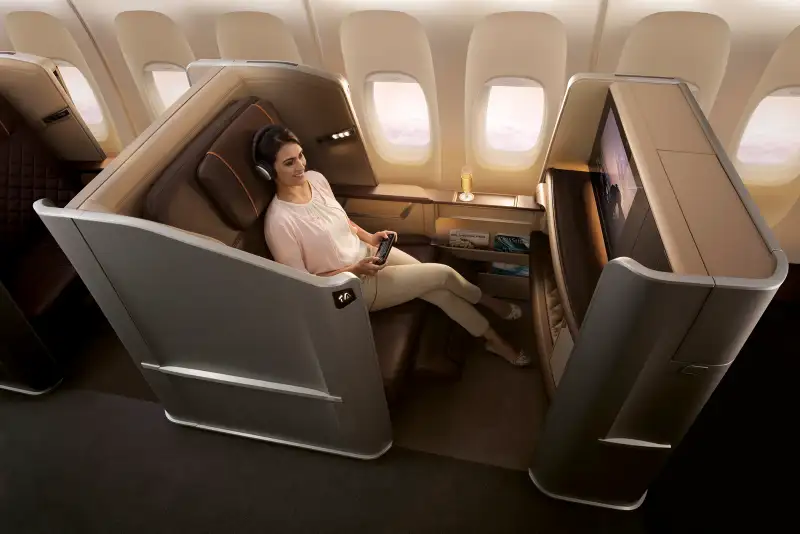 Courtesy of Singapore Airlines
Before you strap yourself into an airplane seat for eight-plus hours, you want to be sure you'll have a pleasant experience at a decent price. To find the airlines that deliver both, Money ranked the most popular international carriers based on average fares, cost per kilometer, on-time arrivals, and customer satisfaction ratings for comfort, food and drink, entertainment, service, amenities, and overall value. (Read all of Money's Best in Travel 2017.)
---
OVERALL WINNER
Asia Pacific: Singapore Airlines
Our overall winner for the second year in a row—and Travel + Leisure's No. 1 international carrier for 21 years—dominates thanks to its standout service, wide variety of entertainment options, and excellent in-flight dining. "Singapore puts a huge emphasis on quality of in-flight experience, and you always hear that people want to fly them again," says Patrick Surry, chief data scientist at Hopper. Such premium treatment won't cost you a fortune: Each kilometer flown costs 10¢ on average—cheaper than more than half of all international carriers, according to online trip planner Rome2rio. Because Singapore partners with major domestic airlines like JetBlue, United, and Virgin America, you can still earn loyalty points with your regular carrier.
---
REGIONAL WINNERS
Middle East/Africa: Qatar Airways
This Doha-based airline, our No. 2 pick overall, earns top marks when it comes to seat comfort and entertainment, which includes smartphone connectivity and more than 3,000 viewing options. If that's not enough to keep young travelers occupied, kids can also choose from dozens of toys and board games to play with in-flight. For the grownups, Qatar offers a custom wine list that changes every three months. Its cost per kilometer is the same as Singapore's and 7¢ below the average rate of our international airline pool. JetBlue and American fliers can earn loyalty points.
Europe: Norwegian Airlines
As a budget carrier, Norwegian may lack the many amenities and luxe feel of our top two international airlines, but it outperforms them on price. The average cost of a roundtrip flight is $410, down 13% from last year, according to Hopper. You can expect the price to go down again this year, as Norwegian announced it will begin new low-cost transatlantic flights in June from airports in New York and Connecticut. Though you will have to pony up for food and bags, a majority of travelers find the tradeoffs worthwhile, according to reviews collected by SkyTrax: The carrier earned an almost perfect score in the site's value-for money category and won world's best longhaul low-cost airline.
Latin America: Copa Airlines
Headquartered in Panama, Copa flies to more than 30 destinations across the Americas and the Caribbean. With an 89% on-time rate, according to FlightStats, Copa offers a reliable experience. (More than half of international carriers score below 78% on timeliness.) According to Hopper, the cost of a roundtrip fare dropped 11.4% from 2016 to 2017, bringing the average to $421. That's the third-lowest among all of the international carriers Money ranked.
---
THE FULL RANKINGS
1. Singapore Airlines
2. Qatar Airways
3. Emirates
4. Japan Airlines (JAL)
5. All Nippon Airways (ANA)
6. Qantas Airways
7. EVA Air
8. Norwegian
9. Cathay Pacific Airways
10. Thai Airways
11. Korean Air
12. Aeroflot
13. Aegean Airlines
14. Lufthansa
15. KLM Royal Dutch Airlines
16. Royal Jordanian
17. Air New Zealand
18. Etihad Airways
19. China Southern Airlines
20. Malaysia Airlines
21. Ryanair
22. Swiss
23. Asiana Airlines
24. AirAsia
25. Vietnam Airlines
26. Aer Lingus
27. easyJet
28. Turkish Airlines
29. Virgin Australia
30. Virgin Atlantic
31. Finnair
32. China Airlines
33. Austrian Airlines
34. Gulf Air
35. Jet Airways
36. Copa Airlines
37. South African Airways
38. Air Tahiti Nui
39. Iberia
40. Avianca
41. Air Berlin
42. Fiji Airways
43. Icelandair
44. Scandinavian Airlines (SAS)
45. SilkAir
46. LOT Polish Airlines
47. Air France
48. Caribbean Airlines
49. Air China
50. WestJet