10 Amazing Asian Vacations That Won't Cost a Fortune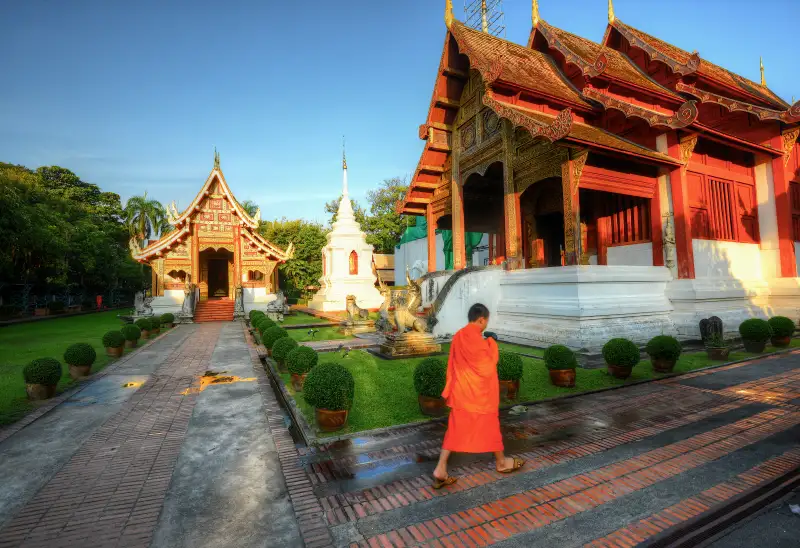 Looking for a budget-friendly vacation with a big wow factor? Head to Asia.
This is one of the best regions to visit if you're looking to get the most for your travel dollars, say tourism experts. "Travelers can really mix it up when they're thinking about their budgets," says Megan Eaves, Lonely Planet's North and Central Asia destination editor. You can go to a five-star restaurant, for instance, but then take in some free street art—a mix-and-match approach that can stretch your budget, she says.
As is true in Europe, Asian destinations are hot at the moment largely because the cost of flying around the globe has gotten cheaper. Airfare tracking app Hopper reports flight prices from the U.S. to the almost 50 Asian cities Money reviewed are down almost 9% from a year ago. Compare that to the 4% increase among flight prices to U.S. cities.
Americans can thank two related factors: low oil prices and increased competition. With fuel costs at record lows, more companies are jumping into the aviation market, creating greater capacity and increased competition for customers, says Patrick Surry, Hopper's chief data scientist. "There's been a huge expansion in the number of carriers and the routes they serve," he says.
If you are interested in traveling to this part of the globe, make food a priority, Eaves recommends. Even if you've sampled a country's cuisine before, she says, "it's one tiny sliver of a sampling of what you'll experience when you're in a city." This is also an area where your money will go a lot further. "You're going to have the best food experiences on the street and in small, locally run family restaurants," Eaves says, adding you shouldn't shy away from "little, hole-in-the-wall restaurants."
To help you choose from the hundreds of vacation destinations in Asia, Money dug into the tens of thousands of data points in its Best in Travel database to identify 10 spots that will make the long flight worth your time and money. So read on to learn more about all the delicious delicacies, cultural touchstones, and outdoor adventures awaiting you in Asia. "There's never been a better time to explore," Surry says.
---
1. Xi'an, China
Dario Sartini—Getty Images/Hemera
Cost to Spend a Week for Two: $2,828
Much of Xi'an is a time capsule: both truly ancient and well-preserved. The city's biggest attraction is undoubtedly the Terra-Cotta Army. A museum just outside the city center ($22 for adults in high season) walks visitors through the history of these 8,000 statues, as well as the 1974 excavation that unearthed them after 2,000 years.
Spend an afternoon exploring the city's ancient city walls ($8 to enter), which stand almost 40 feet tall and are among the best preserved in China. Rent a bike near the South ("Yongning") Gate and take a leisurely ride along the 600-year-old structure.
To check out the local cuisine, go to Huimin Street in the Muslim Quarter of the Old Town. Here, at the traditional starting point of the Silk Road, you can sample traditional Chinese dishes as well as flavors from the Middle East. Travelers can expect an inexpensive meal to cost a little over $2, according to Numbeo, an online database of user-contributed information about the cost of living in cities around the world.
You can fly into Xi'an Xianyang International Airport for under $1,000 on average, according to Hopper. Once there, the average hotel costs about $96 a night, according to Hotels.com.
---
2. Chiang Mai, Thailand
Cost to Spend a Week for Two: $2,464
Located in the northern mountains of Thailand, this city was once the capital of the Lanna Kingdom, and vestiges of its rich past dot the landscape. The area holds hundreds of beautiful Buddhist temples, but three in particular shouldn't be missed. Wat Phra Singh is the city's most revered site, while Wat Chedi Luang is one of the largest surviving structures from ancient times. The third, Wat Phra That Doi Suthep, is perched on the mountain of Doi Suthep, giving you a sweeping view of central Chiang Mai. You can reach it with a long climb (more than 300 steps) or take a funicular if you're feeling less energetic.
To get a feel for the modern city, spend some time wandering around its public market, Talat Warorot. Here you'll find souvenir vendors as well as stalls where locals sell everything from fishing nets to pickled tea leaves.
While the city's sights are reason enough to go, its modest prices should also be compelling. Expect to spend only $75 a night on average for a hotel room, according to Hotels.com. And flights to the region are down 10% year over year, averaging $850, according to Hopper.
---
3. Hoi An, Vietnam
Matteo Colombo—Getty Images
Cost to Spend a Week for Two: $2,684
A Unesco World Heritage Site, Hoi An's roots can be traced back to a 15th-century fishing port. Today the coastal town, situated on the Eastern Vietnam Sea, offers both historical sites and pristine white-sand beaches.
Among the many historical sites in Hoi An is the breathtaking Japanese Covered Bridge, built in the 16th century. Walking across the bridge is free, although there is a small fee to access the museum on the north side of the structure.
If you're looking for adventure, take a tour in a traditional wooden long-tail boat. Hoi An Kayak offers a half-day tour (starting at $45 a person) to Cam Thanh Village, where travelers meet bamboo craftsmen and share a home-cooked meal with a local family. The well-reviewed Vinh Hung Heritage Hotel offers modestly priced rooms in the center of the historic district. On average, hotel prices in Hoi An are down about 10% and average just $65 a night, according to Hotels.com.
---
4. Taipei, Taiwan
Fabio Nodari—Getty Images
Cost to Spend a Week for Two: $2,553
Taiwan's capital city is dominated by its skyscrapers, but there are plenty of historic gems tucked amid its contemporary buildings and lively markets.
Money named Taipei as one of the top three Best in Travel international destinations in 2016, and the city has gotten even more affordable since. Average hotel room rates are down 9% year over year to $127 a night, Hotels.com found, and airfare has dipped 15%; a roundtrip ticket from the U.S. now averages $670 a ticket, according to Hopper.
Start your trip by riding up to the 89th floor of the soaring Taipei 101 tower (about $20) to see the whole city sprawled before you. Back on the ground, visit the National Palace Museum, which houses one of the largest collections of Chinese art in the world. Admission costs about $8.50.
Taipei is also known for its cuisine, so come prepared to eat. Visit the Tonghua Night Market to sample everything from animal-shaped biscuits to some of the city's best rice-wine sweet dumplings. Or opt for soup dumplings at Din Tai Fung. "It's one of the most famous restaurants in all of Asia," says Eaves. "It's not that expensive, and you get this great experience." Just be prepared to arrive early or wait in line.
---
5. Siem Reap, Cambodia
Cost to Spend a Week for Two: $2,445
This cultural capital offers spectacular sights in a lush jungle setting. Flights to Siem Reap are down almost 11% this year, averaging $812, according to Hopper.
Once you arrive, get your bearings by visiting the Angkor National Museum ($12 admission), which focuses on the Khmer civilization (the predecessor to the modern Cambodian state). It's a great way to put into context the nearby Angkor temples nearby ($37 for a one-day pass), which cover an area of almost 250 square miles. Allow at least a few hours to visit the Temple of Angkor Wat, the biggest and arguably most spectacular of these sites. If you're looking for a less-traversed temple, check out the spectacular views from Phnom Bok, located about 45 minutes outside the city by car (and included in the Angkor Archaeological Park pass).
Siem Reap also has a lively street food scene, especially at night, with vendors that set up opposite the Old Market and near the Park Hyatt Hotel. The cost of an inexpensive meal is about $2.75, on average, according to Numbeo.com. Be sure to try the potent local rice wine, called sraa.
---
6. Kathmandu, Nepal
Cost to Spend a Week for Two: $2,832
The gateway to the Himalayas, Kathmandu also houses seven Unesco World Heritage Sites within its boundaries.
Two of the most striking are Pashupatinath, the holiest Hindu shrine in Nepal—where bodies are cremated daily alongside the nearby river—where bodies are cremated alongside a river revered as holy—and Boudhanath, whose stupa (or dome) is one of the largest in Asia and is believed to house the remains of an ancient Buddha.
No trip to this city would be complete without a visit to Swayambhunath, otherwise known as the Monkey Temple. Perched on a hilltop and often overrun with monkeys, this temple provides panoramic views of the city; the painted Buddha eyes on its stupa also make a striking visual.
While the earthquake in 2015 damaged parts of the city, many of its gems survived intact and can be seen today. Meanwhile, the rebuilding process has scared off some tourists, creating deals: Hotel costs are down 3% year over year, according to Hotels.com, averaging $73 a night.
---
7. Bali, Indonesia
Cost to Spend a Week for Two: $2,772
Perhaps more than any other place in Asia, Bali brings to mind paradise in the form of stunning beaches and lush rice paddies. Getting to this Island of the Gods, as it's known, is more reasonable now than in the recent past. That's thanks in part to the exchange rate, with the Indonesian rupiah down 4% against the dollar year over year. Flights, too, are cheaper than last year—now around $838, which is about 4% less than a year prior, according to Hopper—while hotel costs are also trending down, putting the average room around $129 a night, according to Hotels.com.
If you're looking for more than just beaches, Bali has you covered; admission to most cultural and historic sites is under $5. Spend the day exploring the iconic Tegalalang rice terrace, about six miles north of Ubud, and then take a trip to the nearby Gunung Kawi—a monument whose 26-foot-high shrines are thought to honor 11th-century royals. For more cultural exploration, visit Pura Luhur Ulu Watu ($1.50 admission), a Hindu temple perched atop cliffs on the southern coast of the island.
You won't spend much on food or transportation either. Taxis cost about 50 cents a mile, local beers are $2 or less, and a mid-range meal for two will set you back $11 to $17, according to Numbeo.
---
8. Chennai, India
Chris Schmidt—Getty Images
Cost to Spend a Week for Two: $2,680
Located on the Bay of Bengal in Southern India, Chennai is a growing city with one of the largest economies in the country—but it also boasts a mix of temples, beaches, and city life to draw tourists in.
Both hotel and airfare costs have dropped 5% year over year. You can stay for about $92 a night at a hotel here, according to Hotels.com, and a flight out will set you back $930 roundtrip from the U.S., Hopper found.
Begin your sightseeing at nearby Unesco World Heritage Site Mahabalipuram ($8). Carved out of rock, this monument complex features temples, massive stone chariots, cave sanctuaries, and huge open-air reliefs; look for the most famous, Descent of the Ganges.
Another stunning Chennai sight is the Kapaleeshwarar Temple, devoted to Shiva. A stunning facade of stacked figures adorns this multicolored temple. Six rituals are performed throughout the day, giving you a chance to see the temple priests in action.
---
9. Luang Prabang, Laos
Getty Images/iStockphoto—Getty Images/iStockphoto
Cost to Spend a Week for Two: $3,613
Luang Prabang offers great value for travelers looking to go beyond the usual destinations. Hotel prices are down 13% year over year, according to Hotels.com, with the average nightly rate about $86. Meanwhile, although airfares to Laos' ancient capital are still high enough to make this a costlier destination than its neighbors, flight prices have come down 10%, according to Hopper.
The entire town is a Unesco World Heritage Site, primarily because of its unique mix of traditional Lao buildings and European colonial architecture. One of the most iconic sites is the Wat Xieng Thong, built in the 16th century and one of the most significant Buddhist temples in the country ($2.50 entrance fee). Early every morning you can see monks walking through the streets to collect alms.
The city has some gorgeous natural wonders as well, including the Kuang Si (or Kouang Si) waterfall, located about 18 miles from town (about $25 by taxi). Visitors pay a small entrance fee ($2.50) and hike the trail to the waterfalls, which flow into beautiful turquoise pools. The site also includes a bear sanctuary.
---
10. Penang, Malaysia
Laurie Noble—Getty Images
Cost to Spend a Week for Two: $2,669
Penang Island's diverse attractions—white sandy beaches, large resorts, quiet fishing villages, and a bustling urban center—are a steal right now.
Hotel room rates are down 10% year over year, averaging $80 a night, according to Hotels.com. And airfare has plummeted even further, dipping 16% year over year to $916 roundtrip, Hopper found.
Most tourists will find themselves in George Town, Malaysia's second-largest city and a Unesco World Heritage Site with a jumbled mix of temples, mosques, and colonial buildings. The city is also home to some of the best food in Southeast Asia: Try it for yourself at the LG Baru or New Lane Hawker Stalls, where you can sample the char koay kak, a fried dish of rice cakes, egg, and pickled vegetables. Most dishes will set you back only about a dollar.
To understand the region's East-meets-West design blend, tour the Blue Mansion (about $4), a beautiful heritage hotel built in 1880. Also worth visiting are two impressive clan houses, Khoo Kongsi and Cheah Kongsi (about $2.35 admission for each), where you'll see large murals, ceramic sculpture, and stunning architectural design.
Then escape the city with a visit to Penang National Park, where you'll find jungle trails to explore as well as some of the island's nicest and quietest beaches.
---
Methodology
To make the preceding selections, Money weighed approximately 2,000 data points for almost 50 of the most popular destinations in Asia. Then we ranked the 10 cities that scored best on overall cost factors, giving the most weight to the price of airfare, lodging, and food, as well as the biggest year-over-year price drops. We also considered the number of restaurants and attractions each city offered, as well as experience factors like low crime rates, pleasant weather, and ease of access to public transportation. Only one winner was chosen per country.