The 10 Best Beaches for Your Money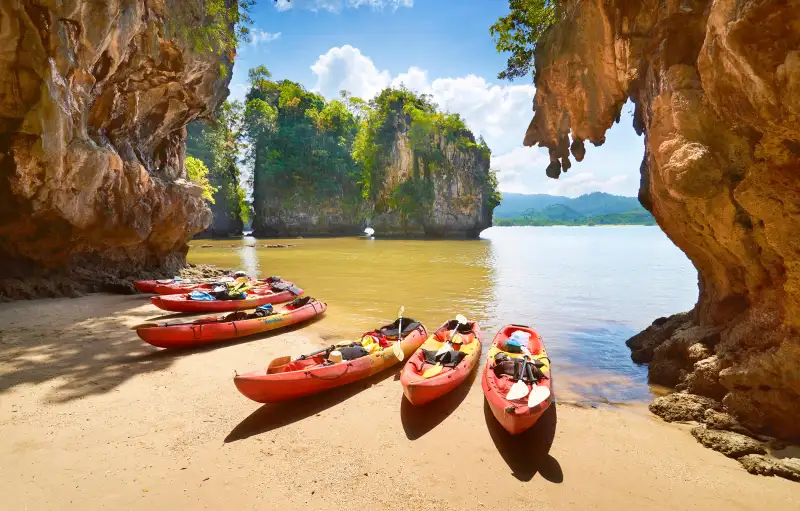 Looking for a quaint, relaxing beach town or a trendy island getaway? Money can help you find the best waterfront escapes. (For more travel ideas, check out all 17 of the top destinations named in Money's 2017 Best in Travel.)
To make the following selections, we weighed more than 3,500 data points for over 100 of the most popular beach destinations worldwide. Then we ranked the top five U.S. and international beach cities that scored highest on overall cost factors, giving the most weight to the price of airfare, lodging, and food, as well as the biggest year-over-year price drops. We also considered the number of beaches each city offered, as well as tourist activities and experience factors like low crime rates, pleasant weather, and ease of access to public transportation.
Only one international winner was chosen per country; domestically, we limited winners to one city in each state. Read on, and pack your sunscreen.
---
BEST U.S. BEACH DESTINATIONS
Photo Credit: Ulrich Missbach—Alamy.
Fort Lauderdale, Fla.
Total Cost of a Week for Two: $2,297
There are 23 miles of Atlantic beaches around this South Florida city, located about an hour north of Miami. Hotel costs have dropped 4% over the last year, bringing nightly rates down to an average of $150, Hotels.com found, while round trip flights will set you back about $220, according to Hopper.
Those looking for a relaxing getaway should try the Deerfield Beach area, home to award-winning cove-like beaches, or Lauderdale-by-the-Sea, a half-mile-wide hamlet with beach village charm—and one of the few spots in the state where you can swim out to a three-tier natural coral reef system. Fishermen and swimmers should opt for Pompano Beach, home to the annual Pompano Seafood festival and Fishing Rodeo: A bend in the Gulf Stream gives this spot some of the clearest and warmest water in the region.
Gulf Shores, Ala.
Total Cost of a Week for Two: $2,482
Warm green waters and soft, white-sand beaches greet you in this destination, situated at the top of the Gulf of Mexico, and a Money overall pick for Best in Travel 2017. Check out Gulf Shores' main public beach for a pickup game of volleyball or beachfront bar hopping. For a less crowded option, visit Gulf State Park Pavilion, where there's plenty of room to spread out your gear among the dunes and sea oats.
Scuba divers can visit The LuLu, a nearby sunken freighter, and also see the largest artificial reef program in the U.S. Kids can get up close with the wildlife from the prow of one of the area's many bottlenose dolphin cruises (around $20).
Photo Credit: Mitch Diamond—Getty Images.
Santa Cruz, Calif.
Total Cost of a Week for Two: $2,574
Located at the northern edge of Monterey Bay, Santa Cruz is a quintessential California beach town. Wander along Santa Cruz's main beach to see surfers in action and swimmers braving the cold Pacific waters. Then turn into the Santa Cruz Beach Boardwalk, where you can ride a vintage wooden roller coater or a carousel featuring 73 hand-carved horses built in 1911.
Visit Natural Bridges State Beach to see the area's most photogenic and famous rock bridge, thousands of migrating monarch butterflies, and beautiful tide pools full of crabs, sea anemones, starfish and mussels. Or if you want to seem like a local, try Sunny Cove beach, which is sheltered by coastal cliffs.
Photo Credit: Viktoria Lelis—Alamy.
Virginia Beach, Va.
Total Cost of a Week for Two: $2,464
Just south of the Chesapeake Bay, Virginia Beach offers six major beaches, as well as a three-mile boardwalk. First Landing State Park's Chesapeake Bay Beach is a public beach with calm waters, perfect if you have small children. If you're looking for a quiet getaway, Sandbridge Beach is located just 15 miles south of downtown Virginia Beach. Rent one of the many beachfront vacation homes as a base to enjoy about 4.5 miles of beach, or explore the area's marshes and fishing spots.
Photo Credit: Sean Pavone—Getty Images/iStockphoto. The boardwalk at
Myrtle Beach, S.C.
Total Cost of a Week for Two: $2,360
The most popular beach in South Carolina, Myrtle Beach is home to a 60-mile stretch of fun and sun is known as the Grand Strand. This beach city is popular for both family vacations and getaways with friends—offering a variety of beach activities, as well as restaurants, amusement parks, and live shows. And make sure to take a ride on the eye-catching SkyWheel, a 187-foot ferris wheel situated right on the Oceanfront Boardwalk ($14 for adults, $9 for kids).
---
BEST INTERNATIONAL BEACH DESTINATIONS
Photo Credit: Getty Images—iStockphoto.
Mazatlán, México
Total Cost of a Week for Two: $2,010
Mazatlán was one of Mexico's most alluring beach destinations in the mid-20th century, and is once again, thanks to restoration efforts. Break away from the Zona Dorada (Golden Zone), the traditional tourist area, and instead wander the city's old town and the Malecón, a four-mile stretch of boardwalk along the beach whose bars and restaurants still evoke the '50s.
Many of the city's hotels sit on Playa Las Gaviotas, which has calm waters sheltered by picturesque islands—but it also draws most of the area's tourists. Try nearby Playa Olas Altas for a more relaxed local beach spot, though high waves means it's often better for surfers than swimmers. Or hop on the ferry for a five-minute journey to Isla de la Piedra, where you'll find long stretches of beautiful beaches bordered by coconut groves.
Hoi An, Vietnam
Total Cost of a Week for Two: $2,684
A coastal town situated on the Eastern Vietnam Sea, Hoi An offers a historical backdrop for its pristine, white sand beaches. A UNESCO World Heritage Site, the city has roots that can be traced back to a 15th-century fishing port. Just four miles away from the city's historic center is An Bang Beach, a laid-back beach lined with restaurants and resorts. Most will rent you a cabana for a few dollars, or give you one for free if you dine there. Cua Dai Beach, just a few miles away, with its super-fine, white powdery sand, used to be the city's top beach but has suffered severe erosion in recent years.
Photo Credit: Paul Kennedy—Getty Images/Lonely Planet Images.
Bali, Indonesia
Total Cost of a Week for Two: $2,734
Jimbaran Bay, a 20-minute drive from Ngurah Rai International Airport (Bali's main airport), is home to some of the most picture-perfect beaches in the world, with calm water and white sand. Located on Bali's southwestern coast, Jimbaran is also home to Tegal Wangi, a cliff beach with stunning views. Luxury resorts, such as the Four Seasons and the InterContinental, dominate the hotels scene, although there are a few mid-range options. Kuta Beach, just minutes from the airport, offers a more budget-friendly beach options, but it is generally more crowded and a bit of a party scene.
Photo Credit: Jan Wlodarczyk—Alamy.
Phuket, Thailand
Total Cost of a Week for Two: $2,584
The western side of Phuket, Thailand's largest island, is spotted with wide beaches and dramatic rock formations, earning the spot worldwide fame as a beach destination. Thanks to the throngs of tourists that flock there, some of those areas may not be as relaxed and pristine as you imagine. Patong, the island's most developed beach, is known as much for its nightlife party scene as for its water activities. For a quieter feel, try the popular but undeveloped Kamala Beach, which has coral reefs on its north side. Those seeking less touristy spots should cruise around Phang Nga Bay to reach spectacular sheer limestone cliffs, caves, and remote beaches, or visit Sirinat National Park to view some of the prettiest stretches of pristine beach and sea turtle nesting areas.
Photo Credit: Jane Sweeney—Getty Images/Lonely Planet Images.
Cartagena, Colombia
Total Cost of a Week for Two: $2,009
At first glance, this South American beach destination conjures the feel of Miami Vice, with soaring skyscrapers on the water's edge in Bocagrande, the city's longest beach. But Cartagena has several great beach options—including Castillogrande, with is slightly grayish volcanic sand, and La Boquilla, a fishing village four miles to the south that sits beside a mangrove swamp.
If you're looking for the traditional crystal-clear water and golden sandy beaches, head to Isla Baru, and its most famous beach, Playa Blanca. It's about an hour by boat from Cartagena, so most people come for the day via a tour to snorkel and sunbathe.