6 Travel Tips From 'Bizarre Foods' Host Andrew Zimmern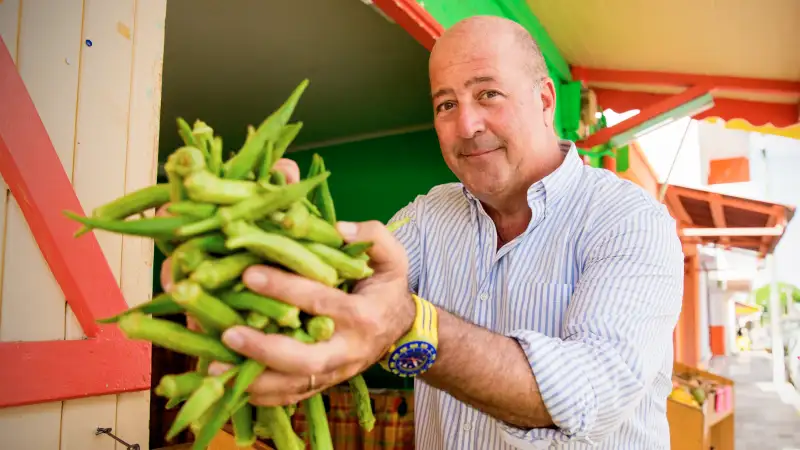 Cyrus Marshall—The Travel Channel
Andrew Zimmern, best known for hosting Travel Channel's Bizarre Foods, has been all over the world. And as someone who has experienced his share of flight delays, bad hotels and (of course) strange foods, he has a game plan in place to help ease the everyday pain points that come with frequent travel.
As part of Money's 2017 Best in Travel, Zimmerman is giving you the scoop on many of the tricks he uses to make the most out of every trip.
Ease Flight Hiccups
"Airline travel has become an exhausting and draining process, short on hospitality and long on frustration," Zimmern says. Here are some things he recommends to make the trip a little easier.
Prepare for potential flight delays by being self-sufficient, he says. In addition to power cords, fill your carry-on with some real food, an actual book, comfy clothes and an extra pair of underwear, socks, and shirt.

Gate-check your carry-on, right before you get on the plane, he suggests. You get to avoid baggage claim hassles, yet you still

help your airline avoid takeoff delays.
Make the Most of Your Hotel
"I'm a hotel geek, and something of a hotel snob," Zimmern says.
Zimmern says he always travels with an antimicrobial, impenetrable sleep sack—"in case I'm overnighting in a place that doesn't take cleanliness and hygiene seriously." Also in his bag: antiseptic wipes for phones, TV remotes and desk surfaces.
Call ahead, he says: "I always call hotels before arriving with my family and ask for what I need—explicitly." His requests can range from dinner bookings to room amenities, he explains. "It's not fair to be demanding and ignorant when you arrive. What's more, you haven't given the hotel a chance to show what they can do."
Use Technology Right
"Apps are your friend," he says.
Be sure to download all the airline apps for carriers you regularly travel with, he says. In the event of cancellations or delays, you can be one step ahead of the herd.

A few of his other favorites: concierge services like Journy, weather apps (he singles out RadarScope), QuakeFeed, iTranslate.