6 Genius Ways to Save Money at Sephora, According to Ex-Employees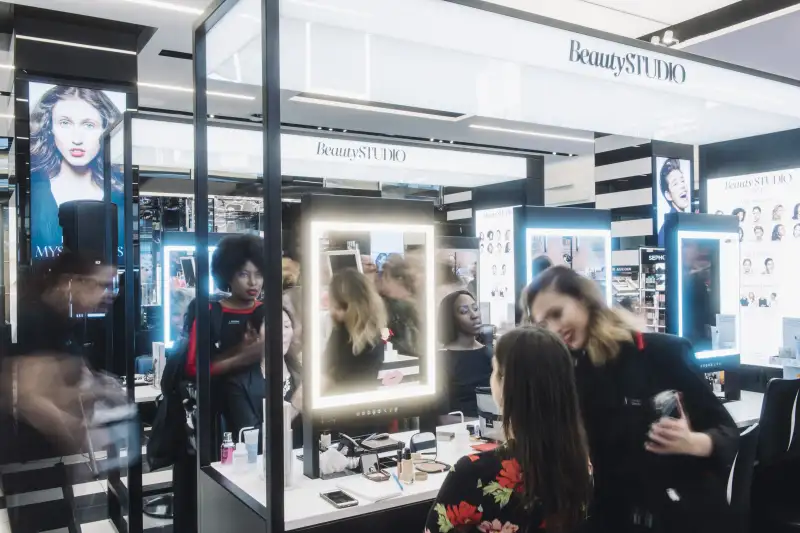 Joshua Scott/WWD/REX—Shutterstock
Makeup and skincare fanatics love Sephora for its quality products and devoted service — but its wares don't always come cheap. The retailer carries products from high-fashion designers like Giorgio Armani, Hermes and Versace, to name a few, and at least one perfume that sells for $815.
Not to worry: You can still hack the store (and its website) for ways to save big on purchases — or even get freebies. Money spoke to former employees to find out some of the chain's best money-saving secrets.
Here are the best deals you can find at Sephora, according to people that used to work there:
Sephora Brand Makeup
Many cosmetic fiends head to Sephora to snag the latest luxury items, but you can also find quality items for budget prices.
Sephora's own house-brand makeup items, usually placed at the front of the store, are comparably priced to drugstore items, yet with better quality, says Ivy Boyd, a freelance makeup artist, blogger, and former employee. It's like a "gateway drug" into designer makeup, she says.
A look online shows that Sephora brand products are only slightly more expensive than their drugstore counterparts. For instance, Sephora brand volumizing mascara costs $12, while a comparable CoverGirl product costs $11 at Walgreens; Sephora concealer costs $14, while a (slightly larger) drugstore tube from Revlon costs $12.
"The Sephora collection brand is a great deal if you're just starting out in high-end makeup, but don't want to break the bank," says former employee and beauty blogger Tiffany Colon.
For the best of Sephora's brand, Boyd recommends trying her personal favorites, the lip liners and cream lip stains.
Makeup Lessons
Sure, you can use YouTube and Instagram to figure out how to perfect a smoky eye — but you can also just pop into a Sephora store for a free in-person tutorial.
Sephora employees will sit down with you for 15 minutes and teach you how to contour your cheekbones, apply false eyelashes, or get other specific looks. The "mini makeovers" are completely free, and available both by reservation or for walk-ins.
"Sephora thinks of themselves as more than just makeup — they want to teach, and they want people to learn," says Julia McNamee, another former Sephora employee, as well as a beauty blogger and YouTuber at JuliaxBabee. And employees would much rather be applying makeup with clients, she says, than "on the cash register or cleaning."
If you're on your way to an event, or want a more in-depth tutorial, the store also offers custom makeovers using store products, but you'll have to buy at least $50 of products. Or if you buy $125 worth of merch, you can get a 90-minute, one-on-one session with a "Senior Beauty Expert" for a customized skincare routine or beauty how-to guide.
Online Sales
If you're debating between purchasing your favorite products online versus in the store, says McNamee, shopping online can get you a better value.
For starters, you get to choose three free samples — from a revolving selection of skincare, fragrance, makeup and hair products — with any order you place.
Additionally, Sephora's website offers a Weekly Wow discount section, which includes marked-down products, free items with certain purchases, and limited time offers. A separate sale section also has online-only deals — you won't be able to qualify (or even see them) in-store.
And while you won't get to wear your new product right away, you'll get free three-day shipping if your order totals more than $50.
Gift Sets
At several times during the year — usually around the winter holidays, as well as Mother's Day and Father's Day — Sephora offers value boxes with samples of popular products. "Those always sell out because they are a really good deal," Boyd says. "The value of the box always exceeds what you pay for it."
Of course, while the boxes are marketed as gifts, and timed to the holidays, you don't need to give any of your new swag away.
No gift boxes are available at the moment, but two of the lipstick-themed sets from last holiday season, for instance, cost $28, and included smaller sizes of six high-end products, each of which would (at full size) retail for around $20 separately. Boyd says another popular gift item is the fragrance set, which includes a selection of samples plus a voucher you can redeem to get a discounted, full-size version of the product you like best.
Free Facials
Sephora also offers free skincare services using any in-store product you like.
With the store's Mini Facials, employees will exfoliate, cleanse, and moisturize your skin, according to YouTube beauty blogger Nathalie Nieves. If you're in need of a quick treatment, or want to see how certain peels will work on your skin before purchasing any product, you can ask an employee and get a facial on the spot, Nieves says. (You can also make appointments in advance.)
Nieves says there isn't an official limit on how many facials you can get, but if you are in the store for free facials once a month without buying anything, "that would ring some alarm bells."
"Be smart about it," she adds. Still, she says: "Sephora is very customer service oriented; they're not going to kick you out."
Free Samples
Sephora also gives away free samples of any product it carries, say former employees — whether the price tag is $50 or $500.
"A lot of people don't know this, but you can get samples of literally anything in the store," McNamee explains.
Just ask an employee for the product you'd like to sample, and you can get enough for two to five applications, she adds. Some of the easiest to sample are foundations, which can be pumped into a tiny container for at-home application, or fragrances, which often come in prepackaged vials containing a few good spritzes.
But you can even ask for lipstick or eye shadow: The employee will simply cut off a portion of the tester lipstick with a knife, or scrape off eye shadow powder, and pack it up for you.