4 Things You Should NEVER Buy at Sephora, According to Ex-Employees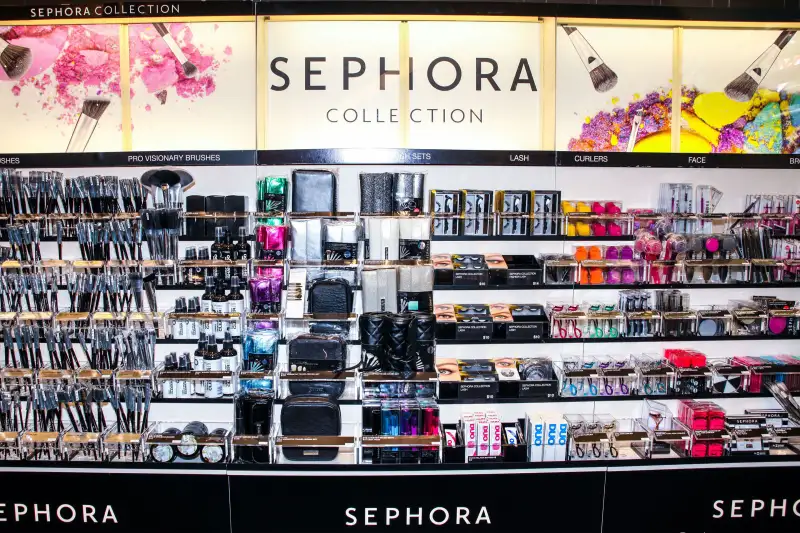 Sam Deitch—Rex/Shutterstock
Though there's no such thing as wearing "too much" makeup, you could be spending too much on it.
Shoppers across the country are buying more and more makeup: usage increased 6% in the last year, according to market analytics firm NDP Group. And Sephora, the nation's top beauty seller, plays a key part in enabling this trend.
The retail store's products almost universally have aesthetically pleasing packaging and targeted branding, making them an enticing splurge. But you shouldn't be quick to pick up every item that catches your eye. Former Sephora employees have revealed to Money how the store encourages you to spend more — and which items aren't worth their high prices.
Here are the top four products former Sephora employees recommend you do not buy from the store.
---
1. Travel-sized products
Many Sephora locations have bins of small, travel-sized products lining the checkout area, a strategy many stores use to stimulate impulse buys. The tiny, cheaper products may seem like a better deal than the full-sized options, but employees warn against the temptation: "They are super high-priced and not worth the value," says former employee and beauty blogger Tiffany Colon.
For example, take Clinique's Dramatically Different Moisturizing Gel. Sephora sells the product in four versions: a trial size, mini size, regular size, and value size. But if you break down the price per volume, the moisturizer costs 33 cents per milliliter, 29 cents per mL, 22 cents per mL, and 20 cents per mL, respectively — meaning you're paying a premium for the smaller products.
If you want to try an item, but don't want to commit to purchasing it yet, you can always ask for a sample. Julia McNamee, a beauty blogger and YouTuber at JuliaxBabee who used to work at a Sephora store in Willow Grove, Pennsylvania, says Sephora employees will give you a free sample of any product — even lipsticks and eye shadows. "They'll literally give you two to five try-ons, depending on how generous the girl is who is giving you the sample," says McNamee.
2. Sunscreen and moisturizer
Skincare accounts for one of Sephora's three biggest product sections (alongside makeup and fragrances), according to employees. But for skincare essentials like sunscreen and moisturizer, YouTube beauty blogger Nathalie Nieves says you should skip Sephora's high-end products and just head to your local drugstore.
"Moisturizers are so overpriced these days for the quality and the ingredients they require," Nieves says. "It's insane, it's way too much."
Nieves, who worked in the skincare section at one of Sephora's New York stores, says drugstore moisturizer and SPF sunscreens (such as those by Cetaphil and Aveeno) work just as well as Sephora products for a fraction of the price. According to Consumer Reports, name brands don't always equal quality — it's more important that the sunscreen lives up to its SPF claim and for sunbathers to apply (and reapply) often.
3. Mascara
If you're shopping in the drugstore for moisturizer, you might want to stock up on mascara, too. Freelance makeup artist Ivy Boyd says drugstore mascara works just as well as the luxury version — and costs much less. The price difference in drugstore and high-end mascara prices is sizable: Walgreens sells mascara from brands like Maybelline and Rimmel for around $5, while Sephora's full-sized selections start around $12 and can retail for as much as $70, if the name Christian Louboutin is involved.
Boyd, who worked at a Sephora in Iowa from 2012 to 2014, recommends buying everyday mascara from drugstores, and splurging on Sephora mascara for special occasions if your budget allows. Bonus tip: Much like mascara, fake eyelashes are not worth spending a fortune on either, according to Boyd: "I don't think it's totally necessary to buy super fancy silk lashes" like those sold at Sephora. Just pick up your falsies from a drugstore as well.
4. Makeup brushes
Finally, you might also want to skip buying makeup brushes at Sephora because their quality is "horrible," says McNamee: "They are something you would get as a gift for a 13-year-old, but that I would never buy for somebody that I know."
The store sells individual brushes for eyes, face, and other applications, as well as sets that include a combination of brushes. Though the set appears to be a better deal — nine Sephora brand brushes cost $62, while a single large powder brush costs $40 — McNamee says the set typically has basic brushes that are rough on the face. For more affordable brushes and brush sets, she suggests versions from retailers Morphe ($25 for 12 brushes) or Crown ($14 for 12 brushes) instead.
Next time you're at Sephora, remember the advice from the people who know best — and be careful where you spend.