90% of Travelers Say This Is the Worst Thing You Can Do on an Airplane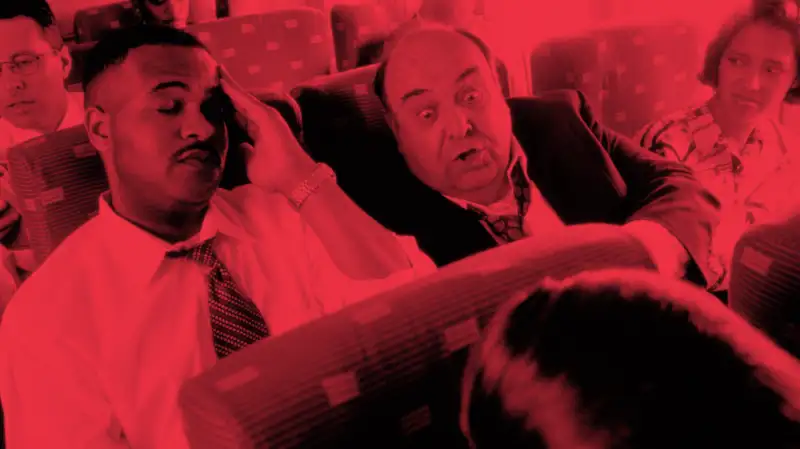 What's the number one thing that's guaranteed to make everyone around you on an airplane hate your guts?
If you guessed taking your shoes and socks off, you nailed it. Over 90% of people say going barefoot on a flight is a big no-no, according to a recent online survey conducted by Expedia of over 18,000 people across 23 countries. But for those who need to give their feet some breathing room, there is a silver lining: Removing your shoes if you have socks on is ok, but don't go barefoot. And, for the record, it's never ok to use the seatback in front of your as a foot rest.
But as gross as a barefoot seatmate is, the perennial annoyances also make the list of the worst passengers, Expedia found. Over half of people say those who kick the back of the seat (or bump or grab it constantly) are the worst, while smelly passengers also ranked in the top five. Here is their breakdown:
The Seat Kicker/Bumper/Grabber
The Aromatic Passenger
The Inattentive Parent
Personal Space Violators
Audio Insensitive
Unsurprisingly, Expedia found that most people are just looking for peace and quiet—and as much comfort as they can eke out of their flying experience. Nine out of 10 Americans said they prefer to be left alone during a flight—with 69% saying they'd rather sleep than talk to their seatmates.
Expedia actually recommends carrying a pair of headphones or earplugs and deploying them to avoid chatty seatmates. Yet despite the fact that so many travelers want quiet comfort, they won't pay for it. Only one in four people will pay to upgrade their seat, Expedia found.
When it comes to the worst types of hotel guests, inattentive parents actually jump to the top of the list. Yes, it's true—everyone hates the parents who let their kids run around the lobby screaming and screeching.
These types of terrible travelers are just one step above what Expedia calls "In-Room Revelers and The Hallway Hellraisers." Basically the folks next door who think a 3 a.m. party on a Tuesday night is completely acceptable. To avoid this, Expedia recommends requesting a corner room on the top floor, or one away from elevators and street level, so that you minimize as much noise as possible.