TSA PreCheck vs. Global Entry: Which One Is a Better Deal?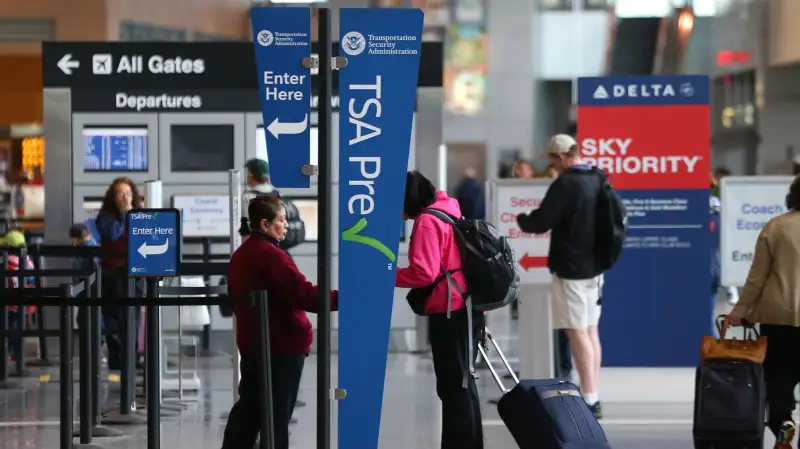 Boston Globe via Getty Images
Starting this month, scoring a free pass through TSA PreCheck is going to get a lot harder. So if you still want to breeze through airport security, you're going to have to cough up a bit of cash for the privilege.
If you fly at all these days, you know getting through airport security can be a chore. Programs like TSA PreCheck can drastically cut down on the time you spend waiting in line before getting to your gate—for a price. But since PreCheck rolled out to the general public in 2013, the agency has been randomly selecting travelers to get into the expedited security lines for free. And that's now set to end, as the TSA starts to reduce the number of travelers who get this perk for free.
"In the future, we intend to only have enrolled or pre-vetted passengers, or those screened by K9s, in the expedited screening lanes," a TSA spokesman told Money.
So should you just pay up for PreCheck? Not so fast: There are actually a couple of different options for frequent travelers. "TSA strongly recommends that frequent flyers (3 or more round-trips per year) enroll in a DHS trusted traveler program such as TSA PreCheck application program or Global Entry to obtain access to expedited screening when going through airport security," an agency spokesman says.
Whether you pick PreCheck or Global Entry, your credit card may help you cover the cost. Here's how to decide which program to use.
If You Only Travel Domestically…
Let's say you're the kind of person that only gets on a plane a few times a year to visit your out-of-state relatives and take the annual vacation to Florida. It still pays to invest in PreCheck, according to the TSA. The program, which is now available at 180 airports throughout the country, has an $85 up-front fee and lasts for five years.
To enroll, you can fill out an application online and then schedule an in-person visit to an application center to provide required information, documentation and fingerprints. These appointments are available at a number of airports, as well as locations in city centers.
If You Travel Internationally…
Let's say you're a little more adventurous and take one or more trips abroad each year. In that case, the U.S. Customs and Border Protection's Global Entry program is probably a better deal—particularly because the program includes TSA PreCheck clearance.
The program costs slightly more than PreCheck—$100 submitted with your application, for clearance that lasts five years. But in addition to PreCheck, it also gets you an expedited trip through passport control when you're returning to the U.S. from overseas, as long as you enter through one of the 60 participating airports nationwide. That can save you an hour or so on arrival, particularly if you arrive at a major airport where multiple international flights come in at the same time.
There's one logistical hitch, though. As with TSA PreCheck, you can start the Global Entry application online. But to complete the process, you need to undergo a more extensive interview at a CBP center, many of which are located at or near airports.
If the Interview Would Be Inconvenient ...
If you travel abroad, but don't live near a CBP center, there's a hybrid option: Use TSA PreCheck for pre-flight security, and then use an app called Mobile Passport to speed up the arrival process.
The app, which is authorized by the CBP and free to download, asks you to provide your basic personal information and your passport data (number, expiration dates, etc.). You also take a selfie that will be saved to your profile.
When you arrive in the U.S. at one of the 21 participating U.S. airports—the list includes many, but not all, of the major hubs—or the one cruise port (Fort Lauderdale), the app asks a few questions about your trip. It then lets you jump into a dedicated Mobile Passport line at passport control, and generates a QR code that you show to a CBP agent, along with your passport.