All the Places Now Cracking Down on Bitcoin and Cryptocurrencies
Money is not a client of any investment adviser featured on this page. The information provided on this page is for educational purposes only and is not intended as investment advice. Money does not offer advisory services.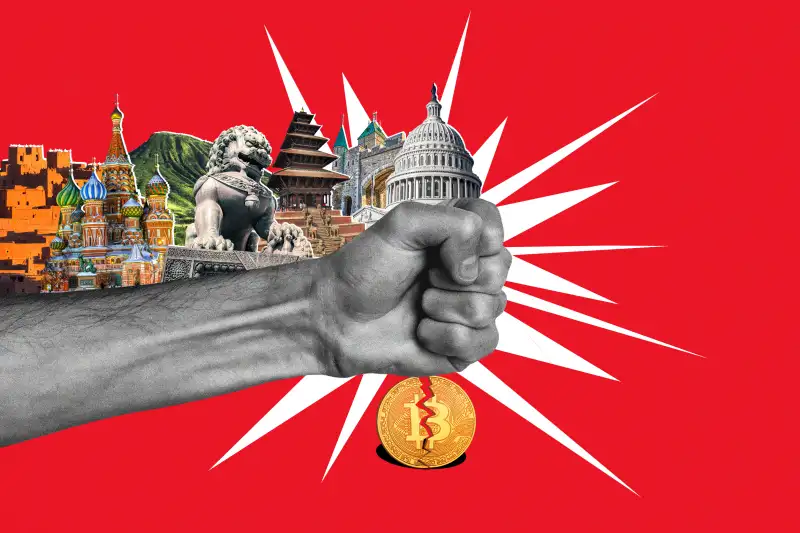 Photo illustration by Sarina Finkelstein for Money; Getty Images (5); Shutterstock (4)
For early adopters, one of the most appealing elements of cryptocurrencies — aside from the hope of getting rich quick — has been the lack of government oversight.
Unlike traditional currencies, the crypto variety is decentralized. That means virtual currencies aren't controlled, manipulated, or in most cases even regulated by any government or regime.
But that's starting to change. As interest in cryptocurrencies has skyrocketed along with the price of Bitcoin and altcoins, cities, states, and national governments have begun to place restrictions on various aspects of cryptocurrency activity, threatening to reduce their appeal — and price.
Here are 10 places that have recently enacted or proposed measures that threaten to stifle the rise of Bitcoin and other cryptocurrencies.
---
Zhang Jianquan/Huashang Daily/VCG—Getty ImagesThe house in which the Bitcoin mining machines used power illegally on August 23, 2017 in Yan'an, Shaanxi Province of China.
China
Focus of crackdown: Exchanges, online platforms, and initial coin offerings.
Beijing has been leading an all-out assault on cryptocurrencies. Thus far, government officials have outlawed initial coin offerings and cryptocurrency exchanges within China's borders, in an effort to curb crypto trading. They've also cut off access to online trading platforms and mobile apps that can act like exchanges. The government claims this is to control risky financial speculation, but protecting China's yuan probably plays a role as well.
In an effort to snuff out the cryptocurrency trade altogether, China has also recently banned cryptocurrency mining, the process by which companies vie to earn digital coins by helping cryptocurrency networks to verify transactions. And most recently, Beijing has sought to restrict Chinese citizens from using foreign exchanges to trade virtual currencies.
---
Chelan, Wash.
Focus of crackdown: Mining
Amid skyrocketing prices, cryptocurrency mining has become a booming industry. But because mining requires tremendous computing power (and therefore huge amounts of electricity) miners have set up shop in some unexpected places. Here in the U.S., Chelan County, Washington — a rural part of the state that benefits from cheap power courtesy of hydroelectric dams along the Columbia River — has become the epicenter of domestic mining activity.
But the influx of miners has raised a host of environmental and safety issues. As a result, the Chelan City Countil recently voted to impose a one-year ban on mining activity in residential areas.
---
Andrey Rudakov/Bloomberg—Getty Images
Russia
Focus on crackdown: Cryptocurrency use
Russian President Vladimir Putin has made his views on cryptocurrencies well known. He publicly stated that growing cryptocurrency usage could lead to "opportunities to launder funds acquired through criminal activities, tax evasion, even terrorism financing, as well as the spread of fraud schemes."
While the Kremlin hasn't moved to ban cryptocurrencies outright, Russia's Ministry of Finance plans to criminalize the use of cryptocurrencies as monetary substitutes by July. And last year, it also blocked access to websites of cryptocurrency exchanges that offer "dubious" coinage.
---
YONHAP—EPA-EFE/REX/Shutterstock
South Korea

Focus of crackdown: Exchanges and trading
In January, the country's Minister of Justice spooked the cryptocurrency markets when he indicated that South Korean officials were preparing a bill to ban trading of virtual currencies outright. The remarks sent Bitcoin prices tumbling.
While the government later backtracked on that threat, officials in the world's third largest cryptocurrency market have taken a number of steps to regulate the markets. Among the moves: Government officials have moved to outlaw cryptocurrency trading using anonymous accounts; raided financial institutions seeking cryptocurrency-related tax information; and tightened regulations to prevent money-laundering.
---
Michael Short/Bloomberg—Bloomberg via Getty Images
Hawaii
Focus of crackdown: Exchanges
Last year, the Hawaii Division of Financial Institutions implemented a new policy that required crypto-related companies to keep liquid cash reserves equal to the dollar value of all Hawaiian customers' cryptocurrency holdings. In other words, if Hawaiians collectively held 1,000 Bitcoin through a financial institution, that company would have to keep $8 million in cash reserves on hand.
The move forced the leading cryptocurrency exchange Coinbase to exit Hawaii. Based on new versions of the bill, Hawaii is reconsidering that requirement. However, current proposals would also "anyone who plans to transmit Bitcoin and other forms of digital assets" to apply for a license, which requires revealing personal and financial information.
---
Morocco
Focus of crackdown: Cryptocurrency use
In November, Morocco's central bank informed businesses that it was illegal to accept virtual currencies, punishable by fines, just days after the first company tried to accept Bitcoin within the country. Morocco's neighbor, Algeria is considering a similar move.
---
F.Cavone Productions—Shutterstock
Plattsburgh, N.Y.
Focus of crackdown: Mining
This small town of 20,000 in upstate New York has seen the electricity that it receives at discounted prices get zapped by Bitcoin miners, who consume about 10% of the city's power supply. The city has issued an 18-month moratorium on new mining so the local government can consider zoning and regulations to combat the problem.
---
Quebec
Focus of crackdown: Mining
As China cracked down cryptocurrencies, miners initially turned to Quebec as the new land of opportunity — and cheap energy. Yet lately, they've not found a warm welcome. In February, Hydro-Quebec said it was considering raising electricity prices for cryptocurrency miners who've been moving into the province, according to CBC News reports.
Quebec's Premier, Philippe Couillard recently said "we're not really interested" in having miners settle in the city. He added: "There needs to be added value for our society. Just having servers to do transaction mining and acquire new Bitcoins, I don't see the value added."
---
Nepal
Focus of crackdown: Mining
Late last year, seven alleged Nepalese Bitcoin investors were arrested for trading cryptocurrencies. That was followed by the arrest of two individuals who operate Bitcoin exchanges.
Ironically, there don't appear to be any specific laws in Nepal against crypto trading. In July, however, the central bank's deputy director did say that "Bitcoin is illegal," without expanding on the statement, according to reports.
---
Washington, D.C.

Focus of crackdown: General oversight
While there's no fear of an outright cryptocurrency ban in the U.S., the Securities Exchange Commission has let it be know that it's watching. Most recently, the Wall Street Journal reported that the SEC has issued subpoenas and requested information from technology companies tied to initial coin offerings (ICOs), which raise funds in the cryptocurrency space.
In January, SEC chairman Jay Clayton said the SEC, along with the Commodity Futures Trading Commission and "other federal and state regulators and criminal authorities will continue to work together to bring transparency and integrity to these markets and, importantly, to deter and prosecute fraud and abuse."
Meanwhile, the IRS, for tax purposes, has forced Coinbase to pass along information about its largest investors.