3 Stocks That Are Soaring Because of Bitcoin
Money is not a client of any investment adviser featured on this page. The information provided on this page is for educational purposes only and is not intended as investment advice. Money does not offer advisory services.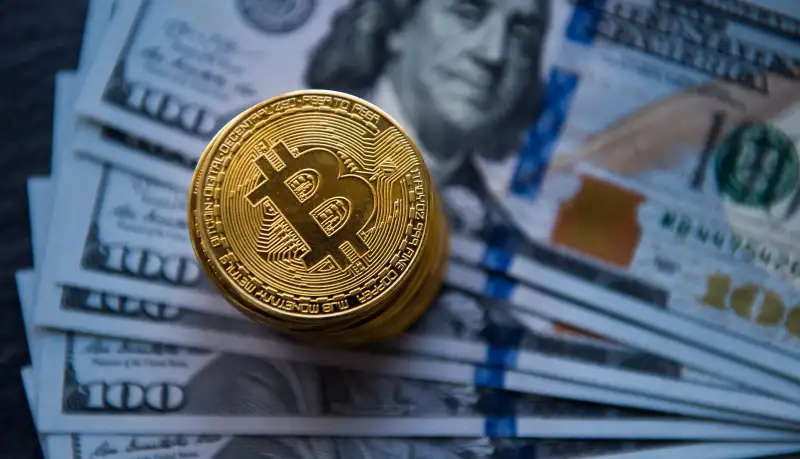 Bitcoin has been on a breathtaking ride this year, with the cryptocurrency soaring a remarkable 1,432%—and that's after falling more than $1,000 from its peak this week.
Like all rising tides, bitcoin's success has lifted other boats. Take rival digital currency Ethereum, which now has a single coin priced above $500; it started the year under $8.
But for investors who aren't so sure about cryptocurrencies, bitcoin also has coattails that reach into the stock market.
Some of these publicly traded companies—which offer, accept, and help improve access to bitcoins—have seen their stocks triple or more in value in the past couple of years, thanks to all the attention swirling around bitcoins. And they may yet rise some more if bitcoin mania continues to grip Wall Street.
Of course, some believe the value of bitcoin is headed for a crash. And if bitcoin bursts, it's not just crypto-believers that'll suffer.
So with that warning, here are three big bitcoin beneficiaries.
---
The Bitcoin Infrastructure Play
Nvidia (NVDA)
Price gain, past 2 years: 576%
Price/earnings ratio: 49
Over the past two years, the microchip maker Nvidia has been among the best-performing names in the S&P 500 index of U.S. stocks, rising almost six-fold to over $210 a share. The company's products are tied a lot of hot tech trends, from gaming to artificial intelligence to self-driving vehicles.
It also sells graphic cards, which people use to mine cryptocurrencies. While there's less demand now from bitcoin seekers—because the technologies required to uncover bitcoins within the algorithm that controls distribution have advanced beyond graphic cards—it remains an important tool for other cryptocurrencies.
Nvidia's graphic card business has grown 105% in two years, rising to $1.6 billion.
But the stock is now expensive. Nvidia's price/earnings based on trailing earnings over the past year is nearly double that of its industry peers, and more than twice the P/E of the S&P 500.
Bernstein analyst Stacy Rasgon recently wrote that he expects volatility ahead, which has been "exacerbated by the strong run in the stock in recent weeks and months."
---
The Bitcoin Retail and Blockchain Play
Overstock (OSTK)
Price gain past 2 years: 258%
Price/earnings ratio: N/A
In 2014, Overstock.com became the first major retailer to accept bitcoin for transactions.
That same year, the e-tailer also began developing a small division called Medici Ventures that's focused on blockchain technology, the underlying tech that powers and protects bitcoin transactions.
Despite the fact that Medici lost nearly $12 million last year, Overstock shares have risen 260% rise since August, because a Medici subsidiary, tZero, announced it would begin trading digital coins and will seek to raise a record $500 million through a digital coin offering.
D.A. Davidson analyst Tom Forte has gone as far as to say that if Overstock sold its e-commerce arm to hone in on the blockchain, the stock would rise another 60%.
All this excitement is for an extremely small e-retailer. Overstock's market capitalization surpassed $1 billion this year, which is dwarfed by Amazon's $569 billion.
"And just because you move into a space doesn't necessarily mean you can have a sustainable, higher multiple," added Larry McDonald, founder of the Bear Traps Report, while recently speaking with CNBC's "Power Lunch."
---
The Bitcoin Seller
Square (SQ)
Price gain past 2 years: 258%
Price/earnings ratio: 106
The mobile payment processing company Square began allowing merchants to accept payment via bitcoin more than three years ago.
Then earlier this month, Square started allowing some customers of its Square Cash app to test out the process of buying and selling bitcoins.
This sent the stock flying up 22% in just 9 days following the November announcement. But that came crashing down on Monday, when Square shed 16%. The fall came after BTIG's Mark Palmer downgraded the company to a "Sell," arguing that the hype of cryptocurrencies had overshadowed Square's growth projections.
"We believe [Square's] valuation already reflects emphatic and unimpeded growth while failing to factor in competitive, credit-related and macro risks that did not go away when some investors suddenly viewed its shares as a play on a trendy cryptocurrency," wrote Palmer.