How to Survive This Awful Allergy Season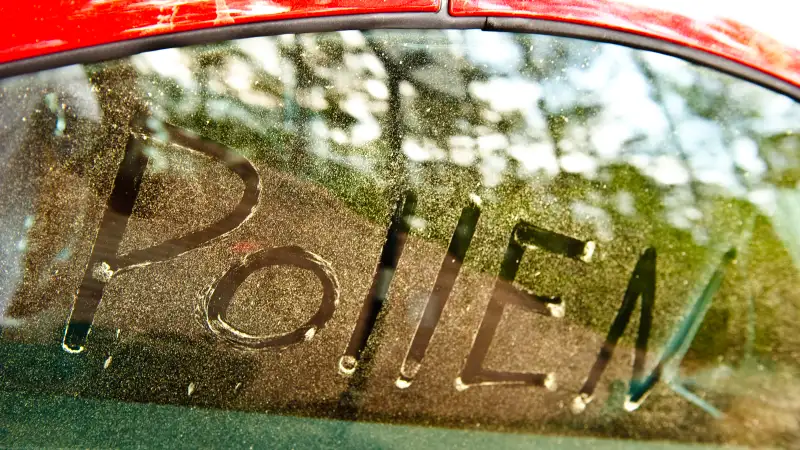 Joseph De Sciose—Getty Images/Aurora Creative
Grab your tissue box. We're in for a terrible spring allergy season. Experts say that the long winter may cause early-blooming trees to pollinate late this year, which means more trees pollinating at the same time.
About one in five Americans suffer from some kind of allergy, with seasonal allergies the most common, according to the Asthma and Allergy Foundation of America. While not as severe as food and insect allergies, hay fever can put a real damper on your life—seasonal allergies are responsible for some 4 million missed or lost workdays every year, the National Academy on an Aging Society estimates.
The upside is that if you take your allergies seriously this year, you might feel better and save money. True story: My entire childhood, I had "seasonal" allergies that lasted almost year-round. (For some reason, no one thought this was weird.) As an adult, I finally got tested. I was allergic to my cat. Part of me wishes I didn't know that, but I don't have to buy as much Claritin now.
Here's what allergies could cost you—and how you can save.
Over-the-counter antihistamines: 10¢ to 67¢ a pill
With hay fever, you can burn money on boxes upon boxes of over-the-counter allergy relief like Claritin, Allegra, and Zyrtec. But you can save a ton if you just compare prices online, says Elizabeth Davis, editor-in-chief of GoodRx blog, a prescription savings blog.
"One thing that tends to be worthwhile is going for the non-name brand version," Davis says. "It looks like you can get [generic Claritin] for as low as $10 for 100 tablets, but I'm generally seeing about $20 or so for a regular box of brand-name Claritin, which has 30 tablets."
So shop online, save 85%.
Another medication to consider: nasal spray. Nasacort and Flonase were both recently approved for over-the-counter sale, where they cost between $17 and $25 a bottle, Davis says.
Prescription antihistamines: 50¢ to $1.60 a pill
Sometimes, over-the-counter medications won't be enough to alleviate your symptoms. If you're still suffering, or if you find yourself relying on Benadryl on a daily basis, it's time to see an allergist.
While prescription allergy meds are usually more expensive—as low as $15 but as much as $40 or $50 for 30 tablets, Davis estimates—what you pay will depend on your health plan. Doctor visits, tests, and prescriptions are typically covered by health insurance, with a co-payment or co-insurance, after you meet your deductible.
The higher dosages in prescription meds might be what you need to kick your symptoms. A doctor might double, triple, or even quadruple your dose, or advise you to take a combination of antihistamines and decongestants, says Neil Kao, an allergist in Greenville-Spartanburg, S.C.
"When you go the doctor, you might say, 'Well, I took Claritin, and it didn't work,'" Kao says. "The doctor might say you need two—one in the morning, one at night. You might say, 'The box says one.' Well, that's why I went to medical school!"
Also, while prescription generic Nasacort nasal spray costs more—typically $50 to $75 a bottle—and prescription generic Flonase costs less—usually $12 to $17—the prescription versions could be a better deal than over-the-counter versions if you have a low co-pay, Davis says. Talk to your doctor and check your plan.
Allergy testing: $30 to $275
Once you've spent serious money on allergy medicine, you may want to know if you're on the right track, Kao says. Are you sneezing because there's pollen in the air, or because you have a cold, or because your cat is shedding his winter coat? With a simple skin test, an allergist can determine what, if anything, you are allergic to.
According to HealthSparq, a health costs transparency firm, an office visit with an allergist typically runs $200 to $300 before insurance. Those estimates are based on insurer-negotiated prices on claims filed in Oregon, Washington, Utah, and Idaho.
From there, the cost of the allergy tests can vary from $30 to $275, and even as high as $4,000, depending on the type and number of tests given, according to HealthSparq. Pro tip: 77% of large employers offer a price transparency tool, according to Mercer, so you can get your own individualized price estimate.
Immunotherapy: $15 to $20 a session
After you know what you're allergic to, allergy shots are another treatment option. Here's how it works: Your allergist uses a skin test to decide which allergens to put in your shots, which slowly expose you to your allergens to get your immune tolerance back up to normal, Kao explains.
Kao recommends shots for sufferers with moderate to severe allergies who either do not get enough relief from medications or who do not want to take medications any longer. "Statistically, [shots] help about 90% of well-selected people," Kao says.
HealthSparq estimates that it typically costs $15 to $20 a visit before insurance kicks in, but could be as high as $170 a visit, depending on your course of treatment.
However, Kao says that in the long term, allergy shots pay for themselves. Think of the money you won't be spending on over-the-counter medications, prescriptions, antibiotics for sinus infections, and doctor's visits. "That's all money saved," Kao says.
EpiPens: $450 to $500 for a two-pack
Pollen means something else for people with bee sting allergies: It's time to carry an EpiPen again. EpiPens—or epipnephrine auto-injectors—provide immediate relief to anyone suffering from anaphylaxis, a potentially fatal allergic reaction. The pen is inserted into the middle of the thigh while a patient awaits professional medical attention.
Unfortunately, the price of EpiPens have increased significantly in the past several years. Davis of GoodRX Blog estimates a two-pack could run about $450 to $500 before insurance.
Coupons can help. At EpiPen.com you can apply for discounted epinephrine pens. Many patients with private health insurance can get the EpiPen two-pack for free, and everyone else can get $100 off, says Davis.
Alternately, you can get a generic epinephrine pen for $250 to $300, but you'll need to ask your doctor to write a prescription specifically for the generic, Davis says.
Update: This article was updated to indicate the correct use of an EpiPen.