This 35-Year-Old CEO Is Selling $40 Jars of 'Sex Dust' to the Masses — and People Are Hooked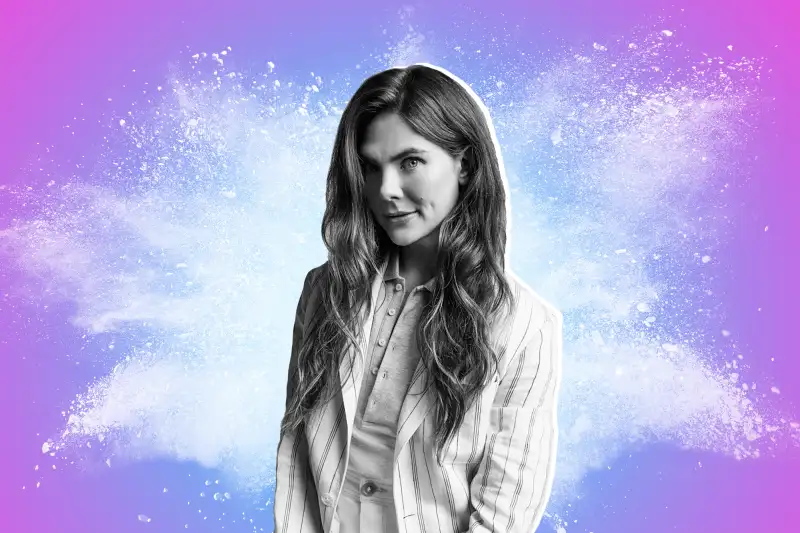 Photo illustration by Sarina Finkelstein for Money; (portrait) courtesy of Moon Juice; (powder) Getty Images
Within 20 minutes of meeting Amanda Chantal Bacon, she gleefully tells me her astrological sign.
It sort of slips into conversation, like saying "I'm Aries" is as palpable as "I'm stubborn," or "I'm ambitious."
We're sitting at an outdoor cafe, next to an economy-sized bag of "Sex Dust," a proprietary blend of powdered plants the CEO sprinkles into her matcha tea, and as far as I can tell, just about everything else.
She's just stepped off stage at a conference hosted by the Wall Street Journal, where Bacon and about a dozen other company founders were invited to speak about "the future of beauty and wellness." At the cafe, she passes me a tote bag stuffed with powdered supplements, serums, and "acid potions" — a bevy of products that Bacon, and the growing number of people backing her, believe that future will look like.
In certain corners of the internet, where the habits of the rich and famous are logged and lampooned ad nauseum, Bacon is probably best known for the food diary she once wrote for Elle, which proclaimed "a nori roll with umeboshi paste, avocado, cultured sea vegetables, and pea sprouts ... is my version of a taco." Or the viral Instagram post she fired off when someone stole a hunk of rose quartz from her Silverlake store, pleading "To whomever took her out the door, you do not want the energy of a stolen crystal, please trust me!" But for all of Bacon's, um, whimsical eccentricities, her influence proves that those who dwell on them are missing the point.
In just a few years, the 35-year-old has taken Moon Juice, a small chain of juice bars frequented by L.A.'s patchouli crowd, and made it mainstream. Her "dusts," designed to dredge over your favorite beverage (coffee/tea/vanilla mushroom adaptogenic protein smoothie), now have a cult following. They come in six varieties — Beauty, Brain, Sex, Power, Spirit, and Dream — and retail for about $40 for a jam-sized jar at Nordstrom, Urban Outfitters, Gwyneth Paltrow's Goop, and cafes and yoga studios across the country.
This summer, Bacon debuted a new line of skin care and supplements, now available at Sephora stores across the country. The linchpin product, "SuperYou," a capsule of distilled herbs said to promote wellness and beauty, sold out in the first week.
It's easy to see why people want whatever Bacon sprinkles into her matcha (Sex Dust, for the record, has half a dozen plant ingredients; "organic shatavari root powder" and "horny goat weed" being two of the six). She's got a permanent little half-smile, baby blue eyes that literally sparkle (it's infuriating), and a charm that yanks in whoever she happens to be around. Twice during that first meeting, a tourist walked by our table just to get a good look at her -- the second time, he announced that he was flying back to France in a few hours, and she was welcome to join him. This is not a relatable experience.
Still, cut through the hype, and you'll find someone who's as engrossed, and dedicated, as any CEO. Investor meetings, presentations, and cross-country flights now dictate Bacon's 9 to 5. She's at an age that, for many women, is marked by the arrival of crows feet, gray hair, and all the other cosmetic considerations that get more and more formidable with time. Now that she's in the business of beauty, it's no small advantage that she looks better than ever.
Bacon points to the "probably $500 worth" of Sex Dust she keeps on her person. "I'm overworked," she says, "but I'm not exhausted."
Born in New York, Bacon started studying medicinal plants in 2006, she says, after Western medicine failed to heal a hypothyroid condition and a myriad of other health issues she'd struggled with for years. She was working as a chef in fine dining at the time, but decided to switch to a diet of vegetables, healthy fats, and adaptogenic herbs — plants that adherents say can help your body deal with physical and emotional stress.
After a few months, Bacon says she felt radically different, and blood work revealed that her hormone levels were back to normal.
"Realizing how quickly it turned around, with daily practices and things I could find on a dusty shelf at a health food store, is really where the company comes from," she says.
Bacon opened the first Moon Juice store in 2011 with help from a $150,000 "friends and family loan" (her mom, Chantal Bacon, worked as fashion icon Betsey Johnson's CEO and business partner for nearly 30 years). In the beginning, she sold cold pressed juices made from the ingredients she'd fallen in love with, but by the end of 2016, Bacon had already opened two more Los Angeles locations, written a cookbook, and launched a host of Moon Juice-branded products: snacks like "green fermented seed crisps," and "activated turmeric, coconut, and lime pepitas;" powdered plant protein; and the now-infamous dusts. Since 2016, Moon Juice product sales have doubled, according to the company.
From a distance, Bacon's story has an air of "white girl goes on a vision quest;" eat, pray, dust, if you will. Like much of U.S. wellness culture, Moon Juice borrows heavily from Eastern traditions, where plants like Ashwagandha have been used as healing herbs for millennia. But Bacon's company didn't stem from an Ayahuasca trip, or a weekend at Coachella. She's put in years of painstaking legwork: Traveling back and forth to India to source and study plants, working with herbalists and Ayurvedic doctors to determine dosage levels, and using herself as a guinea pig for everything from taste to potency.
Today, Bacon's DIY approach has earned the confidence—and seed money—of investors like Greg Renker, co-founder of the marketing company behind Proactive, and Desiree Gruber, CEO of the media agency Full Picture.
"She's an alchemist," Gruber tells me a few weeks after my first meeting with Bacon. "And wellness with health is going to get bigger. Customers are so educated these days, they want to know what's in their products."
Bacon is an unlikely corporate thought leader, and watching her interact with the business elite is a small marvel. She's no stranger to startup culture — the first Moon Juice was built just four blocks from Google's L.A. campus — but her frame of reference rarely dips into the tech bro workbook, or any of the buzzwords beloved by Wall Street. Whether she's on a conference panel, or meeting one-on-one with an investor, Bacon speaks slowly and deliberately, pausing to reflect on a question instead of rushing into a talking point. When she talks about building her leadership team, it's not about "ROI" or "market penetration." It's "finding the souls to fill these positions."
I met her and Gruber at (another) vegan cafe in Manhattan this summer — they had met to discuss the ongoing Sephora rollout, among other things. They were an odd couple—Gruber in high heels and Gucci, Bacon in a peasant top, Sex Dust at arm's length for intermittent "dusting"—but they fell into the natural rapport of two friends with a juicy secret; that Moon Juice is still an insider's obsession, but it's about to blow up.
"Ingestible beauty," the slice of the wellness market Moon Juice belongs to, is heating up fast. At the end of 2017, U.S. sales of Ashwagandha, one of the medicinal herbs in "SuperYou," was up 200% from the year before, according to Nielsen. Goop, which sells supplements alongside vibrating kegal balls and Psychic Vampire Repellent (a "protective mist" designed to "banish bad vibes"), is now worth $250 million, according to a recent story in the New York Times. ("Amanda Chantal Bacon's Moon Juice ... is a ship launched directly from Port Goop," according to the Times).
Bacon's big push centers on "adaptogens," those plants she discovered 12 years ago while working in fine dining kitchens. Branching into skincare makes Moon Juice more accessible — Bacon's Dusts are covetable, but a bit of a hard sell for the average customer. Exfoliants and serums aren't foreign to Sephora shoppers. Even SuperYou, the $49.99 daily supplement, is a product most people can get behind.
"Everyone knows how to take a multivitamin," Bacon says. "This is how to reach masses of women."
Sephora already carries some supplements online, but starting this fall, the retailer will bring more ingestible beauty in-store; a decision prompted in part by how deeply Moon Juice products have resonated with shoppers, says Priya Venkatesh, Senior Vice President of Merchandising. As of this writing, SuperYou was out of stock at Sephora's brick and mortar locations. Even the more esoteric products, like a plumping serum with "silver ear mushroom" is selling well, according to Venkatesh.
"It's more than just popping a pill," she says. "People are really getting into the ritual of these things."
When customers buy a Moon Juice product, they're buying into a lifestyle, Venkatesh explains. They're making a commitment: to sprinkle something onto their breakfast smoothie every day, but also to have that smoothie in the first place.
Of all the things working in Bacon's favor, this might be the most critical. After all, the CEO's public persona started with a thorough, virtual tongue lashing for subscribing to a particular lifestyle (the power of a plant-based diet, the karmic retribution of crystal theft) a little too vehemently. Now, that very lifestyle is endorsed by one of the most powerful beauty brands around.
"I'm sort of like the least likely candidate," Bacon told me the first time we met. "I don't have a college degree, I certainly haven't been to business school. But I'm also a hungry business person who stumbled upon this culty idea. And I want to take it beyond cult status."