5 Ways Amazon Will Change Whole Foods, According to CEO John Mackey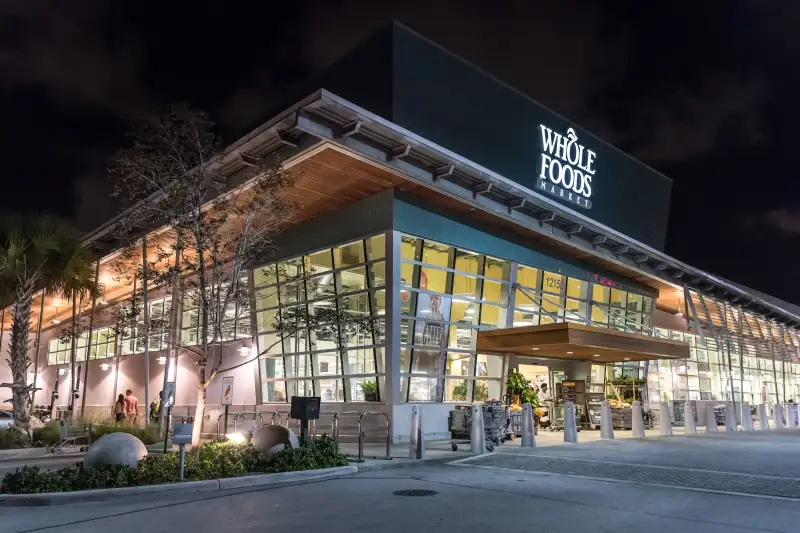 Amazon's purchase of Whole Foods is widely viewed as a game-changer for groceries. The deal is going to "change how you buy food forever," in the words of USA Today.
Stock prices for grocery sellers like Costco, Target, and Kroger have tanked since word broke of Amazon's acquisition, and some Whole Foods loyalists have bashed the deal as a sellout that could destroy a retail brand they love. Still, much is unknown about how the Amazon takeover will impact Whole Foods, the grocery industry, and grocery shoppers in general.
At a Whole Foods town hall meeting on Friday, CEO John Mackey gushed about how "utterly amazing" the partnership will be, and said that only good things could come of it.
"It was truly love at first sight," Mackey said of meeting with Amazon. "These are great people with big hearts and big ideals that wanna make the world a better place and are making the world a better place. They're the perfect company for us. There's no better company in the entire world for Whole Foods Market than this company right here. We— we just hit the lottery, gang. This is gonna be so incredibly wonderful."
Mackey stressed that he will stay on as CEO, that Whole Foods' headquarters to remain in Austin rather than shift to Amazon's hometown, Seattle, and that many of the company's core values will stay the same. "We're not changing our quality standards," he told his employees. "We've got a lot invested in our brand. And— these guys are really smart people. They're not stupid enough to go change that."
Even so, Mackey used the words "change" and "evolve" often throughout the talk, and while he was a bit vague on the details, here's how he sees Amazon affecting Whole Foods for shoppers and employees alike.
Sharper Focus on the Customer
"One of the things they do better than us, they are more customer-centric than we are," Mackey said of Amazon in the town hall meeting. "They put the customer first in everything they do and think backwards."
Whole Foods, on the other hand, has been derided as "Whole Paycheck" for its high prices. Charging $6 for "asparagus water" is no one's idea of putting the customer first. But Mackey promised a big shift in focus. "We're gonna become as customer-centric as Amazon," he said. "We're gonna import their passion about that."
Grocery experts say that an Amazon-owned Whole Foods is bound to result in lower grocery prices, among other customer-friendly initiatives. Amazon ultimately wants to sell consumers virtually everything they ever want to buy, and to do so it needs to offer convenience, value, and compelling products and services at every turn—including Whole Foods stores.
More Technology
"We will be joining a company that's visionary," Mackey said. "They're at the forefront of technology," he said of Amazon, noting, "I think we're gonna get a lot of those innovations in our stores."
What exactly might these innovations be? Neither Mackey nor Amazon founder and CEO Jeff Bezos are saying. Amazon has, however, rolled out a futuristic store concept with no cashiers or checkout lines. Retail experts also told the Wall Street Journal that Amazon and Whole Foods are likely to gather data from customers both online and in-store to figure out what kinds of goods they should stock in stores, and even how they should be displayed.
Without cashiers or checkout lines, Whole Foods might not need quite as many employees—and with fewer workers to pay, it would be even easier for Amazon/Whole Foods to lower prices for customers. An Amazon spokesperson told Bloomberg that there are no plans for job cuts or increased automation at Whole Foods stores, and Mackey certainly didn't mention at the town hall that any jobs might be eliminated. But he did hint that making the customer top of mind could require a decreased emphasis on how well it treats employees, who are referred to as "team members." "Sometimes, our company's gone a little bit too much team member focus at the expense of our customers," Mackey said.
No Worries About Quarterly Profits
Amazon is known for taking the long view. It is famous for its willingness to lose money year after year due to low prices and big investments in the company, so long as it is vastly increasing the customer base.
Mackey expects Whole Foods to adopt the Amazon mantra focused on long-term growth and a better customer experience rather than concerns for short-term profits that please investors. "That's going to make us a lot better company, a more competitive company," he said.
Different Company Culture
"Our culture is going to evolve," Mackey said. He didn't explain how the company culture would change, but did say, "There'll be leadership changes at Whole Foods Market. But they're just not gonna be, I don't think, forced on us by Amazon."
When asked about how benefits and compensation would synch up for Amazon and Whole Foods employees, Mackey joked that everyone would get free Amazon Echos. More seriously, he said it was too early to discuss these kinds of details, but highlighted that one of Amazon's core values take Whole Foods is likely to embrace is frugality. "That's a very important cultural value," he said.
Other Retail Brands
While Mackey insisted Whole Foods would keep commitment it high-quality, natural and organic foods, he also said that there could be spinoff retailers and brands that wouldn't necessarily play by the same rules.
"Over time, there could be other formats that evolve that— that might— wouldn't be branded Whole Foods Market, potentially, wouldn't be our standards," Mackey explained. "The Whole Foods Market stores and our brands, they're gonna stay all the quality standards we have, the integrity we have behind our products and our brand, those are gonna be intact."