Amazon Warehouse Workers Say They Have Been Working Without Air Conditioning, Experiencing Exhaustion and Dehydration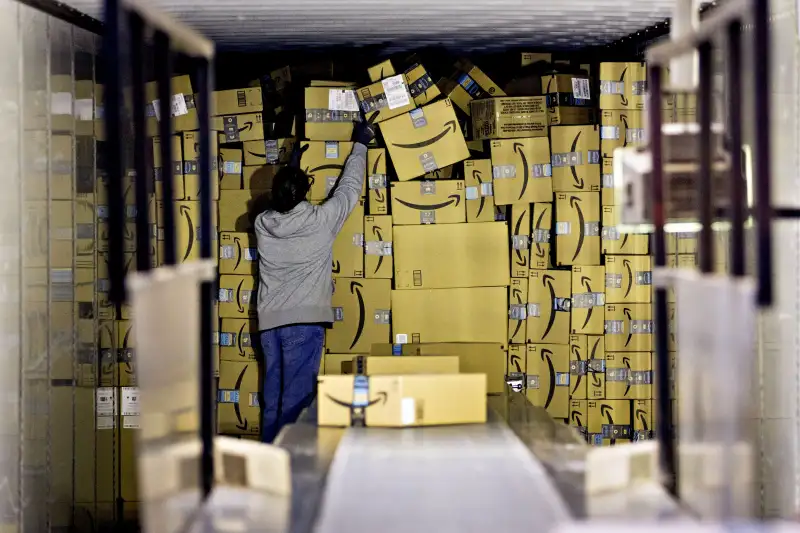 Bloomberg—Bloomberg via Getty Images
EAGAN, Minn. (AP) — A group of East African employees is asking retail giant Amazon to improve working conditions at an eastern Minnesota warehouse.
Employees at the Eagan facility made the request at a Monday news conference called by the Awood Center, which defends the rights of East African workers, Minnesota Public Radio reported .
The employees allege they have experienced exhaustion, dehydration and injuries while working without air conditioning. Workers said the conditions are particularly difficult for Muslim workers who are celebrating Ramadan and observing a strict fast.
"Recently, I couldn't work because I needed water," Nimo Hirad, an order picker at the facility, said through an interpreter. "I got so thirsty, I couldn't even swallow my saliva. I ended up breaking my fast and drinking water two days in a row."
The center said it has received a few dozen complaints from workers in the past two months, including about work being done by individuals that used to be done in teams.
Amazon spokesman Ernesto Apreza said the company provides a "positive and accommodating workplace." He said the Eagan facility has air conditioned break areas, fans throughout the building and accommodates employees' religious practices. The Eagan facility has a temporary prayer room and a permanent one is being constructed, he said.
Christopher Warren, the facility's general manager, declined to comment.
MPR reports that it's unclear if the complaints have also been filed with Amazon or the state. A Minnesota workplace safety agency has twice investigated the Eagan facility in the past, but it didn't cite Amazon in either case, according to James Honerman, a spokesman for the state Department of Labor and Industry.
One complaint in 2016 was about employees experiencing symptoms of excessive heat, and a 2018 complaint was about braking systems on rolling ladders not functioning, Honerman said. The state's Occupational Safety and Health Administration conducted inspections and did not issue any citations, he said.
In recent years, reports have emerged about difficult working conditions at Amazon's warehouses, including deaths at two Amazon warehouses in 2014. The company also came under fire in 2011 for extreme heat at its warehouses that caused "heat-related injuries." Amazon said at the time that it took emergency actions during heat waves and subsequently installed cooling systems in its warehouses.