Amazon Prime Members Can Now Get Prescription Drugs for $5 a Month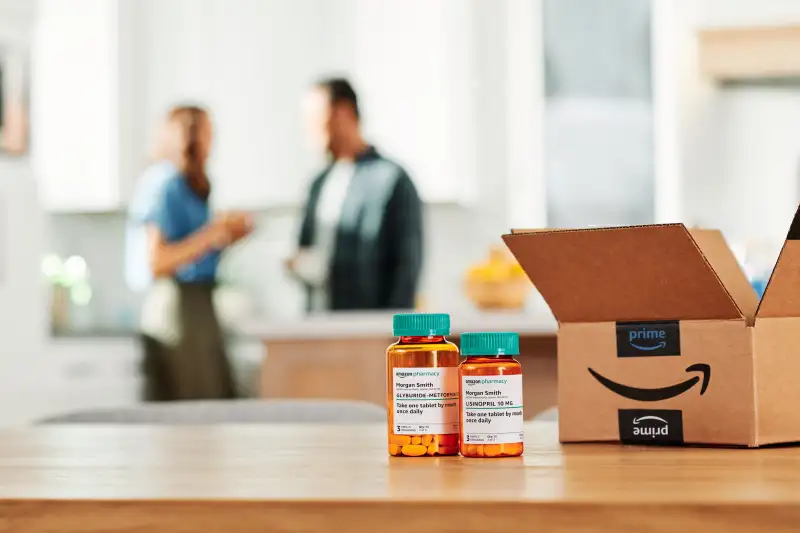 Courtesy of Amazon Pharmacy
Amazon launched a subscription service Tuesday that lets Prime members order prescription drugs for a flat fee of $5 per month.
Customers who subscribe to the new RxPass service can have low-cost, generic drugs delivered to their homes. More than 50 medications are included with the pass, which is available in 42 states.
What it means for you
The new service offers a relatively cheap way for Prime customers to order prescription drugs, and it doesn't require insurance.
The $5 flat monthly fee for Amazon's RxPass includes delivery, and there's no additional cost for ordering multiple medications.
Amazon says the pass is designed for people who take multiple medications on a regular basis. Many of the RxPass drugs cost non-subscribers somewhere in the ballpark of $3 to $20 for a monthlong supply on Amazon.
Why it matters
Americans have lots of options for ordering generic drugs online — including traditional pharmacies like CVS and new ventures like the Mark Cuban Cost Plus Drug Company. But the low, flat fee for the RxPass will be attractive to people who are currently paying more to get their prescriptions and already subscribe to Amazon's $139-per-year Prime service.
The announcement of the service is the latest sign that Amazon is serious about expanding into health care. In November, the e-commerce giant announced Amazon Clinic, a messaging-based health service that helps customers get treatment for common conditions. Amazon has also agreed to acquire One Medical, a primary care company, for $3.9 billion.
Bottom line
Prime members have a new way to order prescription medications online. Customers will have to research whether their medications are available and compare costs to see if it's worth adding on an additional Amazon subscription.
More from Money:
7 Best Health Insurance Companies for the Self-Employed of 2023
Mark Cuban's New Discount Pharmacy Promises Low-Cost Drugs. Just How Cheap Is It?
How to Save Money on Prescription Drugs, Medical Bills and Other Health Care Costs