Amazon Raised Its Minimum Wage to $15. Then It Cut Monthly Bonuses and Stock Awards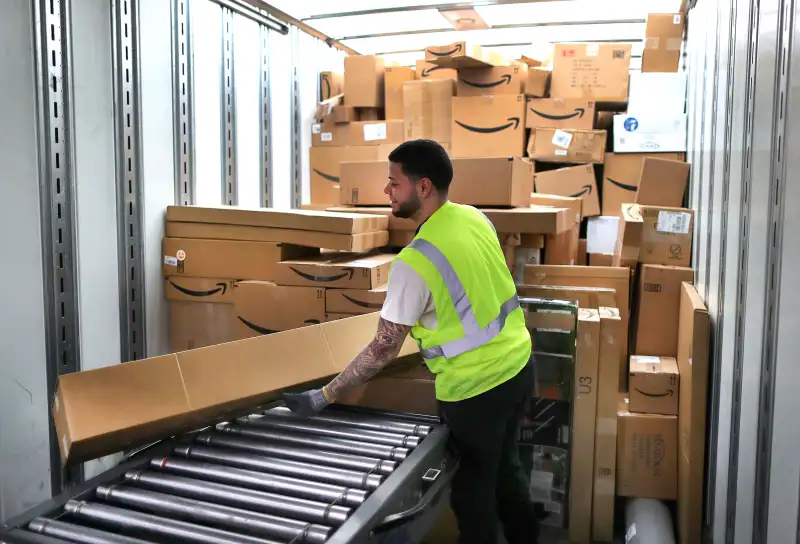 Boston Globe—Boston Globe via Getty Images
Amazon.com Inc. is eliminating monthly bonuses and stock awards for warehouse workers and other hourly employees after the company pledged this week to raise pay to at least $15 an hour.
Warehouse workers for the e-commerce giant in the U.S. were eligible in the past for monthly bonuses that could total hundreds of dollars per month as well as stock awards, said two people familiar with Amazon's pay policies. The company informed those employees Wednesday that it's eliminating both of those compensation categories to help pay for the raises, the people said.
Amazon received plaudits when it announced Monday that the company would raise its minimum pay. The pay increase warded off criticism from politicians and activists, and put the company in a good position to recruit temporary workers for the important holiday shopping season.
Even after the elimination of bonuses and stock awards, hourly operations and customer-service workers will see their total compensation increase, the company said in a statement.
"In addition, because it's no longer incentive-based, the compensation will be more immediate and predictable," Amazon said.
Workers whose pay was already above $15 per hour will get hourly raises of $1, according to two people familiar with the matter who asked not to be identified discussing the company's compensation practices. Some long-time workers expressed frustration that their raises are small compared with newly hired workers who will see hourly pay bumps of as much as 40 percent.
A higher hourly wage that new workers immediately receive is a better recruiting tool in a tight labor market than stock options that take years to materialize, especially in the warehousing industry that sees high turnover, said David DeBoskey, an accounting professor at San Diego State University. Amazon said it will hire 100,000 seasonal workers for the holiday crush this year, and temporary workers don't get stock.
"In a tight labor market, when you're the leader paying $15 an hour, that's a big advantage," DeBoskey said. "They probably realized people weren't applying for warehouse jobs for the stock options."
This article originally appeared on Bloomberg.