This Genius Hack Will Save You Money on Amazon — Every Time You Shop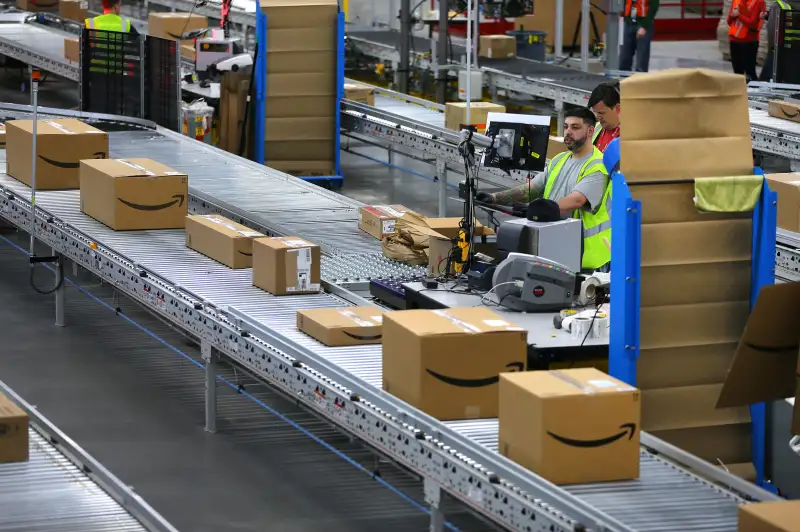 Boston Globe—Boston Globe via Getty Images
Amazon has upended the retail world by offering shoppers the magical combination of nonstop deals, endless selection, and simple convenience.
But while shopping at Amazon can save you time and money, it is also a destination where you're bound to spend a ton of cash too. That goes especially for Amazon Prime subscribers, who tend to spend far more at Amazon than non-members — and who also drop $119 a year for their subscriptions.
Whether you're an Amazon addict or just an occasional online shopper, you'll want to save as much as possible when ordering.
Here's a genius strategy to use when shopping for deals at Amazon, plus 10 more tips for everyday savings.
Time Your Purchases Wisely
Amazon prices are generally very competitive. But shoppers who browse around regularly are well aware that Amazon does not have the cheapest prices all the time. Amazon prices can and do change quite often as well. To figure out if you're getting a good deal at Amazon, use the online service CamelCamelCamel, which tracks the pricing history of items at Amazon.com — and will send you an alert if the price drops to a certain level you specify.
It's also often worth waiting until one of the year's big sales events to make purchases at Amazon. You'll find huge discounts at Amazon on things like Instant Pots, Roomba vacuums, DVDs, and Kindles, Echo smart speakers, and every other device made by Amazon on Amazon Prime Day and Black Friday, as well as the entire winter holiday season for that matter. You are all but guaranteed to find deals on these products and many others by jumping on sales on these key dates.
Browse Carefully — and Not Just at Amazon
Nearly half of online shoppers start their searches for items at Amazon. But Amazon certainly shouldn't be the only place you search. Use a price-comparison app like ShopSavvy to check out what competitors like Target, Walmart, Best Buy, and Costco are charging for the same or similar items.
If Amazon has the cheapest price, consider asking a competitor to match the price. Walmart and Target will both match Amazon prices on identical items, and sometimes it's better to buy from an Amazon competitor if you want to pick it up at a nearby physical store, or because it's easier to get fast free shipping. (Amazon does not officially engage in price matching, but it does employ bots to scour the web so that its prices typically rank among the cheapest.)
It's also wise to shop carefully even within Amazon itself. Product searches on Amazon retrieve all sorts of results, including many offers from third-party sellers — whose prices may be higher (or lower) than the identical item sold directly by Amazon. What's more, the rules for what qualifies for free shipping can vary among different sellers on Amazon. Pay close attention as you click, so that you know exactly who you're buying from, and what the policies are in terms of returns, shipping, sales tax, and more.
Check for Coupons
Coupons aren't just for the supermarket. Amazon has a roster of changing online coupons for a wide range of products, with a special emphasis on discounts for name-brand household staples like Pampers diapers and wipes, Tide laundry detergent, Bounty paper towels, and Ziploc bags. Always check to see if there's a coupon when replenishing your supply of these kinds of items at Amazon.
Get Free Shipping Without Amazon Prime
The marquee perk for Amazon Prime subscribers is free two-day shipping on most things you buy at Amazon. Fast free shipping is one of the main reasons why Amazon shoppers are willing to pay $12.99 monthly, or $119 per year, for their Prime membership.
But it's very easy to get free shipping from Amazon without Prime, so long as you are patient. Non-Prime Amazon shoppers who are making purchases of $25 or more at Amazon get free shipping too, though it's slower than with Prime: Delivery will take five to eight business days. But if you're not in a hurry, it's a great deal.
Get Free Returns
Many shoes, jewelry, and articles of clothing purchased at Amazon come with free return shipping, and most items bought at Amazon that are damaged or don't work properly are also eligible for free returns. Amazon's return policy generally requires that returns be made within 30 days of when the item was delivered.
But Amazon doesn't offer free return shipping on all items, so you may have to cover the shipping costs if you decide to return whatever it is you purchased from Amazon. Before paying for return shipping, review the options at Amazon's Online Return Center. While it might cost $6 or more for you to drop the return off at a nearby UPS location and have them deliver it to Amazon, the e-retailer sometimes presents different options — including select Kohl's stores, Amazon Locker locations, or other spots like college campuses with Amazon stores — where you can bring the boxed-up item and get free return shipping.
The Washington Post—The Washington Post/Getty Images
Amazon is also particularly generous with returns for orders made through Alexa, its digital voice assistant that's embedded in its Echo smart speakers and other devices. All "non-digital products purchased using Alexa are eligible for free returns," Amazon's return policy states. What's more, if you accidentally buy a song or album from Amazon's digital music store using Alexa, you can get the charge refunded if you make the request within seven days of purchase.
Pay Less for Amazon Prime
Studies have shown that Amazon Prime members skew toward being wealthy. But Amazon has been trying to attract non-rich shoppers as well. Over the past year, Amazon launched programs offering Prime for $5.99 a month — more than 50% off the regular rate — to customers who receive government assistance such as Medicaid and Electronic Benefits Transfer (EBT) cards.
College students have been able to get discounted Amazon Prime memberships for years too. A Prime Student subscription comes with a free six-month trial period — far more generous than the normal one-month trial for the general public — and after the free period expires the rate is $6.49 per month. That's half off the normal $12.99 monthly Prime subscription cost.
Consider an Amazon Credit Card for 5% Back
If you're an Amazon Prime member — and if you are sure you'll be able to pay your credit card bills in full each month — then it's probably worthwhile to sign up for a Amazon Prime Rewards Visa Signature card. It is absolutely one the best retailer credit cards out there, featuring bonuses of 5% back on all purchases at Amazon and Whole Foods, 2% back on purchase at gas stations, drugstores, and restaurants, and 1% back on everything else.
There is no annual fee for the credit card either. Then again, the card is only available for Amazon Prime subscribers, and you must pay a fee to be a member.
Subscribe to Amazon Prime Only Part of the Year
If you use Amazon Prime throughout the entire year, an annual subscription is obviously the better value than the monthly membership: $119 versus $12.99 multiplied by 12 months ($155.88). But if you tend to only use Prime in brief bursts — say, during the summer for Amazon Prime Day, or during the winter holiday shopping season, when the two-day shipping comes in handy for order gifts — then you'll spend less in the long run by paying for Prime by the month.
Just be sure to remember to cancel Amazon Prime during the lull when you wouldn't be using it much, if at all.
Get the Most out of Amazon Prime Memberships
In addition to free two-day shipping, Amazon Prime members get a host of other services for free, including unlimited streaming of free music and Prime video content, unlimited digital photo storage, select free e-book downloads from the Kindle library, and, in some locations, free same-day and Prime Now two-hour delivery of select products.
Amazon bought Whole Foods in 2017, and the company has slowly been merging the brands to help boost sales at both. Prime members now get an extra 10% discount at Whole Foods Markets nationwide on products that are already on sale. Amazon gave Whole Foods shoppers a free $10 credit to use at Amazon on Prime Day 2018 too.
Smith Collection/Gado—Getty Images
On the one hand, it's smart to take advantage of as many of these deals and free services as possible to maximize the value your Prime membership. Yet, on the other hand, the more you get used to these services, the harder it will be for you to cancel Amazon Prime. That means you're more likely to stay on the hook for $119 per year or more. Plus, studies indicate that Amazon Prime members spend far more at Amazon than non-members do. Factor all of this in when strategizing if Amazon Prime is right for you — occasionally by the month, or year-round.
Accept Slow Shipping for Discounts and Free Money
Prime members sometimes are prompted with a special promotion when placing orders: If they are willing to accept shipping that's slower than the two-day delivery that normally comes with Prime, they'll get instant discounts or some free credit to spend at Amazon however they please. It's called "No-Rush Shipping," and it's a sweet deal, assuming you don't need to get your shipment delivered in a hurry.
Subscribe & Save — but Don't Fall Asleep
Amazon's Subscribe & Save deals can be an effortless way to get discounts, month after month. When you sign up, you'll get automatic delivery on a schedule you approve of for batteries, coffee pods, vitamins, skin care products, diapers, Goldfish crackers, granola bars, or any other household staples you need regularly. In exchange for scheduling (and being charged for) the automatic orders, you can save up to 15% off Amazon's normal prices — and the discounts can be even bigger with special Subscribe & Save coupons.
Just be sure that you pay attention to each Subscribe & Save order. There is no guarantee that the prices you agree to when first signing up for Subscribe & Save will stay the same. And some Amazon customers have complained that Subscribe & Save prices increased dramatically over time. Amazon will send you a reminder email before each order is shipped, and all the pricing details will be included in the message. You can cancel Subscribe & Save at any time, and by all means you should dump it when you feel the service is no longer a good value.
We've included affiliate links into this article. Click here to learn what those are.