5 New Ways for Americans to Book Trips to Cuba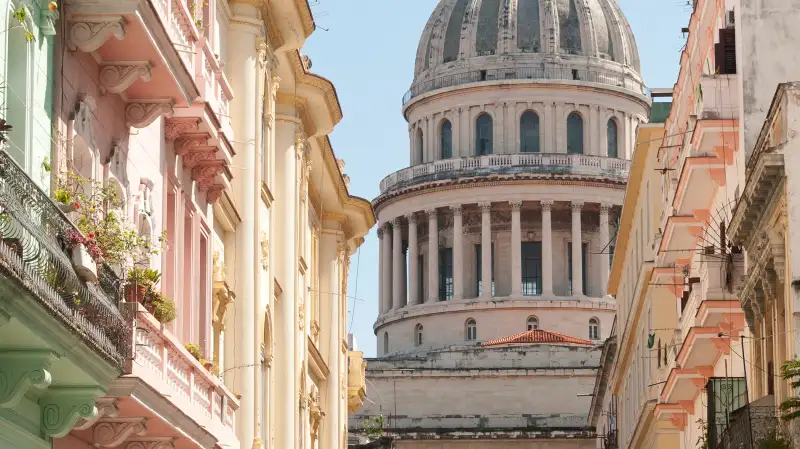 John Elk III—Getty Images/Lonely Planet Image
Ever since the federal government announced new rules for visiting Cuba in early 2015, opening up the possibility of Cuban tourism for a broad range of Americans, eager travelers have been instructed to be patient. The tourism infrastructure in Cuba is limited, and airline and tour operations need time to figure out the logistics of the nation opening up to Americans for the first time in half a century.
Travel companies are catching up, however, and it's been getting easier (and more cost-effective) for Americans to visit Cuba. Here are some of the developments American travelers who are interested in Cuba should keep on the radar:
Big Ship Cruise
In the spring of 2016, Carnival became the first cruise line in 50 years to sail to Cuba from an American port (Miami). Carnival is one of several big travel companies that are leaping into Cuba's tourism market now that it is easier for American travelers to visit. The Cuba cruise is operated by Carnival's Fathom brand, and the itinerary features three-and-a-half days of excursions on the Cuban mainland during the course of a 7-night round-trip from Miami.
More Flights
Virtually every American carrier applied to run scheduled flights to Cuba, and it's expected that normal commercial flights will start hopping between America and the Caribbean nation by this fall. The cost of flights should come down as well, as more service is available.
Meanwhile, starting last summer, passengers were be able to fly from New York-JFK to Havana on JetBlue planes. While the trips are being operated by JetBlue, they're being sold as charter flights through Cuba Travel Services. Sun Country Airlines began flying the New York-Havana route in March 2015, though some have balked at the $849 round trip ticket price. Meanwhile, another service, ABC Charters, already uses JetBlue aircraft for flights to Cuba from Tampa and Fort Lauderdale.
Cuba specialist Island Travels & Tour, which already ran charter flights to Cuba from Miami and Tampa, expanded last summer with flights from Orlando and flights from BWI (Baltimore-Washington) in the fall of 2015. The initial two departures from Baltimore to Havana cost $695 round trip, and the regular price has been $775.
New Small-Ship Cruise to Cuba
Starting in late 2015, International Expeditions welcomed passengers aboard the 48-passenger, three-masted Panorama for a sail to Cuba that features three days in port at Havana. The 10-day adventure begins with a charter flight from Miami to Cuba, followed by a small-ship cruise with stops in Trinidad and the Cuban ports or Cienfuegos, Cayo Largo, Maria La Gorda, and Havana. Cuba's shallow ports are generally not equipped to handle today's large ocean liners, so the Panorama voyage is one of very few options for seeing Cuba by ship. It doesn't come cheap. Prices start at $4,599 per person.
Read Next: 11 Things That Cost Less in Cuba
Ferry Services from Florida
The (South Florida) Sun Sentinel reported in 2015 that four companies have received licenses from the U.S. government to run ferries between Florida and Cuba. Among them is Havana Ferry Partners, which could launch 200-passenger ferries from Key West to Havana within weeks, and later add longer, overnight trips from Miami, Fort Lauderdale, and perhaps Tampa on vessels holding 300 to 500 passengers. Ferry prices are expected to start at around $300 round trip.
First Way to Book Flights Online
For the most part, charter flight reservations are handled on the phone or even with paperwork sent through the mail. They're not readily bookable online. Because visiting Cuba is particularly complicated for Americans, there has been no way to book a flight from the U.S. In mid-April 2015, though, that changed according to CheapAir.com, which claims to have become the first online travel agency to sell Cuba-bound flights from the U.S. on the Web. A round trip ticket from Miami handled by Sun Country costs $471—a fare that some consider outrageous because it's only a one-hour flight—plus $85 for a visa and a $25 departure fee in Cuba.