Anthony Bourdain's Top 5 Things To Do in His Favorite City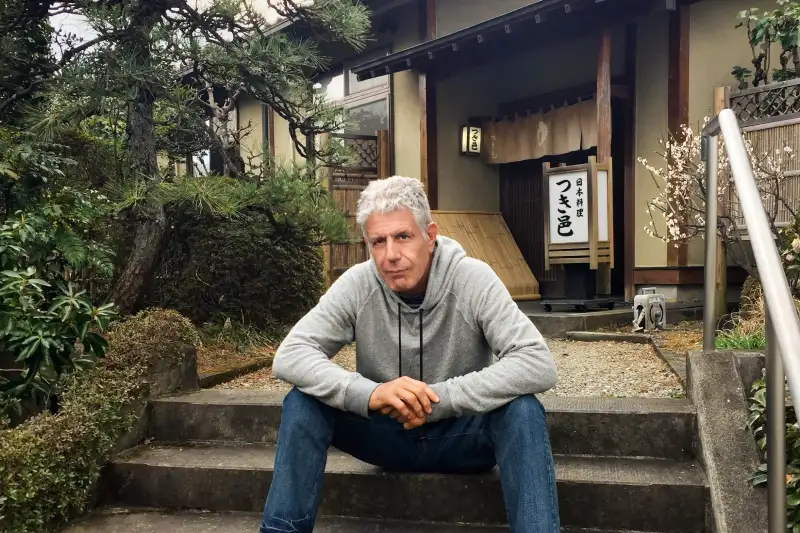 It's no secret, Tokyo is one of Anthony Bourdain's favorite cities. "I'm endlessly fascinated," he says. "I've been many times and it's still thrilling."
And this year, it's one of Money's favorites as well, ranking #1 for the international city that delivers Americans the best bang for their buck, a choice Bourdain endorses. "I think Tokyo is a good choice for number one because it has the highest density of experiences per square foot," he says. "You can pretty much check into a cheap hotel in Shinjuku district and never leave that area, yet still have the most awesome mind blowing, busy time of your life."
But be prepared to be the "big goofy foreigner," Bourdain says. "You will not blend. You will not immerse, but you will have a true, true adventure."
Here are the top five experiences Bourdain recommends for a first-time visitor.
1. Visit the Robot Restaurant
Kimimasa Mayama—EPA-EFE/REX/Shutterstock.
It's "touristy as hell," Bourdain says, but you've got to go to Robot Restaurant. Located in the Shinjuku nightlife district, the venue offers dinner and a 90-minute cabaret-style show that incorporates robots, dinosaurs and dancers. But Bourdain says you don't have to eat in Robot Restaurant. Decline the meal, but just go for the experience, he says.
2. Get Take-Out from Lawson
Similar to a 7-Eleven (which Japan also has), Bourdain recommends checking out this convenience store chain for its incredible egg salad sandwiches and little tonkatsu—or as Bourdain puts it, "little fried chicken cutlets under light bulbs."
3. Hit Up the Izakayas
Christopher Groenhout—Getty Images/Lonely Planet Image.
There's not really a direct English translation, but Izakayas are essentially pubs that serve shared dishes that pair well with alcohol. The best ones, Bourdain says, are in the Golden Gai district—an area consisting of six alleys lined by almost two hundred tiny bars.
4. Eat at Department Stores
Food halls (called depachika) are located in the basement of many of the Japanese department stores are a great way to try a variety of dishes. "The food centers in the department stores are pornographic," Bourdain says. Takashimaya and Isetan are good ones to check out, as both are located in the Shinjuku shopping district.
5. Splurge on a Ryokan
Courtesy of The Ryokan Collection.
While in the Tokyo area, first-time visitors should take a day trip outside the city to visit a traditional Japanese country inn (called a ryokan) and have the full experience, Bourdain says. That typically includes Japanese baths fueled by hot springs (onsen) and high quality meals. "That's pricey as hell, but at least one night in a traditional ryokan with the baths, particularly the outdoor ones, you gotta do it."