Apple's Streaming Service Launches Soon. Here's How Apple TV+ Compares to Netflix and Hulu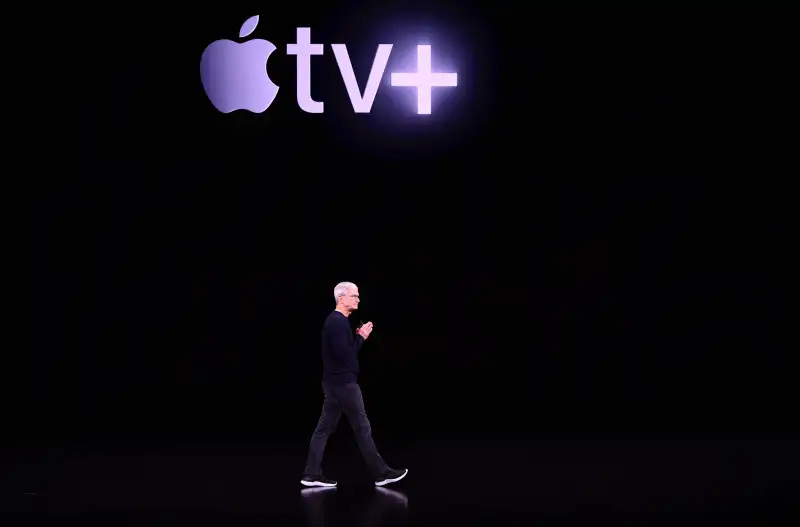 JOSH EDELSON—AFP/Getty Images
If you were watching Fleabag clean up at the 2019 Emmys, you probably saw a bunch of ads for Apple's new streaming service, called Apple TV+.
It's hard to say exactly how Apple TV+ will fit into the increasingly crowded streaming universe. At $4.99 per month (or free for one year with the purchase of a new Apple device), Apple's streaming service is easily cheaper than Netflix, Hulu, Amazon Prime Video, and the soon-to-launch Disney Plus. But there are still plenty of questions would-be streaming customers have about Apple TV+. Here's everything we know about it:
What is Apple TV+?
First off, we should make it clear that Apple TV+ is not the same thing as Apple TV, which you hook up to your TV so you can stream all the old-school services like Netflix. Apple TV+ is the computer titan's answer to those old-school streaming services, and the company has spent a humble $6 billion to get some of Hollywood's biggest names involved, including productions from Oprah Winfrey, Steven Spielberg, and J.J. Abrams.
What is the start date for Apple TV+
Apple TV+ launches on November 1. Incidentally, that's 11 days before Disney debuts its own streaming service, Disney+. The streaming world is getting very crowded.
How much will Apple's streaming service cost?
Apple TV+ will cost $5 a month, after a free seven-day trial. But if you purchase a new Apple product such as an iPhone or Mac, you get the Apple streaming service free for a year.
As you can see below, the starting prices for other streaming services are more expensive than Apple TV+, though these competitors also generally have far more robust selections of shows and movies:
• Hulu, from $5.99 per month
• Disney Plus, from $6.99 per month
• Netflix, from $8.99 per month
• Amazon Prime, full membership for $12.99 per month
Take note that if you're a new subscriber, you can try out any of these services for free for 30 days.
Do I need to buy an Apple TV to use the new streaming service?
While Apple can sometimes be proprietary about its services (there is still no Spotify app for the Apple TV, for instance), it's expected that Apple TV+ will be able to be streamed on competitor devices such as Roku, Amazon's Fire TV, or the smart TV of your choice. You will also be able to watch at tv.apple.com. But if you're the type who likes to watch television on your phone, know that Apple TV+ will only be available on Apple mobile devices.
What shows and movies will be on Apple TV+?
So far, it does not seem as though Apple TV+ will be offering any catalog titles, so you'll still have to turn to Netflix for your Friends fix. The plan is for most Apple-exclusive shows to debut with three episodes, and then launch one more episode a week. Here is what is on the initial docket.
• The Morning Show, which tells the story of morning news broadcast dealing with a #MeToo scandal, starring Reese Witherspoon, Jennifer Aniston, and Steve Carell.
• Dickinson, a quirky comedy with Hailee Steinfeld as poet Emily Dickinson and Wiz Khalifa as the personification of death.
• See, a post-apocalyptic thriller starring Jason Momoa and his muscles.
• Helpsters, a Sesame Street spinoff.
• Snoopy in Space, an animated series.
• Ghostwriter, a children's program.
• The Elephant Queen, a nature documentary.
• For All Mankind, a sci-fi drama about the space race starring Joel Kinnaman and co-created by Ronald D. Moore.
• Something called "AppleTV+ and Oprah," which will presumably involve Oprah Winfrey.
That's cool. What else?
Well, if eight shows and a documentary aren't enough for you, there is also content on the way from the above mentioned Spielberg and Abrams. Also, look out for shows from M. Night Shyamalan, Rob McElhenney and Charlie Day (creators of It's Always Sunny in Philadelphia), Bob's Burgers creator Loren Bouchard, and Kumail Nanjiani and Emily V. Gordon.
As far as movies go, Apple has a partnership with the arthouse studio A24, which will include the film On the Rocks, starring Bill Murray and Rashida Jones and directed by Sofia Coppola.
So basically Apple wants to be HBO?
Kinda. The computer giant has figured out that there is value to owning both your content and the device by which people get their content. That said, Apple dropped a project that Dr. Dre was developing because it had too much "violence, sex and drug use." So don't look for Apple's answer to The Sopranos any time soon.