The Fabulous Life of Asahd, DJ Khaled's Toddler Son Who Wears a $100,000 Watch and Produced His First Album at 4 Months Old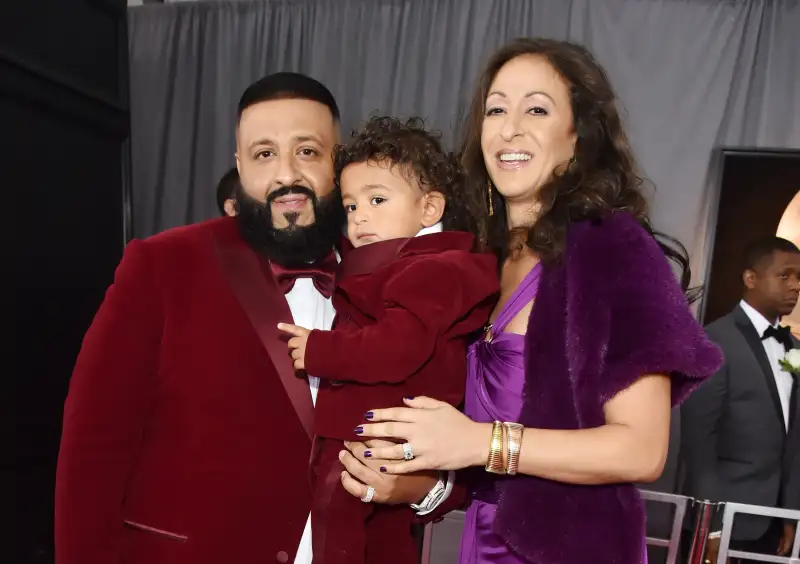 Kevin Mazur—Getty Images for NARAS
Hip-hop producer DJ Khaled's son has only been on Earth for 14 months — but between red carpet appearances and releasing his own album, it's already been a wild ride.
Though just a toddler, Asahd Khaled is consistently decked out in Gucci suits, Jordan sneakers and his $100,000 watch his dad gave him as a birthday gift. But Asahd doesn't just rely on his parent's money — he's earning himself, making money off royalties from Khaled's album Grateful he helped "produce" with his father.
Just how fabulous is Asahd Khaled's life? Asahd's very own Instagram account, managed by his parents, has been documenting his luxurious life since birth. Here's a rundown:
Asahd Khaled was born in October 2016 — and his dad documented the entire birth on Snapchat.
DJ Khaled is never one to shy away from over sharing, but Asahd's birth may have been the first live child rearing that was ever broadcast on Snapchat. DJ Khaled's posted videos of his fiancé Nicole Tuck in labor, while songs from his album Major Key blasted in the background. The rapper even had a photo-shoot with Tuck in her hospital bed.
Even as just an infant, Asahd was already learning how to strut the red carpet.
Most artists spend their whole lives dreaming walking the Grammy's red carpet. Asahd went before he could even roll over. He attended "Music's Biggest Night" at just 3-months-old in his mom and dad's arms and sported a tailored David August tuxedo, which can retail between $2,500 and $4,000.
At four months, DJ Khaled named Asahd the executive producer of his album, Grateful.
Fun and games were over for Asahd when he got to four months old. Between naps and diaper changes, he began "working" as the executive producer of DJ Khaled's tenth studio album, the rapper told Jimmy Kimmel. DJ Khaled said his son listened to all the tracks in the recording studio and gave his feedback: when he started laughing during a song, DJ Khaled knew it was a "smash hit record."
"He actually threw up on me while I was mixing and working on 'Shining,' and when he threw up on me, that's a blessing," DJ Khaled explained on Kimmel.
Thanks to his role in the music industry, Asahd rolls with all the prominent hip-hop artists.
Asahd's famous friends include Nicki Minaj, Rihanna, Zac Efron, Future, Justin Bieber, Diddy, Nas, Big Sean, and more.
Asahd works hard, but he also plays hard.
Asahd may not have a driver's license, but that doesn't stop him from riding around in expensive whips. He has his own miniature, custom-made electric cars from Ferrari, Mercedes and Roll's Royce. And before he could play in electric cars, he was rolling around in a Fendi Monster Inglesina stroller that sells for $1,760.
The toddler is an avid sneaker head who's been collecting shoes since before he could even walk.
Asahd and his dad talked to Complex Magazine about his giant collection of Jordan, Yeezy, and Gucci sneakers — all sized for his tiny feet. DJ Khaled also has a giant closet filled with designer sneakers he said he's saving for his son when he grows up.
For his first birthday, Asahd invited all of his celebrity friends to one of the most exclusive Miami clubs — and got a $100,000 present.
Asahd went all out for his first birthday part. Diddy helped host his bash at the elite club LIV in Miami for a rager that surely went on way past his bedtime. On top of the lavish celebration, DJ Khaled also gave his son a $100,000 rose-gold watch, encrusted with 600 total diamonds.
Watch out pre-school: Asahd's coming.