How This 21-Year-Old Created a Ring Worn by Michelle Obama and Serena Williams From Her Dorm Room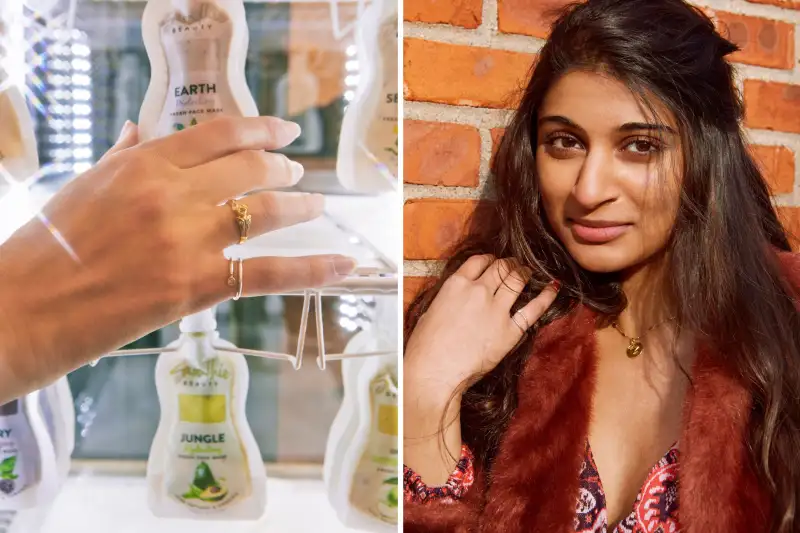 When she won the Emmy Award for the HBO series Big Little Lies, Nicole Kidman gave a speech saying she hoped her daughters would look at the statue and feel inspired by what women can accomplish. But in that moment, Kidman was also sporting another metal symbol: a tiny ring on her pinky finger with a larger diamond next to a smaller one, symbolizing the power of mentorship between women.
The pinky ring came from Shiffon Co., a fine jewelry company started by 21-year-old Shilpa Yarlagadda in her Harvard dorm room. Yarlagadda's Duet Pinky Ring comes with a "pinky promise" pledge taken by customers to support women in business. The company makes good on its own promise: Shiffon donates 50 percent of its profits to its charity arm, Startup Girl Foundation, which provides seed funding to female entrepreneurs.
Since the company's inception in 2017, celebrities like Emma Watson, Serena Williams, and Michelle Obama have been spotted wearing the ring. Yarlagadda says neither she nor her team directly reached out to celebrities to wear the ring; they found Shiffon through word of mouth and felt drawn to its message of helping young women.
"We've been introduced to celebrities who are doing something with their platform to empower women," Yarlagadda told Money. "We want this [company] to be about supporting others, and that helps everyone, including yourself."
She learned from the mistakes of her first business.
Yarlagadda always wanted to start her own company. The Palo Alto-based entrepreneur experimented with charity-focused business models in high school by creating a non-profit tutoring company to help struggling students. Despite her success — she was invited to speak at panels and created her own app — Yarlagadda found non-profit work demanded constant attention to fundraising, which took time away from working on a social impact.
With Shiffon Co., Yarlagadda reversed her idea. She sought to use profits from selling jewelry to fund a non-profit arm — allowing her to bypass fundraising and handling donations, yet still focus on a larger mission. The college student settled on direct-to-consumer fine jewelry, so she could offer an affordable product compared to marked-up department store rings, yet still operate within a pricing structure that would give her enough money to donate.
At the time, she was only 19 and there was one major issue: she knew nothing about making fine jewelry. Her first step was Googling "how to make jewelry" and reading a wikiHow article.
She wasn't afraid to reach out to strangers and ask for help.
After quickly realizing wikiHow wasn't going to cut it, Yarlagadda began cold emailing experts in the fashion business. She would start her emails by introducing herself and what she admired about each mogul, before asking them for help in carrying out her initiatives. Celebrity stylist Sarah Slutsky and talent agency executive Chandni Modha eventually became her mentors, taking time out of their work schedules to talk to Yarlagadda about her business and connecting her with the right people.
Yarlagadda says there was a period Modha would talk to her over the phone more than Modha talked to her own family — before they even met in person. "It's crazy that someone would be so nice to talk to me so much," Yarlagadda says. "When someone believes in you, it makes you feel like you can do it."
Yarlagadda was a freshman at Harvard at the time, and took a year off from school to start the company. She found a jeweler in New York City to make the products, and did the marketing and branding with a team of her friends. Now back at school, she manages the entire company straight from her dorm room. She currently sells seven types of pinky rings made from sterling silver, yellow gold, and rose gold, with white or purple sapphires or diamonds. The rings cost between $90 to $640, depending on the metal and stone.
Though keeping up a company and going to college simultaneously can be challenging (Yarlagadda hosted Shiffon's first Women's Day event in New York in between midterms), she says her belief in the company's mission keeps her focused on balancing her busy life.
"Most people come at companies from the standpoint of, 'How do we monetize it,' but our goal was always the social mission," she says. "I really believe in that."
Her company comes with a beneficial byproduct.
The mentorship Yarlagadda received inspires the company's message today. While Shiffon Co. itself did not receive outside venture-capital funding, the company's main mission is to act as a fundraiser for women-run startups that work toward social justice. Fifty percent of the company's profits have gone to five female entrepreneurs working in the U.S. and Africa. (Yarlagadda declined to share the exact amount.) The startups include a text message bus ticket system in Nairobi, a chemical-free edible facemask company, and a make-up line working to destigmatize cosmetics for men.
Aside from funding, Yarlagadda says she provides her entrepreneurs with access to a Mentor Board of accomplished women in marketing, fashion, beauty, and other areas. Yarlagadda says funding the company just gives female entrepreneurs a foot in the door: many then start receiving other VC funding through connections with Shiffon Co.
Eventually Yarlagadda hopes to hire more full-time employees to grow the business, but for now, working to help other female entrepreneurs and support women in business is reward enough.
"We're never going to stop empowering women just because it's been a while since the #MeToo movement happened," Yarlagadda says. "It's something we all have to continue doing."