How the 24-Year-Old Founder of Instagram's 'House of Highlights' Got 11.4 Million Followers — and Career Advice from Kobe Bryant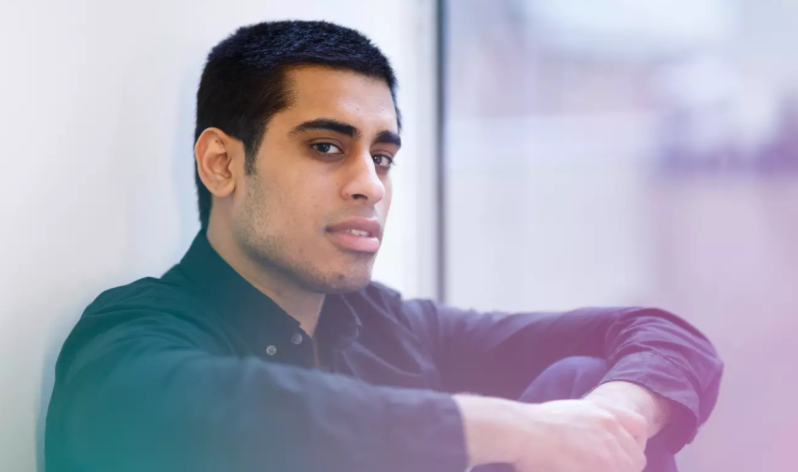 Last November, Omar Raja posted a video on Instagram of Philadelphia 76ers' Joel Embiid missing a slam dunk—and his teammate Ben Simmons' amused reaction. The post got two million views, and Embiid and Simmons themselves joined in on the comments.
But attention from athletes is nothing new for 24-year-old Raja, who founded the Instagram page House of Highlights at age 20, and turned it into one of the biggest sports platforms in the world. With about a dozen new posts a day typically racking up a million views each, the HOH account averages 526 million video views a month and has inspired a dedicated fanbase.
Raja's youth seems to have contributed to the platform's success—while ESPN is losing millions of subscribers a year to cord cutting, and the NFL, NHL, and NBA struggle to attract younger viewers to its live sports events, nearly half of House of Highlights' viewers are under the age of 24, according to its parent company, Bleacher Report. And since sports teams are now relying more on streaming and TV views than selling out stadiums to make money, cultivating an audience on young sports viewers can translate into serious cash.
But Raja wasn't thinking about shaking up sports media when he created the page in his University of Central Florida dorm room. He says he was just depressed LeBron James had announced his decision to leave the Miami Heat, and wanted an outlet to reminisce about James's time in Florida. So he made one.
"I said, 'Listen, this isn't anywhere and I know people my age like it,' so let me just post [these videos] so I can send them to my friends," Raja told Money. "I was still at college at the time and I was like, 'Let's just see what happens.' And it happened."
Here's how Raja went from a college student to one of Fast Company's most creative people in 2018—through a combination of nonstop working and a little support from superstar Kobe Bryant.
Raja was inspired to start his own business at a young age.
After moving to the U.S. from Pakistan, Raja's father worked as a hotel manager and a car salesman before founding his own car sales company when Raja was four. "My only real memory of my dad is just of him doing his own thing," he says now of his father being a businessman. "I admired that a lot growing up, and I knew that was a really good gig."
Raja's own foray into entrepreneurship began in high school with a YouTube account breaking down his favorite sports plays or video game tricks. The channel became popular enough to bring in around $200 a week in advertising revenue for around 100,000 page views. Raja used the money to pay for his first car and pay for rent while in college.
He grew his business out of his natural interests.
After mastering YouTube, Raja switched to Instagram. At 22, he started clipping and posting short videos of LeBron James and Dwyane Wade making faces at each other, and memorable moments from James' time in Miami. At first, he was using the platform to share videos with his friends, the success of his YouTube channel made him consider House of Highlights as a part-time job. "I knew because of YouTube that things on the Internet can get big and you can form a business out of it," says Raja.
That perspective paid off. Raja amassed 11.4 million followers in four years, with a big growth spurt from 1.1 million to 7.6 million followers over 20 months. In January 2016, Raja sold his platform for an undisclosed amount to the sports website Bleacher Report—all while finishing up his senior year in college.
"I had one semester being a full-time student and full-time worker," he says. "That was the most insane four and a half months of my life. How in the hell did I balance everything?"
He's always working—even through Christmas and weddings—and stays up until 2 a.m.
The millennial sports media star attributes his career success to his unorthodox work ethic—that is, he never stops working.
After he wakes up, Raja, who's based in New York, immediately checks his Instagram messages, gets to work and starts preparing videos at 10:30 a.m., works until dinner from 6 to 7 p.m., and keeps watching and cutting clips until falling asleep after 2:30 a.m. Even though HOH now has 11 employees working alongside Raja, he is still running the page.
The toughest part of running a platform around sports, Raja says, is that the games never stop. Football takes place on Thanksgiving, and the NBA's biggest day is on Christmas. By now, his friends are used to Raja leaving dinners, movies, and weddings to post an important highlight. He even stepped away from a job interview to post a video.
"People kind of know the gig at this point," he says. "It's no big deal when I have to stop a conversation to take two minutes to watch a highlight or get something up on the page."
Raja hasn't taken a vacation since starting HOH. Yet he enjoys his lack of work-life balance; he sees it as getting paid for games he would have watched anyway: "I was like, 'Omar, you're going to do this anyway. You should just monetize it, start a business out of it, and see what happens.'"
His work ethic sets him apart from friends who try to build their own brands on Instagram. Many people want 100,000 followers overnight without putting in consistent effort, but Raja says he was just as dedicated to his page when he had only a few thousand followers.
Kobe Bryant shared his best career advice with Raja—and it's inspired him ever since.
Raja's job started from his passion for sports—which has opened the door to unbelievable perks. After telling Dwyane Wade how much he inspired him to build the platform, Wade responded, "Now you got the whole damn league following you!"
But Raja's most pivotal interaction came out of a conversation with Kobe Bryant. Feeling burnt out from his demanding schedule, Raja asked the athlete if the grind ever stops. Bryant replied: "Never, not until you're six feet under."
As hard as Bryant would work on the court, he'd work just as hard at home, he told Raja. Bryant said it takes a lot of energy to become successful, but as long as he stays committed, he'll find a way to do it.
"It inspired me right away," Raja says. "Whenever I feel low on energy, I think of that conversation and it gets me right."
He's expanding into new territories.
Bryant's advice panned out. Raja built one of Bleacher Report's most popular—and soon-to-be lucrative—arms. HOH ventured into branded content this year with sponsored posts from advertisers like Under Armour, Gatorade, and Taco Bell. Raja also recently starred in a live talk show on Twitter sponsored by McDonald's, and HOH is expanding its presence on YouTube, which can be a lucrative venue for influencers, with sponsorships topping out for some at over $100,000 per video.
But in the meantime, Instagram remains Raja's main focus. A vacation might have to wait—although "Italy would be nice," he says—because as long as the athletes keep showing up, so will Raja.