This CEO Just Landed a $1 Million Investment from Shark Tank's Mark Cuban and Lori Greiner—All for a Product That Keeps Your Beer Cold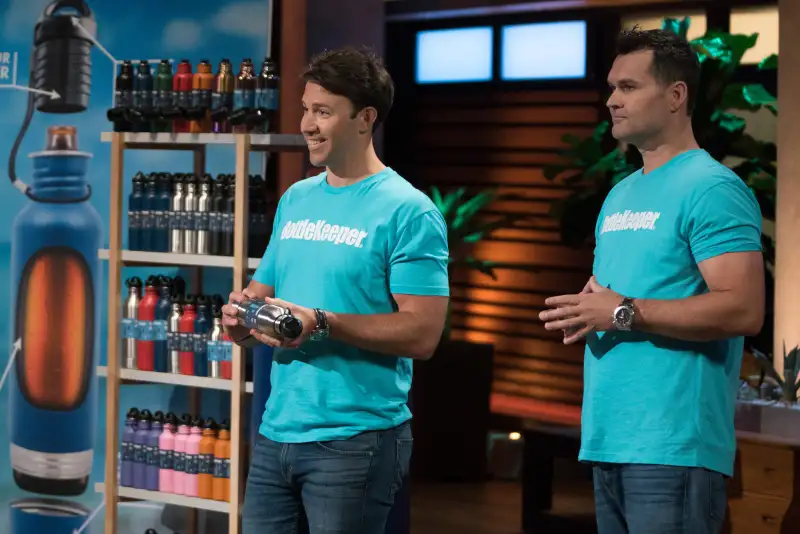 Many CEOs are known for encouraging employees to work long, hard hours. On Twitter, Elon Musk touted 100-hour workweeks as necessary to create something that will "change the world," while Jeff Bezos said striving for work-life balance "debilitates" young employees.
CEO Adam Callinan, however, couldn't care less if his employees even show up to the office: "If it's Tuesday and you don't feel like coming into the office, I don't care," he told Money. "If you want to go work from Hawaii for a month, great. It doesn't matter."
Callinan cofounded the startup BottleKeeper, which recently scored a $1 million tandem investment from business gurus Mark Cuban and Lori Greiner on the reality series Shark Tank. The company sells $35 insulated beer bottles that keep beverages cool. Since launching in 2013, the company now generates eight figures in revenue and, according to Callinan, sells three products every minute—and even sold their millionth bottle during Callinan's recent conversation with Money.
But BottleKeeper's stellar growth and success didn't come from 100-hour workweeks. In fact, Callinan traveled four months out of the year while building the company. He lives by the beach in California, and would leave work to surf for three hours a day because, he says, he could.
After previously working stressful hours at a medical device company, 36-year-old Callinan says he structured the foundation of BottleKeeper around his travel schedule and flexible work hours. "I built the company around a lifestyle, instead of building a lifestyle around a company," Callinan says.
The CEO says his secret was to delay hiring employees. Instead, he automated many of his day-to-day tasks and contracted help only when he needed it. He also took on a majority of the company's responsibilities outside of management and growth, such as customer service, advertising, and creative. Only at the end of 2016 did he start hiring employees.
Now BottleKeeper has a team of 7 people (including himself and his cofounder), but Callinan still maintains hiring many people should not be the goal of a company. As long as employees are efficient and focused on generating sales, he doesn't care if they take big vacations or work from home.
And with Callinan's small team, everything that is necessary gets done—meaning, to him, having tons of employees is not always the best way to judge a company's success: "We constantly get asked the question about how big the company is. When we say we have 7 people, they say 'Oh, you guys are tiny.' And that's never made sense to me."
Callinan also revealed his trick to landing a $1 million Shark Tank investment: You need to know which highly successful "Shark" you want before you walk in.
Along with his cofounder and cousin, Matt Campbell, Callinan watched and rewatched every episode of the show to gather data on which deals worked and which went awry. After analyzing all the pitches, the two determined that fun pitches loosen up the Sharks the most, so they decided to ask baseball legend and guest investor on the show Alex Rodriguez to throw a ball at the BottleKeeper bottles to prove their durability.
From there, Callinan also targeted Mark Cuban and Lori Greiner for their strategic insight to further build his already successful company. "Lori is an expert in the consumer product world," he says. "She's been really, really successful at scaling something from nothing, and you can't buy that type of advice."
Since appearing on the show in November, the company saw a 300% increase in sales and are on track to double revenue over 2017.
But Callinan won't be celebrating cooped up in a cubicle — he's heading with his wife and newborn to Europe for a month, where he'll probably be found with a beer in hand.