How to Avoid Pricey Homeowners Insurance Claims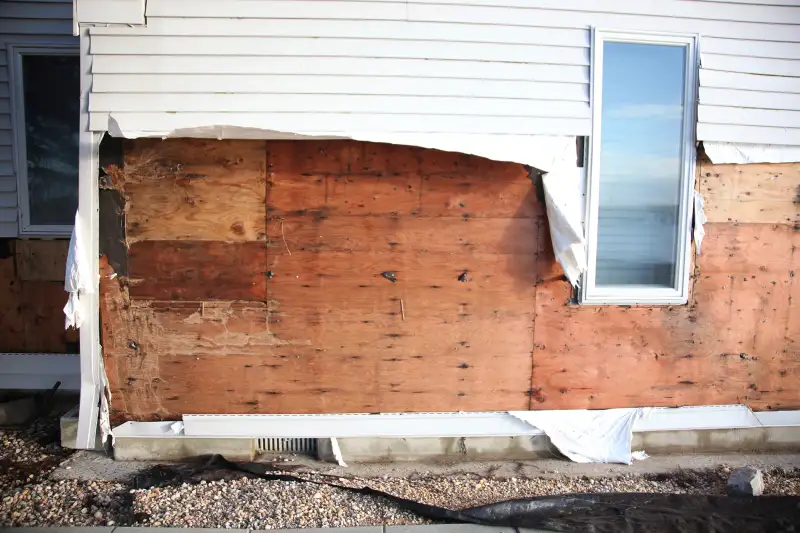 Michael Duva—Getty Images
Sure, that spring breeze wafting through the open windows is nice (unless you have allergies), but wind has a nasty side, too: Wind damage is responsible for about one in four homeowners' claims, according to Travelers Insurance, making it the most common reason to file.
But wind is far from the only reason homeowners file insurance claims. Travelers tallied up the most frequent—and most expensive—offenders, and the resulting list is surprisingly diverse.
In general, weather-related damage makes up just over 50% of claims. The costliest damage, though, comes from fire, which accounted for almost a quarter of total claim costs. Water damage not related to weather—say your upstairs neighbor's bathtub overflows, or your hot water heater springs a leak and floods your basement—is responsible for about one in five claims, more than is attributable to weather-related water damage.
While emergencies can strike without warning, insurance experts say there are a number of things homeowners can do to mitigate the risk of damage caused by different events.
Wind Damage
"When houses are exposed to high winds, roofs are most susceptible to damage, followed by walls and openings such as skylights," said Scott Humphrey, a risk control expert at Travelers Insurance.
Given the prevalence of wind-related damage, your vigilance about the stability of your roof should begin as soon as you buy a home. "Don't assume that your home inspector will do or did a roof inspection," said Trulia.com spokeswoman Daisy Kong. Call a professional roofer, who will be able to tell you if your roof has any structural, insulation, or drainage issues.
Read next: 5 Things to Know Before You Replace Your Roof
Look around your property to see what could possibly land on the roof (or your car or your pool while you're at it). "Falling trees and tree limbs are among the leading causes of wind damage to home exteriors," said Robert Hartwig, president and economist at the Insurance Information Institute. "Make sure that trees are properly trimmed and that dead trees are removed," he said—and that goes for any of your neighbors' trees that hang over your property, too.
If strong winds are in the forecast, bring in your patio furniture and the kids' toys, Hartwig said—they can easily become projectiles— and if you live in an area that's prone to hurricanes, you might want to consider investing in storm shutters or tie-down apparatus.
Water Damage
Even if you're not in a flood zone, a water main break or a nearby flooded body of water could mean water in your house. Mitigate this by being proactive and looking to see which way your yard slopes. "It's not difficult to have the dirt and grass regraded so it slopes gently away from the house toward the yard instead of into the house," Kong said. "This can help prevent a flooded basement or first floor of a home."
There are several upkeep and maintenance items you can check on your own to prevent water damage. Make sure the caulking around bathroom fixtures is intact, check for cracks or wear in washing machine hoses, and watch for leaking valves or flappers in toilets. And make sure you know where the main shut-off valve for your home's water supply is located, Humphrey advised.
Outdoors, he said, "clear debris from exterior drains and gutters and repair damaged gutters and downspouts" to assure that water can drain safely away from the foundation. Examine the caulking and seals around windows to see if they are tight and not weathered or cracked.
Avoid a flood caused by bursting pipes by taking action before freezing weather sets in. Insulate pipes that are potentially exposed to prolonged cold, and if you're going away during the winter, don't turn your heat off entirely. The money you're looking to save off your energy bill won't be worth it if you come home to a flooded house.
Fire Damage
Many fires are caused by faulty or damaged wiring. "Checking the wiring is important whether the home is old, recently renovated, or is newly built," Kong said. You'll need to hire an electrician to do this, but a step you can take on your own is to check the wires outside your house for signs of damage caused by animals. "Mice and other rodents often chew on electrical insulation."

In the kitchen, keep the area around your range and oven clean. "Built up food splatter or grease can later ignite when the stove or oven is turned on," Humphrey warned. In the laundry room, keep dryer vents and lint filters free of build-up that could ignite.
Theft
Theft is responsible for 6% of homeowners insurance claims. If you're going to be away from home for a while, get a neighbor to grab your mail and invest in timers to make it look like you're home, said Molly Barber, vice president of property claims at Liberty Mutual Insurance. And before you leave, case your own house. " Peek in your windows," Barber said. "If you can you spot expensive electronics or jewelry, so can burglars."