5 Awesome Back-to-School Deals — Even If You Don't Have Kids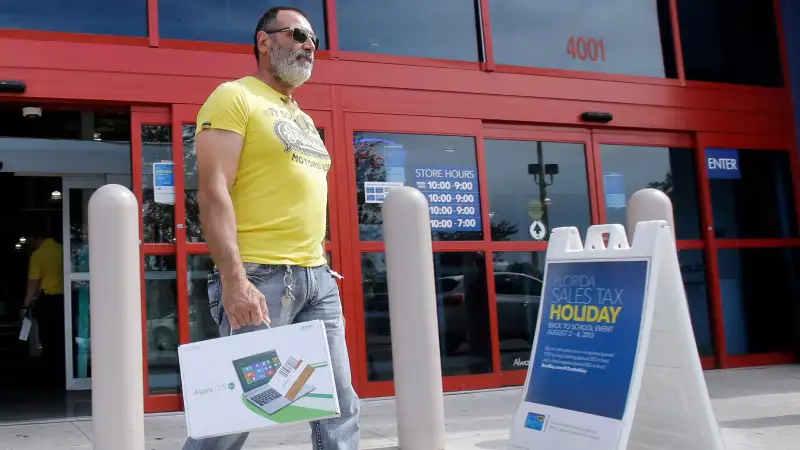 If you're not in the market for marbled composition books or washable markers, you might figure there's no sense paying attention to all the back-to-school sales hype getting into swing around now.
That would be a mistake, according to deal-spotting experts. This is a time of year when many states host sales tax holidays, in which normal taxes are waived on all sorts of purchases, and the savings aren't limited to families with students. (Here's a list of this summer's sales tax holiday dates around the country, including all the exclusions and fine print.) What's more, retailers are hosting sales that enable you to score rock-bottom deals on way more than just school supplies. So it pays to think outside the backpack, so to speak.
"We highly recommend checking out back-to-school sales even if you don't have children because a lot of stores that cater to families in general tend to release promotions that apply site-wide," says Lindsay Sakraida, director of content marketing at DealNews.com.
To begin with, it's a no-brainer to do a sweep for cheap office supplies if you work from home. "Look for deals priced under $1 for essentials like pens, paper clips, sticky notes," recommends Rebecca Lehmann, content manager at the bargain-tracking site BradsDeals.com. Sites like Office Depot, Target and Amazon have "doorbuster" prices on a lot of basic supplies in July and August. (Just don't forget to comparison-shop — an offer might not be the best deal just because a store says it is, and shopping experts say it pays to look for coupon codes to get even cheaper prices before hitting "buy.")
The deals on the table now go way beyond pencils and printer paper too. Here are some surprising categories with great prices on items you might not ordinarily associate with back-to-school sales.
Small Appliances
The stores might be aiming promotions on coffeemakers and toaster ovens at dorm-dwellers, but anybody looking for a kitchen refresh can benefit.
"We're currently seeing sales on mini fridges and microwaves, the kind of thing that a college student might use in a dorm room but are also staples back at home," Lehmann says. "Families may stock up on those things for kids headed off to college for the first time, but the deals will happen across the entire category."
Cleaning Supplies
The sad state of school funding these days means that a growing number of districts hit up parents to provide classroom supplies. The silver lining is that anybody can clean up on deals for cleaning products, and you can also find discounts on gear like cordless vacuums. For example, score this Shark upright vacuum for $139 at Walmart (down from $159).
Luggage, Backpacks, and Other Bags
"You think of kids' backpacks, but really there are some pretty nice high-end backpacks that are really useful for commuters, travelers — those are on sale, too," says Brent Shelton, online shopping expert at FatWallet.com. This $35 messenger bag with anti-theft features on sale at eBags (list price: 465), for instance, wouldn't be out of place in a subway or airport terminal. And this understated laptop bag from Under Armour is 20% off with the coupon code PENCIL, but its style is way more grown-up than grade school.
Computers and Electronic Equipment
"One of the biggest perks to shopping back-to-school sales is if you need a new laptop," says Sakraida, who says the discounts during back-to-school season are generally second only to Black Friday. "You can save several hundred dollars on a laptop or get something like a free gift card" as part of a promotion.
For instance, this HP Pavilion laptop with a 1TB hard drive is $630, down from the regular price of $800 at Office Depot.
There are also lots of deals to be found on both low- and high-end Chromebooks, like this $149 Lenovo model at Walmart or this $400 Samsung model at Office Depot.
Deals on Apple devices can be a little more elusive, Sakraida says, but Best Buy has discounts of $150 to $300 on select Macbooks right now. Both Amazon and Best Buy have deals on things like hard drives, speakers and other peripheral devices.
Furniture and Bedding
Most of the furniture hawked around back-to-school sales center more on stuff for outfitting a dorm room rather than an adult abode, but there are exceptions. This swanky-looking tufted sleeper sofa from Walmart (really!) is marked-down by $50 to $299 — and it defies anybody's stereotype of a typical futon.
While most of the bedding deals to be found are on sets that fit the extra-long, twin beds common in dorm rooms, it pays to look for the exceptions, Lehmann says. Bed, Bath & Beyond, for instance, has markdowns on select seven-piece comforter sets in all sizes, and Urban Outfitters' bedding sale going on now has plenty of options that wouldn't look out of place off-campus.
We've included affiliate links into this article. Click here to learn what those are.