Bacon Prices Are Rising Because You Can't Stop Eating It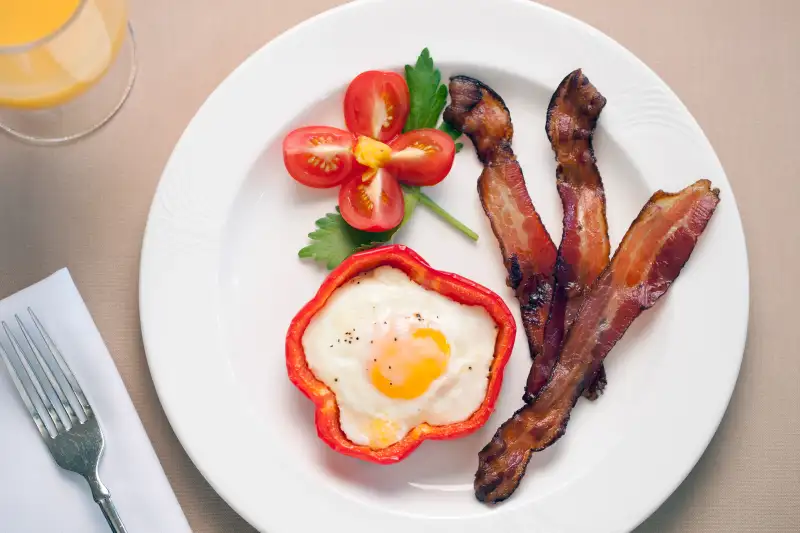 Education Images—UIG via Getty Images
America's stash of bacon—yes, there is such a thing—is at its lowest levels in more than half a century, and the result is that prices for your favorite breakfast meat are spiking.
Citing data from the U.S. Department of Agriculture, the Cincinnati Enquirer reported that the country's supply of frozen pork bellies—used for bacon—measured 17.8 million pounds. That's the lowest mark since 1957. Less than one year ago, mind you, America was rolling in bacon, with some 62 million pounds of frozen pork bellies.
What's happened since then seems fairly obvious: America, and the world, has been pigging out. Bacon consumption has risen so fast, it's been impossible for farmers to keep pace with demand.
"Today's pig farmers are setting historic records by producing more pigs than ever," Rich Deaton, president of Ohio Pork Council, told the Enquirer. "Yet our reserves are still depleting."
It's unclear how retail prices for bacon are being impacted by the shrinking supply, but the council says that wholesale pork belly prices are up 20% in January. And as production prices rise, it's inevitable that prices paid by the average consumer will follow suit.
Shoppers have seen bacon prices fluctuate greatly in recent years, reaching record highs of over $6 per pound in 2014 amid a pig virus epidemic, before retreating in 2015 as the supply rebounded. Supermarket prices continued to drop through most of 2016, selling for an average of $5.10 per pound at the end of the year, down 11% from $5.73 in December 2015, according to the Bureau of Labor Statistics.
Now it looks like bacon prices will be on the rise yet again as the pork supply dips to monumental lows. Even so, despite what you may read in social media and clickbait-y headlines, there's no need to panic. There is a long history of hype about food shortages—for bacon especially, but also turkey, wine, chicken wings, and chocolate—and they're generally all nonsense.
In all of these cases, the "shortage" has meant just that—that the supply is running a bit short, not that the product has been impossible to buy. The takeaway is that you'll still be able to buy as much bacon as you want. It's just that, for a while at least, you might have to pay a little bit more than you'd like.